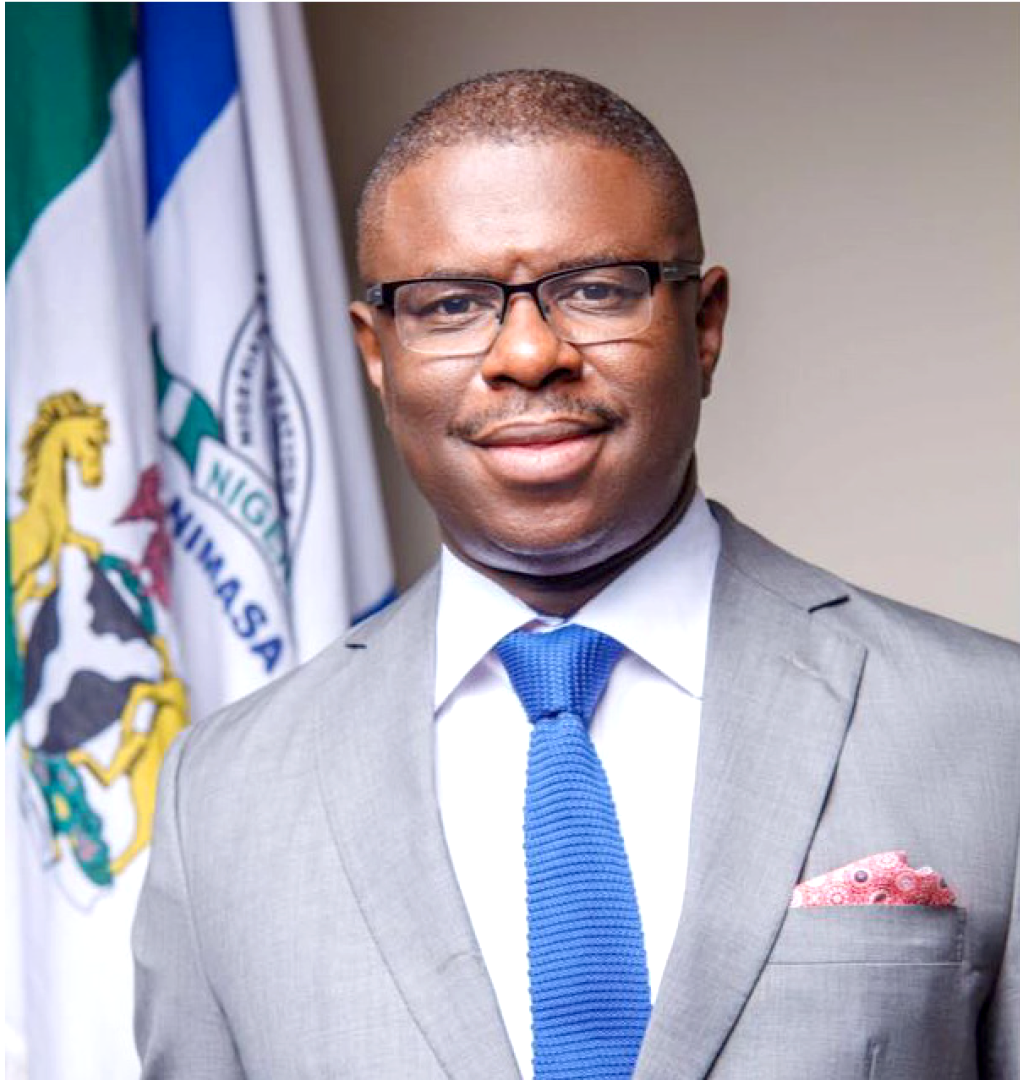 'We are Collaborating with Operators to Create a Friendly Business Environment'
Unfriendly regulatory environment has been described as a major impediment to the growth of the nation's maritime sector. In this interview held on the sideline of the Offshore Technology Conference, in Houston, Texas, Dakuku Peterside, the Director General of the Nigerian Maritime Safety and Administration, NIMASA speaks on how the Agency is working with operators to create a friendly business environment. Excerpt:
The Panel session here discusses Deepwater Operations in Nigeria: The Journey So Far; could you please tell us the experience so far from the Nigerian Maritime point of view?
You can't talk about Deepwater development without talking about the role of maritime, right from seismic data decision to drilling proper, storage. It's all about deployment of maritime assets to explore oil in the deep Waters. The Egina FPSO that we talk about today is a maritime asset because the maritime body in the country gave consent, approvals and the necessary license to safely berth and contribute to growth. But onshore deep water brings opportunity for us to build capacity to our inspection division and to develop our Mariners and other capabilities in the offshore vessel industry. Again asides building capacity, it gives a lot of opportunity for Nigerian firms to build capacity and in many other dimensions.
Now what is NIMASA doing to serve as an enabler for the growth of maritime industry in Nigeria?
One is regulatory reforms. Regulations must not be hostile; they must be friendly to spur economic growth. We are also creating a lot of incentives to encourage a number of local players to get involved in the local maritime industry. Meanwhile, we have a responsibility to regulate the Cabotage regime which means that some of these assets are demanded to be built by Nigerians , manned by Nigerians and owned by Nigerians . So, we are conscious of this and the need to build capacity over time, so we are encouraging Nigerians to build capacity to man and own some of these assets, we are creating the right regulatory environment for Nigerian local firms to thrive and I think they are taking advantage of it. You can see that lot of Nigerian maritime players are doing great things and the world is acknowledging our contributions.
As the DG of NIMASA, what are you putting in place to ensure that some of our local maritime players rise up to meet international Standards?
We have discovered that one of the issues we have is capital so we are dealing with issue of access to capital. Apart from this, the other one is Human capacity, we are also encouraging them to build capacity because in this case, they can't built capacity if they don't have people to utilise it, and provide opportunity to grow their business. So in three dimensions, we are giving them easy access to capital in building that capacity to enhance skills and of course in creating opportunities for them to build their businesses and finally creating the right regulatory environment. Regulations should suit business in growth without endangering the Environment and the people.
What is the Update on the implementation of the Cabotage Act as well as the Fund in the Maritime Sector?
Well on the cabotage, we are partnering with the Nigerian Content Development and Monitoring Board, putting a lot of initiatives in place; one of such is that we have a common vessel categorization right now. Two, we have conducted a lot of ship building and ship repair yards in the country with the aim of supporting them with funds and many ways to grow our in-country capabilities in building ships, and of course you know we are involved in the Nigerian Seafarers Development program because we want to build the capacity of our people on the ocean and man it. All of these are to build skills and enable our people deploy these skills to grow vessels, grow capacities and create jobs for the people. We are reviewing the Nigerian Ship Registry to make it business friendly and responsive so a number of vessels would come on board our registries, that way we would grow our tonnage and support the local ship owners. We are looking at a number of incentives, including the fact that we are engaging the CBN to create a single digit interest facility. You know it is capital intensive. If we don't give people access to fund at a competitive rate, they can't compete with foreigners in the industry. We are talking to the Federal Ministry of Finance and Customs to also create a special tariff scheme so that they can be bringing vessel parts and vessels into the country. Currently if you are bringing in vessels for temporary work permit, you pay just one per cent. Nobody can compete when the foreigners bring in their vessels under temporary work permit and pay just 1 Per cent, work and go away, whereas you bring in vessels as a Nigerian and get to pay 13 Per cent. We are asking the Ministry of Finance and customs to review that regime. Asides that, we are creating other incentives like CVFF, trying to bring down the cost of accessing funds; we are also supporting our local players in other areas. Ultimately, the bigger thing is we want to grow Nigerian tonnage. We want to own more vessels, we want more Nigerians to own more vessels, we want Nigerians to be active in the industry and want more people to be employed in the industry.
Could you give us an idea of the size of the Cabotage fund? Also, a lot of operators are complaining about the cumbersome nature in accessing this fund. What do you have to say about that?
We are currently reviewing the guidelines concerning the CVFF. I think the bigger picture is to secure the funds so that more firms can access it. The bigger picture is that this fund should be able to crash the cost of accessing funds in the acquisition of assets and in building infrastructure in the maritime industry. The size is far above 150 million dollars. We hope that deployment would start in earnest and our presence would be felt throughout the length and breadth of our territorial waters.
Are you impressed with the judgement you're getting in the court of law in the area of prosecution?
Well, it's not about judgment. It's about the fact we don't have the right legal framework. I'm sure you are aware that NIMASA is pushing for early passage of a dedicated Anti Piracy Bill and I am glad to say that the House of representatives has passed the Executive bill awaiting concurrence of Senate and I am optimistic that Senate would concur to the version passed by the House and the President would give assent. Once the president gives assent, for the first time Nigeria would have a dedicated Anti Piracy Law and that would provide us a right legal frame work to tackle piracy and prosecute those who are caught in the act. I think that all along, there has been a gap in prosecution of these guys in the legal team work that we are beginning to close with the passage of the Bill by House of Representatives and we hope the Senate would concur and that Mr President would assent to it.
Issues around the Ibom Deepwater project has been on the table for so long, at what level is the project and again quite recently the issue between NIMASA and NLNG popped up again, at what level is the reconciliation process?
The emphasis of the country has begun to shift to deep seaport; we want to have river ports, if we want bigger vessels to come in then we should have deep seaports. For us as a regulatory agency, we support the development of all the deepsea development projects that are on-going now and we would continue to play our regulatory oversight. The second thing is the seeming disagreement between NLNG and NIMASA. We all have approached the court that please can you interpret the content of the law in the context asking vessels carrying gas or coming in to take gas to pay 3 per cent levies on freights? We don't have any quarrels, we have no issues, it is a friendly disagreement and we are saying court is in the best position to interpret the position of the law. We are in the Court of appeal and they said would you take this issue back to the trial court so it can be retried again, we have accepted our side, whatever position the court held earlier ; because they didn't deal with it substantive issue. The main issue wasn't resolved, they went outside what they were supposed to resolve. So let the status quo remain, LNG you continue to pay your 3 per cent levy to NIMASA and 2 per cent cabotage charge until court resolves the issue.
What would you say is the level of security on our Water ways?
Well even the IMB, the international Maritime Bureau in Malaysia acknowledged that there have been improvements in security on the Waters of Nigeria. Although it is not at the level we want yet, we are very concerned and are working with our partners, Nigerian Port Authority (NPA) and Nigeria Inland Waterways Authority (NIWA) and all other stakeholders in the industry to see what we can do to improve the security situation on our Waterways, that is why deployment of the Deep blue project is very important, which we are very focused to see through.
So what's the future outlook for NIMASA?
The future looks very bright. As oil production moves closer into deep offshore, so would a lot of maritime players get involved? We would continue to enhance our contributions and build capacity of our people. Lately, #we've been focused on building a lot of assets in-country and the Egina project has shown that with support, a lot of these assets can be built in-country. Various modules of the Egina FPSO were integrated in country, though the core itself was built in Korea, almost all the modules were integrated in-country. It's a matter of time, if we keep the right encouragement and the right attitude, we would be able to build a lot of FPSOs in-country. We want to build FPSOs in-country, deploy them here and create jobs and opportunities for our people.