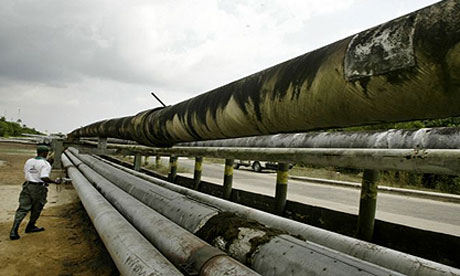 Shell Laments Oil Theft at Its Trans Niger Pipeline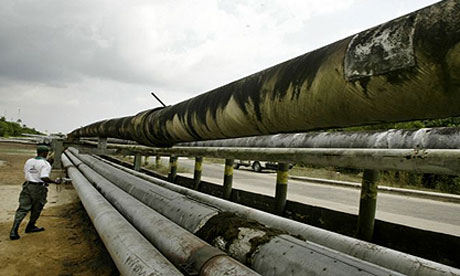 By Ikenna Omeje
The Shell Petroleum Development Company of Nigeria Limited has lamented the ceaseless oil theft at its Trans Niger Pipeline.
The Trans Niger Pipeline transports around 180,000 barrels per day of crude oil to the Bonny Export Terminal and is part of the gas liquids evacuation infrastructure, critical for continued domestic power generation and liquefied gas exports.
The pipeline, which was completed in 1965, is critical to Nigeria's crude export as it carries Nigeria's crude oil, Bonny Light, to an export terminal.
The Chairman, Shell Companies in Nigeria, Mr Osagie Okunbor, while speaking on a panel at the just concluded 2021 Nigeria Oil and Gas Conference and Exhibition, which held in Abuja, with the theme: "Fortifying the Nigeria's Oil Gas Industry for Economic Growth and Stability", said that the company loses 44 percent of the oil that passes through the pipeline.
Okunbor who noted that the oil theft at the pipeline is an economic loss to both Shell and the Federal Government said, "44 percent of what goes into the TNP disappears and it's not only a loss to Shell, but to the country.
"This country bleeds. So it will be a good thing if we can get a PIB that will put a sort of responsibility on the host communities."
The SPDC boss also announced that the company is committed to the 2050 net zero emissions target set by the United Nations, adding that Shell is aggressively investing in renewables, alternative sources of energy and gas as the transition energy.
"We are committed to the net zero emissions by 2050. We are doing that aggressively in terms of renewables and alternative sources of energy.
"We are a firm believer in gas as the transition energy, which explains our investments in Nigeria LNG.
"We are looking at solar energy, gas and we are deliberate about reducing our carbon footprint."