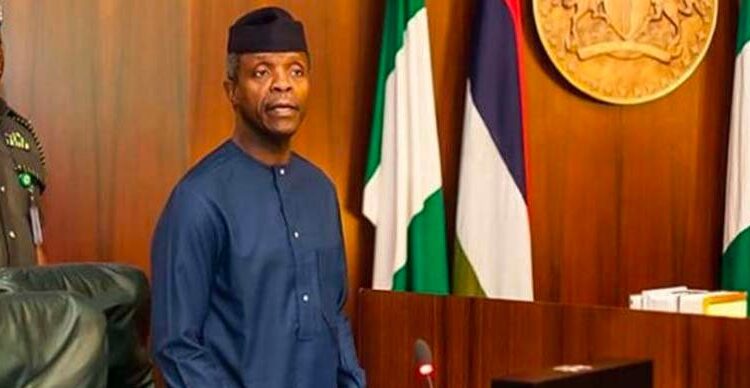 SEPLAT Energy Summit: "Energy Transition Can No Longer be Limited to Incremental Steps"– Osinbajo.
By Ikenna Omeje
As the world pushes towards clean and greener energy sources, part of measures to reduce global temperature to 1.5 degree Celsius, the Vice President, Prof. Yemi Osinbajo, has said that energy transition can no longer be limited to incremental steps.
Osinbajo sated this while declaring open   Seplat Energy Summit 2021, which held recently in Abuja, with the theme,"Global Trends in Energy Transition and the Africa Perspective."
Represented by the Minister  of State for Environment, Chief Sharon Ikeazor, the Vice President said that energy transition  must be a transformational effort, "… a system overhaul based on rapid upscaling and implementation of all available technologies to innovate for the future and this is the right moment to re- access the long-standing assumptions, perceived barriers and default decisions."
Energy transition is the pathway that will provide the transformation of global energy sector from fossil based to zero carbon. He said that at the heart of this transition is the need to reduce energy related carbon emissions to limit climate change, which is the goal of the Paris Agreement that Nigeria is signatory to.
Osinbajo noted that transformation of the energy sector offers ample opportunities for sustained economic development, social inclusion, energy security, improved health, job creation and other societal benefits, if achieved in a just and inclusive manner.
"The emerging energy systems must promote resilient economies and societies for a more inclusive and equitable world. Ambitious and targeted options are needed now and through out the coming decade to ensure the goals of SDG 7 are fulfilled and a decarbonized energy system achieved by the year 2050," the Vice President noted.
Presenting the key presentation on "Balancing Sustainability Revolution with Energy Poverty — Lessons from Around the World", Chief Executive Officer of Sustainable Energy for All, the Special Representative of the Secretary-General for Sustainable Energy for All, and Co-Chair of UN-Energy, Damilola Ogunbiyi,  said  that Nigeria most especially, and other countries in Africa, need to make sure that the energy transition on the continent is part of the energy transition plan on the way to 2030.
Ogunbiyi noted that  getting to net zero does not mean zero fossil fuel, as some countries actually need some fossils at least now to integrate their renewables, and in most countries that would be gas, adding that it is not right to tell people to stay in poverty while  trying to find an optimal solution.
At least 400 million out  of the 560 million people in Africa do not have electricity. She said that these people  can be powered in the least cost way via renewable energy and renewable solutions.
"We need to make sure that we are thinking about our building sector, our industrial sector, our power sector, our waste sector. What happens to the oil and gas industry, how do people transition to some other form of energy. There is a need for policies to address all these," she said.
"It is important for you to understand the energy mix in your country, what you are trying to eliminate, who you are trying to provide power for and what is the right mix. Different countries in different stages, but in total, we have been getting very positive yield from African governments."
On his part, Executive Secretary of Nigerian Content Development and Monitoring Board (NCDMB), Engr. Simbi Wabote, said that to achieve zero percent emission means that  90 percent of the global source of electricity has to come from renewables within 30 years.
Wabote explained that the transition from coal to oil took 160 years, and argued that  to achieve net-zero in a space of 30 years would be challenging.
"Now to make zero carbon emission within 30 years, you know what that challenge is and what the globe would face to make that transition. It's also important today for us to realize that the world is facing energy crisis, particularly Europe; because when you look at the statistics, Europe is the largest consumer of fossil fuel in terms of energy, followed by America, and then you talk about China," he said.
Nigeria has about 206 trillio cubic feet of proven gas reserves and over 600 tcf of unproven reserves. Wabote noted that if the country wants to transit, it has to transit to gas as its destination fuel.
"And if we want to transit successfully as a country, then we must transit our definition fuel as said by the minister of science and technology to the gas. But this cannot happen if we sit down and continue to have the conversation without doing something. Because when it went from coal to oil, we did nothing; and we were forced to follow the oil trajectory," he said.
"Now if it moves from oil to renewable, we would also be pushed to focus on renewable and abandon our natural God-given resources. The gas deposit in Nigeria today, even if we triple the consumption in Nigeria for the next 60, 70 years; we have not gone 50 percent of the gas deposit."
In his goodwill message, Minister of State for Petroleum Resources, Chief Timipre Sylva, said that the recently signed Petroleum Industry Act (PIA) 2021 will undoubtedly assist in harnessing Nigeria's potential to achieve its plan of increasing oil production to 4 million barrels per day and oil reserves from 37 billion barrels to 40 billion barrels, while also drawing on the country's estimated 600 trillion cubic feet of natural gas to provide clean and efficient energy.
He stated that  these resources would be crucial in supplying world market with a broad portfolio of energy options, as well as supporting the global endeavor to alleviate energy poverty as envisioned in goal 7 of the United Nations Sustainable Development Goals; adding that this is Nigeria's approach to the issue of renewable energy and the energy transition, while acknowledging its commitment to net zero as a nation.
"There is no gain saying the fact that Nigeria requires fossil fuel as its base load energy source. This is undoubtedly a major concern for climate activists in developed nations. But the clamor to emphasis only renewable energy as its soul path way to energy transition is a source of concern for African countries that are still working to achieve base load industrialization address energy poverty and ensure reliable power supply," Sylva said.
"This is why in Nigeria we reject the concept of a single path way to the energy transition. Indeed we preferred the concept of just energy transition, which takes into cognizance the specific circumstances of each nation in developing the energy transition path way that best achieves the environmental, social, political and economic objectives of the transition in that specific nation."
He argued that multiple energy path ways to the energy transition should and must exist in order to ensure that no country is left behind in the process of achieving net zero by 2050.
The key issue is that there must be sustainable and just way of transition so that countries which are left behind can do a catchup, said Group Managing Director of the Nigerian National Petroleum Corporation (NNPC) Mele Kyari.
"… there must be a recognition of a transition fuel utilization, which everybody agrees that gas would be the transition fuel. And for us in this country we must take the next practical step to close the energy security gap that we clearly have in our country today. And we can anchor that around the gas resources that we have. We are already doing a lot of work around this, getting infrastructure right in place and lining up partnes."
"We are not out of the oil age, and surely not within those short time frame that we see globally that is been spoken about, but for us what do we do about it?  The use of fossil fuel must change, so that they can be much more friendly and much more climate friendly," he argued.