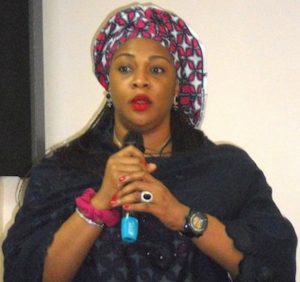 Saraki commissions N3bn Team Offshore Nigeria vessel
 Minister of State for Transportation, Gbemisola Saraki, has said that the Federal Government will continue to create the enabling environment for businesses to strive just as it will also continue to remove hurdles that will not allow for smooth business operations in the maritime sector.
Speaking at the christening of a newly acquired vessel, Team Beleuzi by Team Offshore Nigeria, a leading offshore support service provider in the oil and gas industry, Saraki urged the company to continue to maintain the drive towards meeting energy and local content requirements in Nigeria.
The Minister who was represented at the ceremony, which held at the Naval Dockyard by a former Acting Managing Director, National Inland Waterways Authority (NIWA), Chinwe Ezenwa, , commended the company for its contribution to local content development and achievements recorded within a space of two years that it came into operations in the marine and offshore services in Nigeria.
"With your track records and investment that you are injecting into Nigeria's economy since you started operation in 2017, we are convinced that you have confidence in Nigeria and the administration of President Muhammadu Buhari. You are steadily maintaining your course towards becoming the leading offshore support service provider in the Nigeria oil and gas industry.
"It is encouraging to observe that within the short period of your operations in Nigeria, Team Offshore Nigeria has in its fleet 14 specialized vessels flying Nigerian flag and contributing to local content development. With average fleet age of 6.5 years; and 2018, 2019 vessels in its fleet, you will agree with me that Team Offshore Nigeria deserves commendation.
"All these have been made possible by a 100 percent Nigerian ownership and a workforce of 90 percent indigenous personnel that have also shown commitment towards achieving a minimum of 70 percent Nigerian content in its various operations. These again, highly commendable," Saraki said.
Earlier in his address, Managing Partner at ACAS Law, Afolabi Caxton-Martins, said the new acquisition is an addition to Nigerian tonnage that will help build capacity, including development of human resources and the utilization of Nigerian goods and services.
He said, "At Team Offshore, our mission has been to focus on maximising our Nigerian content contribution and creating in country value, through investment for growth and local employment. Team Beleuzi, which is a 100 percent locally owned vessel, highlights our commitment towards value creation through our continuous and increased investment in the maritime sector in Nigeria.
"The company cut its teeth with a few bare boat charters and grew incrementally with the technical and financial support of what were then Topaz Energy and Marine Limited, until Topaz was acquired recently in July and became P & O Maritime Logistics, a wholly owned subsidiary of DP world.
"Today Team Offshore is proud to have in operation 12 Nigerian registered and flagged vessels under bareboat charter in addition to its newly acquired platform support vessel. Making this investment is evidence of our partner's confidence in Nigeria and the laws which have enabled it."
Team Beleuzi, a wholly Nigerian-owned vessel is a Platform Supply Vessel (PSV) built in 2019 and designed to transport supplies and equipment to and from offshore installations, in addition to supply drilling equipment, drilling bulks, fluids and pipes.