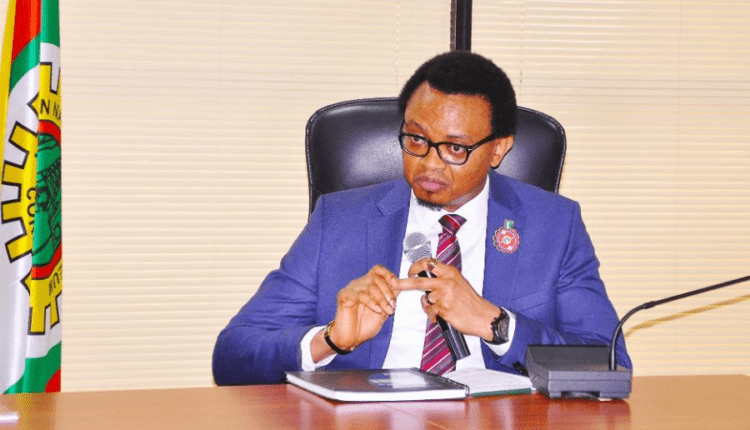 PTI Holds 2021 Pre-Conference Lecture
…Stakeholders raise concerns over the continent's clean
energy outlook
Gas is seen as the energy of the future and Nigeria has over 200 Trillion Cubic Feet (TCF) of proven gas reserves and over 600TCF of unproven gas reserves, which if properly harnessed will keep the country relevant in the energy space as the world transits from fossil fuels to green and cleaner energy.
As part of the Federal Government's gas revolution agenda, President Muhammadu Buhari, in March, launched the "The Decade of Gas" programme, which aims to make Nigeria a gas-powered economy by 2030.
Buhari noted that the current global trend in favour of green and cleaner energy presents the country with an opportunity, adding that Nigeria is a gas nation.
He said, "Nigeria is gas nation, rich in oil. But the country has focused on oil over the years. This is a paradox that we have decided to confront by declaring the Decade of Gas.
"The rising global demand for cleaner energy sources has offered Nigeria an opportunity to exploit gas resources for the good of the country. We intend to seize this opportunity,'' he said.
"Global developments have indeed presented Nigeria an opportunity. Gas will become the dominant fuel for generating power, especially in Africa and Asia. The question now is 'Can we rise up to the challenge?"
Speaking in this regard at the Petroleum Training Institute, Effuru, International Conference on Hydrocarbon Science and Technology pre-conference lecture with the theme "Gas Flare Commercialization: From Concept, Design to Commercialization" in mid September, the Technical Adviser (TA) on Gas Business & Policy Implementation to the Honourable Minister of State, Petroleum Resources,
The rising global demand for cleaner energy sources has offered Nigeria an opportunity to exploit gas resources for the good of the country. We intend to seize this opportunity,
Federal Ministry of Petroleum Resources (MPR), Engr. Justice Opelamina Derefaka,  noted that the Nigerian Gas Flare Commercialization Program (NGFCP) & the National Gas Expansion Program (NGEP) offer  the country a unique opportunity.
Derefaka said that prior to 2017, there was the need for a fundamental review of the policy positions of the Federal Government over the last ten (10) years with respect to the country's gas resources. Notably, he said that the shortcomings of the 2008 Gas Master Plan (GMP) in attracting the needed private sector investment for building critical infrastructure and developing  a mature domestic gas market by the target-year of 2015, made  the National Gas Policy (NGP or The Gas Policy) set out quite clearly that the government is making Nigeria a "gas play" and not an "oil play", in view of the volatility of crude oil price.
He noted that the Policy aims to move Nigeria from a crude-oil-export-based economy to a gas-based industrial economy; articulate government's policy thrust and agenda for promoting investment in gas as an alternative means for generating revenue and driving economic growth.
"The Policy notes that while the 2008 Gas Masterplan recorded some successes with growth at 3.1 percent a year, it only barely kept pace with the national population growth of Nigeria which is approximated at 2.8 percent per annum," he said. "This implies that there was insufficient growth in the development of Nigeria's gas in real terms. However, the policy still makes growing domestic market its priority while developing a significant presence in international markets."
According to him, the policy revolves around developing national human resources, infrastructure, industry structure, gas resources, building gas markets, and internal and external communication strategies.
He informed that the objective of NGEP is "To reinforce and expand gas supply as well as stimulate demand in the country through the effective and efficient mobilization and utilisation of all available assets, resources and infrastructure in the country."
Derefaka explained that NGEP is conceived and designed to serve as a catalyst for adding value to the vast natural gas reserves Nigeria is endowed with; identify existing policy, legal and regulatory frameworks, and commercial instruments that are hindering the development of the local gas sector; reform and implement the promotion of a market structure in a manner that will ensure the utilization of gas infrastructure, assets and facilities on a common carrier and co-sharing basis; formulate strategies that will promote cost-effective distribution of the various gas streams by marine, rail and road for achieving the most affordable, available, acceptable and accessible gas to Nigerians; and engage all state and non-state actors in sensitization programmes on all aspects of safety in relation to gas utilization in the country.
"The Policy notes that while the 2008 Gas Masterplan recorded some successes with growth at 3.1 percent a year, it only barely kept pace with the national population growth of Nigeria which is approximated at 2.8 percent per annum,"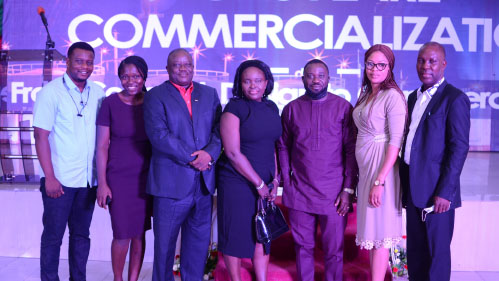 Participants at the PTI Pre-Conference event
He noted that NGEP has the capacity to reduce poverty by making locally available, produced, affordable and accessible fuel to mostly under-served communities in the country, thus contributing to job creation and human capital development through new investments in the gas sub-sector.
Gas as a bridge fuel
Derefaka stated that meeting growing global demand for energy, while tackling climate change and pollution, is a fundamental challenge facing society.  He suggested that a transformation of the global energy system is needed. This, he said, will take place at different paces depending on a range of factors; from national policies to the technologies and products consumers choose.
"A major contribution we can make right now is to continue to expand the role of natural gas," he said. "First, the world needs oil (and gas for that matter). The world needs oil and gas because it is what the world relies on for so much including, often, its most basic needs of heat, food and shelter. And that will not change overnight. Therefore, the FG will continue to invest in oil and gas, even as we work to help speed progress to a lower-carbon future."
Derefaka noted that natural gas is an abundant, secure and flexible source of energy and the high levels of anticipated demand can easily be met by known levels of recoverable natural gas resources, adding that "As technology advances, so does our ability to unlock the world's and Nigeria's natural gas resources."
Citing International Energy Agency (IEA), he said that presently, global proven gas resources stand at circa 769tcf (Nigeria's share is circa 206tcf), enough to supply global gas demand for 219 years at current levels of demand.
"For countries with large domestic natural gas resources like Nigeria, the impact of developing substantial additional volumes of natural gas can transform economies," he explained. "Pumped through pipelines, gas can be cost- effectively transported over long distances and as part of an integrated gas transport network (e.g., AKK, OB3 & ELPS I &II)."
Derefaka said that despite the promise of renewable electricity, it cannot provide all the world's energy needs. He argued that  after a period of rapid growth, renewables account for around one-quarter of global electricity generation, with wind and solar energy sources accounting for around 5 percent of global electricity generation presently.
"Renewables, such as solar and wind power, are also intermittent, requiring sufficient back-up to ensure reliable electricity supply when there is limited sun or wind," he argued.  "Using natural gas is already helping to reduce carbon dioxide and improve air quality where it replaces coal or diesel. Gas also supports an increasing role for renewables. This will be important as the use of electricity expands."
According to him, "gas will also continue to play a critical role in sectors where demand is anticipated to grow, but which are more difficult to electrify, such as the production of steel, cement and chemicals, as well as long-distance transportation of people and goods," adding that gas is what the world needs as it faces up to a period of profound change.
Gas and renewables
Some people would have loved to have fossil fuels to be replaced by renewables, but for technical and economic reasons, this cannot happen overnight, Derefaka said.
"Some industrial sectors could decarbonize over the coming decades – in particular power generation. Other sectors will need more time. And some will continue to need hydrocarbons. Having said that, as a government, we expect renewables to eventually become the largest component of the global energy mix.  We think that their share could double from 20% now to around 30-40 percent of the global energy mix by 2060," he said. This, he further stated, suggests that hydrocarbons will continue to play an important role for decades to come.
According to Derefaka,  only hydrocarbons can provide a full suite of energy products and address the shortcomings of alternative energies in terms of availability, storage and energy density.
"But, at the same time, the world needs to reduce CO2 emissions. This is why I'm convinced the energy mix needs to be based on a greater share of natural gas in combination with renewables," he noted.  "It is the reason why we have declared 2021 – 2030 as the decade of gas development for Nigeria."
Gas utilized vs gas flared
Citing the Department of Petroleum Resources (DPR) 2017 Oil and Gas Report, he said that just 11 percent of the total gas produced was flared. While the country's proven gas reserves stood at 200.79 trillion cubic feet (TCF), about 8.35 billion standard cubic per day was flared during the period (BSCFD).
According to him, gas utilization dashboard as of Sept. 15, showed that, out of 6931 mmscfd, 1623mmscfd was for domestic market, representing 23 percent, while 2770mmscfd was for export, representing 40 percent.
The dashboard further showed that 2003 was used as reinjection fuel, representing 29 percent; industries 830mmscfd; gas flared 471mmscfd, representing 7 percent; WAGP 70; power 880mmscfd; and line pack +44mmscfd.
Derefaka referred to flare gas as essentially Associated Gas (AG), which is gas produced with oil as they both come out of the ground. He explained that historically, AG is regarded as a waste product, and it is separated from the oil and flared in situ.
However, he said that progressively,  AG has been harnessed and used for power generation, fertilizer, methanol and petrochemical plants production; and for production of liquefied petroleum gas (LPG) and liquefied natural gas (LNG).
Derefaka further noted that gas flaring is a tremendous waste we cannot simply tolerate, especially from a climate change perspective.
"The gas we flare is an important part of the global energy transition, the closest ally to renewables. In a world where we still have about 1.1 billion (i.e. 1 in 6 people on the planet) people without access to electricity (i.e. more than three times the population of the USA)."
He informed that another 1 billion people struggle with unreliable supplies of electricity, 95 percent of whom are from sub-Saharan Africa and Developing Asia. Out of this number, he said that Africa has 588 million. West Africa sub region has the highest with 175million closely followed by Central Africa with 172 million.
In Nigeria with a population of over 200mln people, he said  only a small percentage of Nigeria's population has access to power supply.
NGFCP – The strategic imperative
The NGFCP, according to Derefaka, was designed as the strategy to implement the policy objectives of the Federal Government for the elimination of gas flares from Nigeria's oil and gas fields in the near term (2-3 years), with potentially enormous multiplier and development outcomes for Nigeria.
He noted that the policy on gas flaring is also encapsulated in the National Gas Policy approved by the Federal Executive Council in June 2017, to eliminate gas flaring through technically and commercially sustainable gas utilization projects developed by competent third party investors who will be invited to participate in a competitive and transparent bid process.
"as a government, we expect renewables to eventually become the largest component of the global energy mix.  We think that their share could double from 20% now to around 30-40 percent of the global energy mix by 2060,"
According to him, the commercialisation approach has been considered from legal, technical, economic, commercial and developmental standpoints, adding that it is a unique and historic opportunity to attract major investment in economically viable gas flare capture projects whilst permanently addressing a 63 year environmental problem in the country.
Under the programme, he said that third party investors are to access and utilize flared gas and convert same into Flare-Gas-to-Market-Products (FG-2-MP) and demonstrate project development experience and proven technology in commercial application,  adding that a structure has been devised to provide project bankability for the Flare Gas Buyers, which he said is essential to the success of the Programme.
Consistent with Nigeria's commitments for reduction of green-house gas (GHG) under the Paris Climate Change Agreement,  Derefaka said the Programme would reduce Nigeria's CO2 emissions by approximately 13 million tons/year, which could be monetized under an emission credits/carbon sale programme.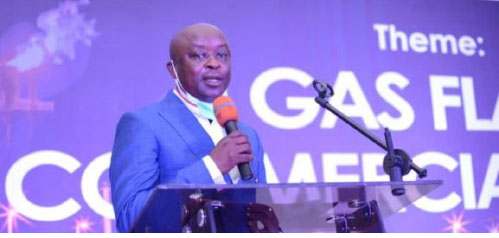 "NGFCP is the first market-driven program undertaken on this scale globally – Bidders will have flexibility of choosing which flare site(s) to bid for, the gas price, and the end market or gas product, as well as the technology to be used," he said.
NGFCP ticks 13 of the 17 Sustainable Development Goals (SDGs) of the United Nations, according to him. And will stimulate action over the next 2 – 3 years in 5 areas of critical importance to the SDGs' which he said include: People, Planet, Prosperity, Peace & Partnership.
Dirty energy is harmful to the environment
In his address at the pre-conference, titled "Challenges of Energy Transition: Nigeria Perspectives", Principal/Chief Executive of PTI, Nigeria, Dr H.A Adimula, listed mining, drilling and burning dirty energy as activities harmful to the environment as they cause  land degradation, water pollution, release of GHG emissions which leads to global warming.
Citing BP's Statistical Review of World Energy 2018 and International Energy Agency Balances 2017, he said that oil accounts for 34 percent of global energy mix, natural gas 23 percent, coal 28 percent, nuclear 4 percent, hydro 7 percent, and renewables 4 percent.
According to him, "…energy transition involves continuous improvements in energy efficiency, the development of a quality market for energy, a continuous increase in the use of renewable energy sources, improved energy management, continuous technological progress, and continuous improvements in citizens' and the economy's education and awareness of examples of good practices."
Increasing transition
Adimula noted that the increasing transition from primary energy sources to cleaner ones will have serious socioeconomic and political implications for Nigeria because the country is just beginning to take steps to diversify its economy.
He stated that gas is the sure way to transit to cleaner energy but in the case of Nigeria, there is an aspect that is yet to be given due consideration, adding that IEA's reports shows that energy efficiency is ahead of renewables in terms of cutting down emissions.
According to him, over 42,160.87 megawatts of electricity out of 88, 566.43 megawatts is wasted.  "In Nigeria, a lot of energy is wasted because households, public and private offices, as well as industries use more energy than is actually necessary to fulfill their need," he said.
He attributed the wastage to outdated and inefficient equipment and production processes, and unwholesome practices etc.
The PTI boss advocated for investment into energy efficiency as it can provide additional economic value, stressing that it will result in higher productivity, save cost, influences safety of life and reduces pollution.
He also argued that "the expected changes in the energy sector, as a consequence of climate and energy policies, call for changes in the education system" as well as increased investment in research and development.
Adimula suggested the country looks into Super-fuel H2 Gas as it does not emit CO2, and currently used in refinery and manufacturing of fertilizers. "Green H2 tops the eco-friendly table, and it's being produced by electrolyzing water using renewables. H2 is currently gaining the attentions of investors and policy makers in the western world," he said.
He explained that what makes H2 gas is that it is not conventional renewables because it has to be separated from H20 and has a high energy content to fuel the aviation, shipping, steel, and concrete industry unlike other conventional renewable.