The Petroleum Technology Association of Nigeria (PETAN) recently held its annual Dinner/Award night in Port Harcourt, Rivers State. Guests at the occasion included representative of the Governor of Rivers State:NyesomWike; that of the Minister of State for Petroleum Resources, Dr IbeKachikwu; while the Executive Secretary of Nigerian Content Development and Monitoring Board, EngrSimbiWabote was there in person.
Also in attendance were C-suite executives from International Oil Companies, Nigeria National Petroleum Corporation, independents, multinationals and indigenous service companies.
Mr Austin Avuru, Managing Director of Seplat delivered the keynote address titled: "Forging Ties, Driving Growth Stability Through Nigerian Content Cooperation." Via his presentation, the industry stalwart emphasised the need for collaboration among industry stake holders in identifying opportunities and in service delivery towards enhancing local capacity building and securing a continued growth in the oil sector and across linkage industries.
PETAN's industry award is a prized possession by its winners and outstanding players in Nigeria's petroleum sector often look forward to recognition by the body yearly.The event also provides a unique platform for close interaction between leading Nigerian oil service companies, senior executives in international oil companies, government policy makers and top political leaders to share ideas on the Nigerian oil industry in a relaxed and conducive atmosphere.
Some of the honoured awardees include: Shell Petroleum for Local Content Operator Award; Seplat Petroluem for PETAN Capacity Development Award; Sterling Bank for Local Content Bank of the Year; Nigeria Agip Oil Company (NAOC) for PETAN Corporate Social Responsibility Award;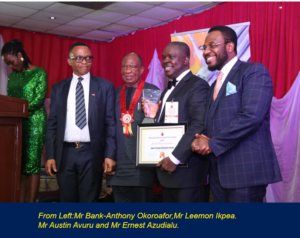 Laser Engineering and Resources Consultants for Distinguished Achievements Award (Corporate) and Oilserv Group for Distinguished Achievements Award (Corporate) too.
Others are; Engineer EmekaOkwuosa for Distinguished Pioneer PETAN Member Per Excellence; Mr Anthony Ellis for PETAN Chairman's Outstanding Achievement Recognition Award; Mr Stephen Aribeanafor Lifetime Achievements Award; EngrSimbiWabote for Local Content Personality of the Year; and Yusuf Matashi for The Aret Adams Award for Excellence.
The Minister of State for Petroleum Resources, Dr Emmanuel Ibe Kachikwu gets the Distinguished Leadership Award and the NNPC GMD, Dr Maikanti M Baru bags the Oil and Gas Personality of the Year Award.
PETAN is made up of Nigerian indigenous oilfield service companies and was founded to utilize the technical know-how acquired in the oil and gas industry by Nigerians as a springboard for economic and technological advancement. PETAN companies employ over 20,000 engineers and other technical personnel with a direct employment of about 80,000 people.
PETAN companies offer 250 distinct technical services to the Nigerian oil industry and many of these companies now parade similar services in Mauritania, Ghana, Cameroun, Equitorial Guinea, Congo, Gabon, Chad, Angola, South Africa, the Middle East, South East Asia and the United States.
By Jerome Onoja