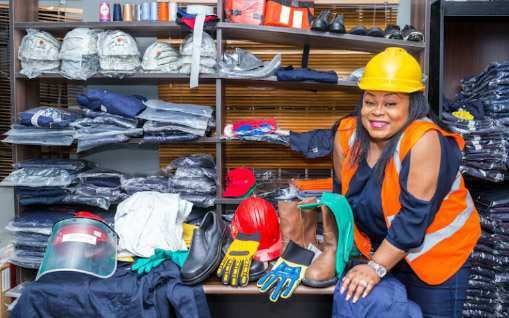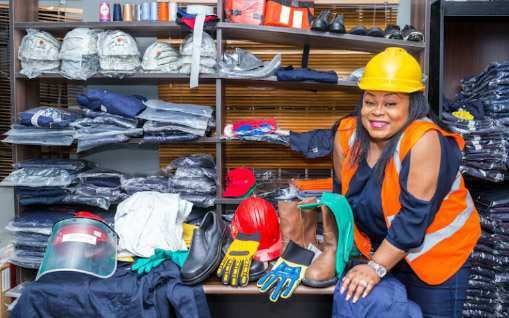 Ngozi Oyewole, also known as 'Noxie' is the Founder of Noxie Limited, an award-winning, SONCAP (SON/LSOII/CB/2324) and MAN (MAN/GML/05047) integrated service provider and manufacturer. She is a certified health and safety professional whose company plays actively in the supply chain of PPEs used by oil majors and service companies. Noxie equally maintains a good market share in construction, healthcare, food and logistics.
In 2015, she was nominated by Forbes Magazine as one of the leading women entrepreneur in Africa championing business sustainability and women inclusion in business. Among several bodies, she is a member of the Pan-African Manufacturers Association (PAMA); the International Women's Society (IWS); Lioness Club of Africa Group; Thrive Women Solution; GAIA Women Club; Global Fund for Women and World Pulse Group. In this interview with Jerome Onoja, she speaks on a number of issues.

Internationally, you have created a mark for the Noxie Brand via numerous recognitions. Forbes magazine acknowledged your prowess few years ago, can you tell us about it, please?

Well, I really thank Forbes for the recognition because that publication actually set things right for me. It helped me to keep my eyes on my big vision and to make it happen. I really don't know how Forbes found me, but I knew they kept on calling. The major question asked was where Noxie would be in five years. It left a big question mark. I don't give in quickly to things, even though at that time my company was at an admirable stage and everything was looking good.
What people didn't know was that at that time,
I just wanted to run away and do nothing as an entrepreneurship
But after the publication, I sat back, beat my chest like Esther in the Bible and said "If I perish, I perish, I must go on". Here we are today. A few others have featured me like the We Connect International, GAIA Africa, Women Economic Forum, This Day, and we have received different awards. I just thank God.

How has your upbringing helped in shaping your philosophy into the woman you are today?

Well, my parents did a good job for beating me the Nigerian way, if you know what I mean. My mum always flicked her eyes and drummed into my ears that a good name is better than riches. She was also an entrepreneur who taught me that a woman should be multi skilled. Both parents taught me to be positive in everything. I had the right discipline, I had love. I grew up with encouragement, I was criticised positively not negatively. I had very good listening parents and then married a man who always listens, cares and fears God.
What is the story behind the name, Noxie?

Noxie is my pet name and brand trademark by the Ministry of Industry, Trade and Investment. I appreciate the recognition. Feeling needed and appreciated are important incentives to keep you going. Life is about choices. If you discover ways to make the necessary unpleasant things enjoyable, you will hit jackpot. My quest for excellence, which didn't come easy, requires unflinching focus. I found my path, speed, strength and I challenged the limitations.

There has been an awakening, leading to increased advocacy for women empowerment and participation in the oil industry. What has been your advice to the various groups?

The role of women cannot and should not be ignored. I'm sure we all know that when we empower a woman, everyone benefits but unfortunately, women are still treated as second-class citizens of this world. In some areas, girls are almost completely ignored with no status, no protection, or prospect. Even in many families and communities, inequality is so entrenched that it is not even questioned.
I belong to the We Connect International; Learners of Africa; Women in Energy Oil and Gas; Women Economic Forum; Commonwealth Business Women Network, Nigeria where I am the COO; Women in Business (WIMBIZ); Africa Women in Entrepreneurship Program; Women in Manufacturing; Pan African Manufacturers Association just inaugurated at the African Union in Addis Ababa, Ethiopia. As a woman, capacity building fosters a sense of ownership and empowerment. With it, you have control over your self-development in areas of knowledge, resources, and solutions. It is important to be confident and able to light another woman's candle until a full cycle is achieved so we all can shine together.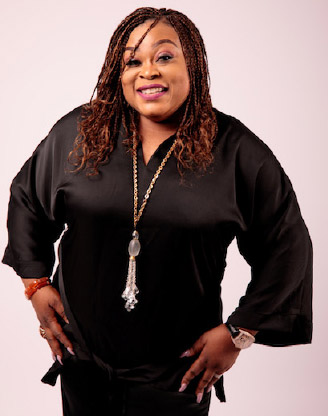 We are into integrated safety facilities and as alumni of Said Business School in University of Oxford, I learnt how to disrupt the giants when they're sleeping. Everything we do is in line with the Nigeria's local content standard and this really produced the famous registered Noxie coverall. It has gone through the various tests and passed.
Our coverall is good enough to be used in the rigs as PPE because it matches global standards, whether European or American.
We also make other COVID-19 Medical PPEs and protective wears like disposable coveralls, gloves, face masks, the normal brands like KN95, 3M/ N95/8210. We do the nitrile gloves. We service the oil and gas industry, medical industry, laboratories, construction, and food industry. We provide PPEs for companies and also use our machines for the branding. As a diversified company, we have the Noxie Furniture Factory in the heart of Mushin, Lagos. All our furniture are Ergonomic as the comfort and health of our clients mean a lot to us. The head, back, arm all need to be in the right position to avoid any occupational hazard. Our PPE offices are in Port Harcourt, Rivers and Eket, Akwa Ibom. Because we prioritize the comfort of our clients, our furniture are beautiful and ergonomic, considering various occupational hazards, neck ache, waist pain and others.
Our Architectural and interior design division, deals with remodeling, office fit out, out door construction, structural repairs and renovations.The logistics division of our business, deals with the moving our products to our clients in various locations. However, when they're not in use, we then use them for haulage of moving other goods commercially from one end of the country to another. So as you can see, I have been able to explain how each division of Noxie Limited is inter twined. So when my friends wonder I cope, am sure reading this article would finally explain how these various activities complement each other.
So, for an interior decorator and a creative hands-on person like me, it works very well for me without stress.
Your philanthropic activities transverse regions. Are these in line with some SDGs aspirations or are they just spontaneous?

A heart to give is probably my nature but
I am an ardent supporter of the Sustainable Development Goals which are universally applicable.
Even now, I am the CEO of the Commonwealth Business Women Network in Nigeria which promotes entrepreneurial development so we collaborate with other organisations.
For me,
the smile from a thankful person shows you're really making a difference in someone's life and that for me is the greatest feeling in the world.
We uplift women through farming. It goes beyond just teaching them or supporting them. Sometimes you kind of get involved with what they do in their personal lives. I have over 200 widows I inherited from my mother. She had a widow's ministry before she passed. I didn't want that to die. So I took it on. They are now 400 widows. You know the life of a widow in certain parts of Nigeria, how they are treated and some of them don't have children or support.
We look after them, provide healthcare, clothing, food, and even give the very old, helpless ones a bath. Sometimes when they pass, I kind of do my own bit to give them a burial. I put them up in groups like a cooperative to support one another. Some of them are widows indeed but there are some young ones I mentor back into the society to remarry. We arrange for them to learn various skills. Others turn out to become tailors or hairdressers, and so on. So, I don't know what you want to make of it. You can call it spontaneous, or SDGs, I just have a heart to feel what the next person feels. And then naturally, I am a very happy person. I just like to help. It's not about money. You can even call me "Agony Aunt".
I also have some children I inherited from my mother who owned a school which she passed on to me. She had about 50 children she was paying fees for. Going through my mum's documents when she passed, I found a file that had about 50 children and she was paying their schools. Some I still have not met but I just continued from where she left. I don't know them. I just continued paying the fees to the school. I only get phone calls when they say they have just graduated and then I help wherever I can. There are other people I just give to, kindness is not something you say in public. It is a part of what you share. It's not about wealth but doing what you should do. Being rich is not in having the best car or wearing expensive clothes. It's about giving, showing love and putting a smile on someone's face.

As a woman, what has been your greatest fear in business and how did you manage? What is your take about the glass ceiling for women achievement?

Entrepreneurship is not for the lily-livered. The first worry is the fear of the business thriving, looking at the risks involved. You may think you have it all together but occasionally, the worst scenario plays up in your mind – like a bang! It is not always the lack of capital or skills.
For me, I wipe my face and confront my fears. When you are playing with giants, you are always the underdog. So, they underestimate you, and while they are asleep, you are awake doing something great. And, when they are awake , you would have covered miles. Self-development is very key when you are in this situation. For me, I equipped myself, got certified in over 35 entrepreneurship certifications, which of course builds one's confidence that shows that, this lady is good enough for the job. You can never have the feeling of fulfillment until you impact or touch another woman's life. So, I mentor some women in South Africa and Bangalore under the Cherie Blair foundation.

What is the vision for Noxie ten, fifteen years from now?
Right now, succession plan is in place. I have groomed my team and I am getting to where the baton will change hands.
I think the foundation is right because the company is running well with all the processes and procedures in place. For us, training, continuous self-development, learning is very important. We have this beautiful culture, and everybody is tightly interwoven, doing his or her own specialised thing. In ten years, Noxie limited will be a multinational entity in the energy space. With COVID 19, a lot has changed.
Noxie is also responsive to change and will keep evolving.
We should not be underestimated because a lot has gone into the company in the areas of intellectual property investment, monetary investment and unwavering family support. 10 years from now, all manufacturing will be done in-country and by Nigerians. We will still be soaring.

How do you maintain a healthy work-life balance?

I have the most supportive family where everybody helps in different ways. My patient husband tolerates my excesses of traveling all the time. Well, my work life is on the go. My lifestyle is a tough one. But somehow my family and my best friend are my biggest supporters. Sometimes I kind of want to give up and they come to my aid. I'm naturally a happy person. I play really hard when I'm not working.
I can wake up to attend a friend's birthday party in Dubai because it's only the living that can enjoy life.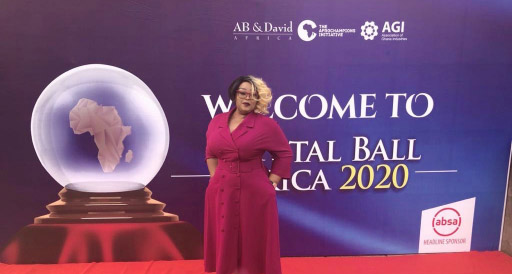 So I get up and I go. For me, prayer is mandatory and I have that together because I know God has got my back and I don't take it for granted. I love Scrabble, it was one of the things that brought my husband and I together. I play Scrabble on my phone, and audio book.
I used to be in Nollywood many years ago. For Christmas celebration, I pack up, whether I've achieved or not. Christmas is a big thing in my family. My kids come in from everywhere, we reunite as a family in our beautiful hometown in Igbajo, Osun state. So we're able to find time together to have fun. I was lucky. I stayed home for ten years after I got married. I just brought my children up to the point where I knew I had done what God guided me to do, while my husband was providing everything. And when it was time to get back to work, I took off but was mindful of the invisible leash that always reminded me that no matter how hard I work out there, home was always important. This could differ from person to person. I believe everyone should stick to what works for that person.
It is a good feeling to know you have a family to run to. So I always say, "When everything fails, there is always a home to run back to. So I tell other women that, It's beautiful to be out there and do good things. But it's not cool not to have a family to come back to. I think I'm blessed.

You have established a robust client base across the country. We believe this was attained with the support of some foreign partners?

The robust client base was not attained by having the support of any foreign partner. I learnt on time never to miss an opportunity. When I had the chance to showcase myself, I put in my all and I ran with it.
The foreign partners appeared after that. I always tell people, everything comes from within you. Whatever you want to be starts from inside of you. Everybody needs a ladder holder. Certain talents die because they never got a chance. I am grateful to God that I was given a chance, I showed what I could do and I kept on believing in myself. It's important to note that self-development is crucial to continued relevance. You can't use old methods to fix this new normal.
We are in the digital world where technology has taken pride of place in the new normal. As things changed, we changed too. So it wasn't about any foreign partners. Everything happened here in Nigeria.