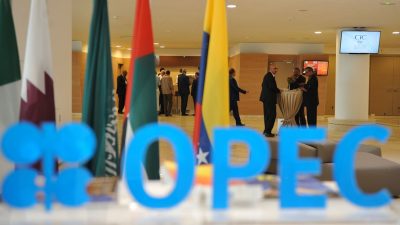 OPEC, India meet over volatile oil market
The Organisation of Petroleum Exporting Countries, OPEC, and India have expressed commitment toward tackling problems in the oil market.
Specifically, HE Mohammad Sanusi Barkindo, OPEC Secretary General, held a bilateral meeting with HE Dharmendra Pradhan, India's Minister for Petroleum and Natural Gas, via videoconference to discuss the importance of the OPEC-India partnership and further ways to strengthen dialogue in the face of current challenges.
They discussed the impact of the COVID19 pandemic on the global economy and oil market, with a specific focus on India and Asia.
They underscored the value of the OPEC-India Energy Dialogue as a vital platform that enhances cooperation among industry stakeholders.
The Secretary General briefed the Minister about decisions taken by OPEC and its partners at the 9th and 10th OPEC and non-OPEC Ministerial Meetings on 9 and 12 April, as well as preparations for the forthcoming meetings to be convened next week.
"We would like to register our deep admiration on how your esteemed Government was able to contain this deadly pandemic COVID-19," the Secretary General said, adding, "I would like to commend India's consultation and dialogue with OPEC."
HE Pradhan congratulated OPEC on the agreement reached at the April meetings which has helped in assisting the recovery from the unparalleled market collapse.
"I also commend you for the better understanding within OPEC and OPEC+ at a time when global energy market is facing serious challenges," the Indian Minister said.
"It is the first time that so many producing countries from OPEC and OPEC+ have come together in support of stabilizing the global oil market," he said, adding "Congratulations, Your Excellency."
HE Pradhan praised the OPEC+ decisions towards stabilizing the market. He stated it was important to see actions that are in the interests of producers and consumers.
The Minister said that he has been in contact with the US, the Russian Federation, Saudi Arabia and the UAE as part of his efforts in monitoring market developments and responses.
"With the easing of containment measures, the gradual recovery is expected to revive oil demand," the Minister said.
HE Pradhan made reference to the G20 Energy Ministers and their support for market stabilization efforts. "The subsequent understanding between OPEC and OPEC+ and also producers such as Norway and Canada was a new departure," he added.
HE Barkindo invited HE Pradhan to take part in the 8th OPEC International Seminar which will be held in Vienna on the 16th and 17th of June 2021.
Both agreed to reconvene their next high-level energy meeting in July 2020.