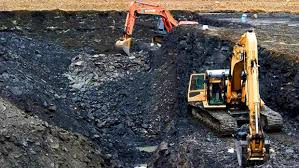 Ondo set to commence bitumen exploration
A socio-cultural group, Ondo South Renaissance Movement, has commended Governor Rotimi Akeredolu of Ondo State over his commitment towards ensuring the exploration of bitumen in the state commences as soon as possible.
Convocation ceremony of the Federal University of Technology, Akure last week, announced that all equipment needed for the exploration of bitumen in Ondo South is now in the State. In a statement by its Convener, Isaac Olugbemi said it received with joy news of the about to commence exploration of the large deposit of bitumen in the Southern Senatorial District of the state, stating that the project would provide jobs for numerous people in the state.
The statement reads in part: "While we appreciate the commencement of the bitumen exploration by Ondo State government, it is important to caution the government over possible neglect of the project which is one common attitude of governments in Nigeria."
"This time the government must also deploy its full machinery into making the exploration possible, which include allowing experts to oversee activities of the exploration." The group added that unemployed youths in the Ondo Senatorial District must be considered forehand for jobs on site, noting that such an opportunity would help caution youths involvement in crimes and keep them busy.
Source: Vanguard