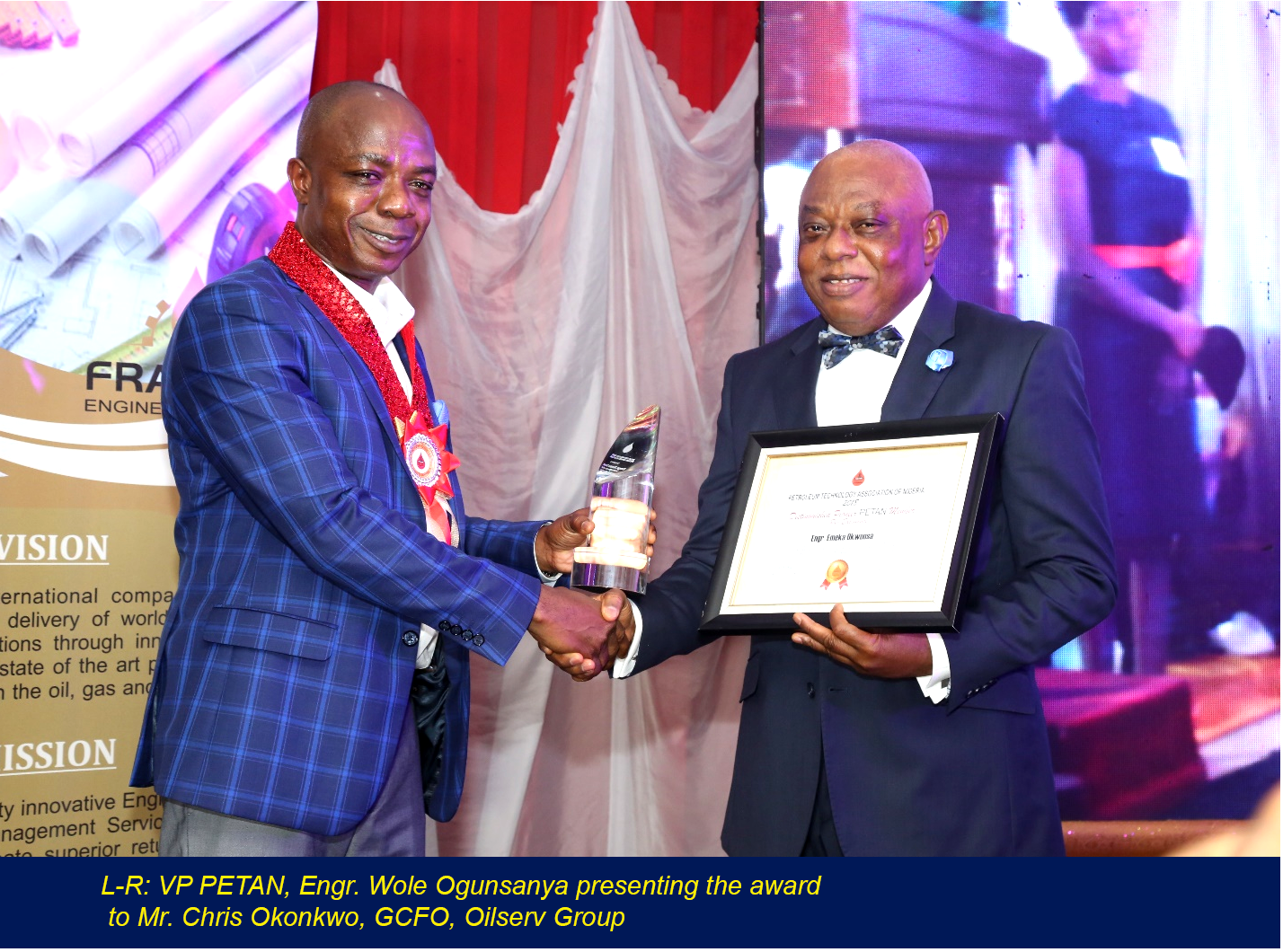 Oilserv Limited Bags 2018 Industry Achievement Award
Oilserv Limited bagged the 2018 Distinguished Achievement Award (Corporate) at the 2018 Annual Oil Industry Achievement Dinner and Awards of the Petroleum Technology Association of Nigeria (PETAN) an association of indigenous technical oilfield service companies in the upstream and downstream sectors.
The Chairman of Oilserv Group, Engr. Emeka Okwuosa ably represented by the Group Chief Finance Officer, Mr. Chris Okonkwo was also honored with the Distinguished Pioneer PETAN Membership Per Excellence Award in recognition of his unwavering support and commitment to the growth of the organization since inception.
'Since 2008 till date, Engr. Emeka Okwuosa has single handedly sponsored the PETAN Panel Session held annually at the Offshore Technology Conference (OTC) in Houston, Texas, USA'' said Vice President PETAN, Engr. Wole Ogunsanya, while presenting the award at the dinner in Port Harcourt on Saturday, November 30. The annual PETAN Panel session is an event that brings together stakeholders, Captains of Industry, government officials and CEO's of Oil companies in Nigeria to deliberate and articulate ideas on relevant developments, trends and challenges in the energy sector.
Mr. Austin Avuru, CEO SEPLAT while presenting the Distinguished Achievement Award (Corporate) stated that the works of Oilserv especially on the OB3 Project for NNPC, a 67km x 48inch gas transmission Pipeline Project, speaks volumes about indigenous expertise and capabilities which Oilserv is known for in the EPC business. Commenting on the awards, Chioma Orji, External Relations Supervisor, Oilserv said '' It's a well-deserved honor. The contributions of Oilserv in the development of oil/gas infrastructure, human capacity building and Research and Development in the energy sector cannot be overemphasized and it earned us the recognition we enjoyed today. I also see the awards as a call to do more and keep the flag flying''.