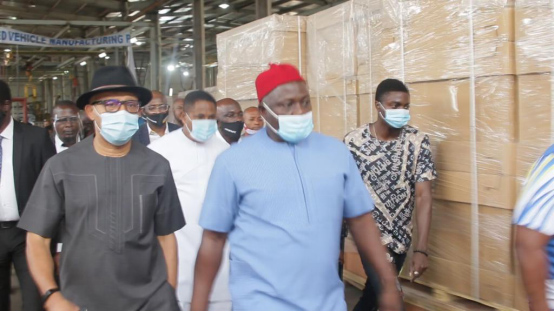 Oilserv, IVM Create Pedestal for Proliferation of Locally Manufactured Vehicles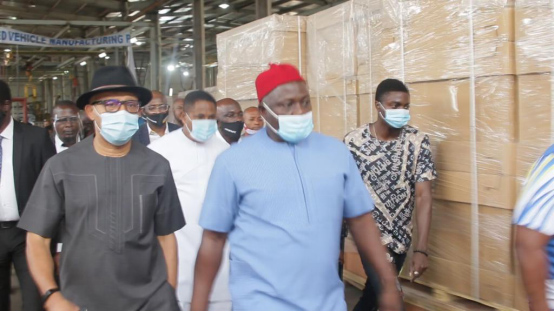 In furtherance of local content development, Nigeria's engineering, procurement and construction (EPC) giant has announced its partnership with Innoson Vehicle Manufacturing as it intends to get involved in the conceptualization, manufacturing and use of the locally-manufactured vehicles for its oil and gas operations. This is geared toward eventual proliferation of Nigerian-made vehicles.
Sequel to its order for vehicles worth 600mn Naira (US $1.58mn), Engineer Emeka Okwuosa, Chairman of Oilserv Group recently led a team of some of his C-level executives on a tour of the IVM plant in Anambra state, where both companies announced their partnership in a bid to further entrench local content and increase the supply of locally-manufactured vehicles to Oilserv's fleet and the Nigerian oil industry.
The growth of Nigerian Content development in the oil industry is backed by the Nigeria Oil and Gas Industry Content Development Act (NOGICD Act) of 2010, a piece of legislation that was reinforced by the presidential Executive Order 003 and later Executive Order 005. All three instruments of the law point to the nation's push for patronage of indigenous companies and growth of local capacity and capabilities.
Oilserv, a 100 per cent Nigerian-owned, EPC company with a commendable track record on big ticket projects within and outside the country has shown unwavering commitment in leading the development and expansion of Nigerian Content. Its strategic partnership with IVM is expected to spike the patronage and use of made-in-Nigeria vehicles in the nation's oil industry and beyond.
Speaking to newsmen at the tour, Okwuosa said, "As an engineering and construction firm, we build pipelines in Nigeria and across Africa; we also develop and use technologies. But overtime, we have seen IVM prove itself because it doesn't just talk the talk but also walks the walk, so we are here to identify with him.
"It's important to note that IVM manufactures motor vehicles, they do not just assemble component parts. They take it from the scratch and adapt it to our country.
"So, we see their ingenuity as an avenue to forge a partnership. As such, we are here to see their processes and to tell the world that IVM is developing Nigerian Content, of which Oilserv is a key driver."
He further added, "IVM is a local manufacturer while Oilserv is a local engineering company. So this partnership with IVM is a testimony to the development of local capacity in Nigeria.
"We are here to partner with IVM for the conceptualization, manufacturing and use of local vehicles for our activities in the oil and gas industry."
Confirming IVM's competency over time, Okwuosa said, "We have been engaging Innoson before now because we believe in them. We already made an order worth about 600mn Naira. Some of the vehicles you saw during the tour are being made for Oilserv.
"It's pertinent to note that you need to have high quality and standards to service the oil industry. I'm talking about international standards; the same that obtains in Western world. And that standard is what we see here.
"Another key feature with IVM is the flexibility of its manufacturing process. That gives you a wide range of options to explore."
On his part, Dr Innocent Chukwuma, Chairman and Chief Executive Officer of IVM maintained his resolve to develop Nigerian Content and local supplies of its raw materials. He stated that IVM is unfazed in spite of the absence of a functional steel industry.
"Because we manufacture and do not just assemble, 60 per cent of our component parts come from within the country. Yes, it's interesting to note that we make the carcasses of the vehicles here, locally.
"We only import some engines, electrical and body parts but we produce all the plastic component ourselves, he added."
He further stated that, "new vehicles are produced according to demand. Whatever the need, we can build the mould and produce the specification.
"The partnership with Oilserv will help Nigeria as a whole, even across Africa. Because, wherever OIlserv works across Africa, it'll be noted that the vehicles used are from Nigeria.
"Our vehicles constitute about 90 per cent of their fleet – locally manufactured! That tells you Mr Okwuosa has the development of Nigeria in mind."
Alluding to a unique benefit from its partnership with Oilserv, Dr Chukwuma stated that, "even when they give us orders on certain specs, we still learn a thing or two from them because Oilserv is an outstanding engineering company with international footprint.
Confirming the standards with its manufacturing process, he affirmed that IVM's manufacturing process is built to global standard.
He said, "our vehicle manufacturing system is consistent with what obtains globally. There are international standards you have to meet, otherwise it won't work. We maintain that same standard here.
"We don't just manufacture to quality and standards, our delivery is also on scheduled time. I can attest to that fact that Oilserv is happy with our delivery time" he quipped.
Lending his voice to a major benefit of local content development and sourcing vehicles locally, the Group Head of its Supply Chain at Oilserv, Chukwuma Nkwodinmah praised the partnership between both firms.
Nkwodinmah said, "Sourcing vehicles locally has added to Oilserv's profitability. A direct comparison between the prices of local supplies as against importation of similar vehicle specs shows a price differential. That difference is a huge profit to OIlserv.
"Also, our large orders help Innoson put food on the table of its large employees. So, it's a mutually-beneficial partnership with a lot of prospects", he added.
In the same vein, Solomon Okodugha, Group Chief Finance Officer, Oilserv Group noted that the partnership is strategic to Oilserv, helping it further its pursuit of Nigerian Content development.
Okodugha averred that the partnership will lift jobless people off the street via employment by both companies, thus it's a commendable venture which also improves the economic wellbeing of Nigerians.
Identifying a unique feature of the partnership, Chigozie Obi, General Manager Operations and Technical Services for OIlserv stated that, "Both companies are champions of Nigerian Content and they are making a huge statement by showing Nigerians and the rest of the world that they can carry out technical activities and still maintain international standard".