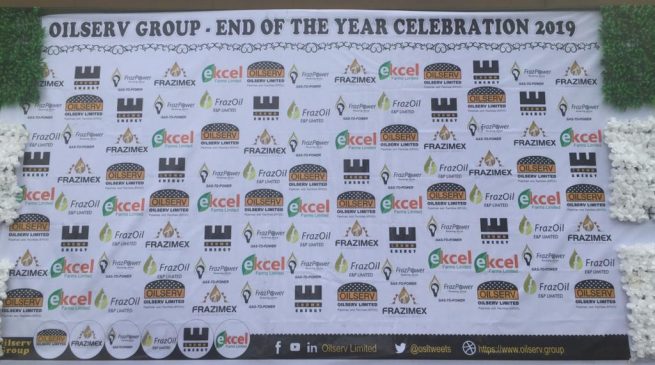 OILSERV GROUP MARKS END OF YEAR ACTIVITIES
…..CELEBRATES LONG SERVING EMPLOYEES                                                    
It was a beehive of activities last week for Oilserv Limited, a leading EPCIC Company in the Pipelines and Facilities, as it marked its end of year activities amidst pomp and pageantry.
The company's week-long yuletide celebrations began with recreational activities, Staff Children's Party and Charity Visit to the home for the Elderly. The celebrations climaxed on Saturday, 14th December with a Christmas party for the staff and their families.
Speaking at the event, Engr. Emeka Okwuosa, Chairman and Group Chief Executive Officer commended the employees for their hard work and dedication to service and for keeping faith with the company throughout the year.
He said employees which are the company's most valued asset have contributed immensely to the success and delivery of key projects with high safety and quality standards and cost efficiency.
"I want to thank you all for your hard work and dedication to service through the year, particularly in the delivery of major projects like the OB3 gas pipeline. You have put in great efforts in ensuring high safety standards and quality which are our watch-words", he enthused.
Engr. Emeka Okwuosa encouraged the staff to continue to do their best possible in ensuring efficiency and effectiveness in the course of their duties as the new year will have lots of activities in terms of projects which requires all to be on top of their roles as individuals and a team in order to achieve defined targets.
He said that Oilserv Limited is poised and positioned to be not only the foremost EPC Company in Nigeria, but to be the top-choice company in the Pipelines and Facility business.
The event which was graced by representatives of the company's clients, sub-contractors and vendors also featured awards to long serving employees who have put-in between 5-20 years of service amongst other activities