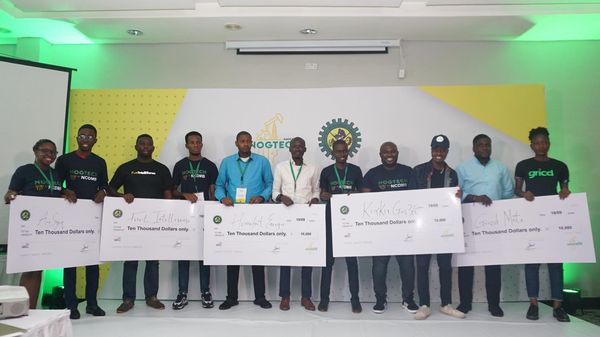 NOGTECH innovators to get sustained support, partnerships-NCDMB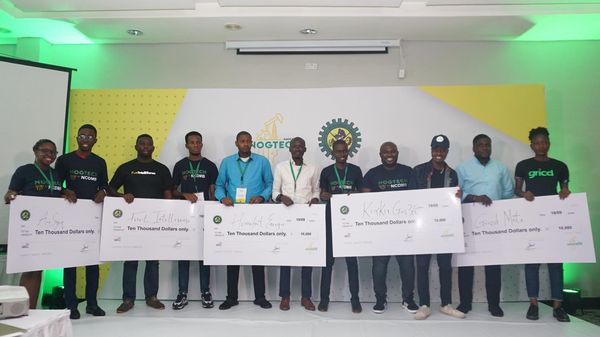 by Mordi chukwunonso Esther 
The Nigerian content development and monitoring board (NCDMB) has said that The five winning innovators in the Nigerian Oil and Gas Technology (NOGTECH) Hackathon will get sustained institutional and financial support from NCDMB and other industry stakeholders to enable them to become successful businesses.
The Executive Secretary NCDMB, Engr. Simbi Kesiye Wabote announced this at the demo day held recently in Lagos, where the five startups showcased their homegrown innovative solutions tailored to solve local problems in the oil and gas industry and related sectors.
The startups – AirSynQ, Fuel Intellisense, Gricd Mote, Homefort Energy and Kiakia Gas had earlier received US$10,000 grant each from NCDMB and have just completed their three-month incubation programme, where they had resources and mentors that helped them identify their pilot clients and markets.
The NOGTECH Hackathon was launched in July 2020 under the sponsorship of NCDMB and 630 promising startups applied, with 15 finalists selected at the end of the screening phase. The 15 groups took part in the three-day Hackathon stage held in September 2020, where the top five teams were selected.
The Executive Secretary confirmed that the Board will continue to support the five startups using the Nigerian Content Research & Development Council, that draws membership from relevant organisations and the US$50m Nigerian Content Research and Development Fund. He reiterated that NCDMB deploys an end to end strategy in its projects and will not relent until the innovations are fully deployed and begin to solve societal problems.
He noted that some of the solutions extend beyond the oil and gas sector and they will impact the health sector, community surveillance and the military in their fight against insurgence. "These are innovative solutions to everyday problems that we face in the country; it is beyond the oil and gas industry."
On the connection between NOGTECH Hackathon and NCDMB's mandate, Wabote explained that the initiative promotes research and development and capacity building, and they constitute key pillars of NCDMB's mandate and its 10-year strategic roadmap. He added that the 10 teams that made it to the NOGTECH screening stage would also be accommodated at the Board's incubation centre located at the Board's headquarters in Yenagoa, Bayelsa State. "We just signed our incubation policy and it will enable us to incubate these innovators until they commercialize their products. Youths of Nigerians are innovative and creative. They are looking for a platform they can get and NCDMB will be that platform."
One of the innovations-AirsynQ seeks to tackle pipeline vandalism by providing real-time aerial intelligence, surveillance and reconnaissance information. It uses balloon satellite to provide long duration aerial surveillance for up to go days. It uses Artificial lntelligence software that automates surveillance data assessment and reporting to pave a path for real-time predictive and preventive approach to security. The technology promises to help Nigeria save estimated loss of over $9bn to oil and gas theft every year, despite spending about $1.2bn for staff and asset protection yearly.
The company is seeking funding to help it accelerate adoption of the technology in Nigeria's oil and gas sector and defense departments as well as facilitate better Research and Development for the product.
Fuel Intellisense automates vehicle identification and fuel management systems. It leverages on technology to enable security, access and control of private and commercial filling stations/fuel stores whilst monitoring delivery and outputs.
The technology seeks to eliminate error prone manual entries and unauthorized fuel usage. It also eliminates misallocations, fuel theft and improves accountability through effective fuel management systems. Some of the services of Fuel IntelliSense include Real-time transaction tracking at fuel terminals, Communication with underground tanks to determine the fuel level remotely and Employee efficiency tracking.
Gricd Mote improves realtime storage conditions of temperature-sensitive medications, both stationary and transient. The internet of things (IoT) solution provides real time information on storage conditions and location of perishables. It will enable businesses to take proactive measures to curb losses, prove settlement claims and share existing asset to achieve expansion.
Other advantages of deploying the technology are that it will reduce samples loss because clients can take pro-active decisions, ensure potency of samples collected and improve customer trust.
The company is seeking support from the Department of Petroleum Resources (DPR), to mandate the use of real time loggers to track environmental samples collected from local operating companies in the downstream.
HomeFort makes cooking gas available to low-income households on a pay-as-you-go model. The technology is geared to address the inability of low-income families to switch to clean cooking gas because of the high upfront cost of cylinder and high gas refill costs. The switch to clean energy will save an estimated 93,000 Nigerians that die annually from dirty fuels.
Families can get the gas filled cylinder with just N400 down payment and buy LPG for as low as N100 using specified codes from the phones. They can pay for gas unit as low as N150 per time via their low-end mobile phone. Gas access is cut-off when unit is exhausted, until new unit is purchased. The team requires referrals to major LPG marketing companies for possible collaboration and plan to deploy to 1,000 households before end of quarter one 2021.
KiaKia Gas is a technology that lets customers know when their gas is about to finish and order for LPG refill through an application. It also alerts customers on the safety status of their cylinders.