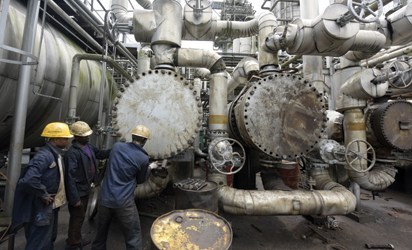 Nigerian oil independents on red alert as IOCs plan further divestment
Nigerian investors and industry players will be keeping an eagle eye on a current wave of investment opportunities about to open up for local companies as International Oil Companies (IOCs) move to fully divest from onshore assets. According to sources, oil majors in Nigeria are expected to be selling off their onshore assets while focusing on offshore oil blocks.
This is due mainly to a combination of reasons ranging from ageing Joint Ventures (JV) assets to crude oil theft, insecurity, hostility from host communities, increasing costs of oil and gas projects and unfavourable government policies. All these, the sources say, are making it more expensive for IOCs to operate such onshore assets.
Nigeria currently has a total of 390 oil blocks that have been discovered, and only 179 of them have been awarded to individuals and corporations, while 211 blocks are yet to be awarded, according to the Department of Petroleum Resources (DPR). Out of the 179 oil blocks awarded, 90 belong to Nigerians, while the remaining blocks are owned by foreigners.
International Oil Companies (IOCs) account for more than 70 percent of the nation's daily crude production. Naturally, a wave of divestment of oil and gas assets previously held by these IOCs presents a unique investment opportunity for Nigerian independents, especially Seplat Petroleum Development Company plc, Neconde, First Hydrocarbon Nigeria Ltd, Niger Delta Western, Shoreline and Elcrest Exploration and Production Nigeria Limited, to move from marginal to major players.
Stakeholders believe these unique opportunities can become a reality as government sets an ambitious target of realising 4 million barrels-per-day oil production and 40 billion crude oil reserves in the near future. "It's more protable for IOCs to sell onshore assets to smaller companies rather than keeping them and paying heavily for them. Remember IOCs also have deepwater (onshore) assets that give them more profits," Abayomi Fawehinmi, an oil expert in a Lagos-based oil firm, said.
Fawehinmi believes quite a number of indigenous oil and gas firms can buy these assets. Famfa, Nigeria Petroleum Development Company (NPDC), Consolidated Oil Limited, Yinka Folawiyo Petroleum Company, among others are said to be on the list of top contenders to acquire the assets.
According to data from DPR, Royal Dutch Shell, French oil company ELF, and Italian Agip currently hold the highest onshore assets which include OMLs 11, 17, 20, 21, 22, 23, 25, 27, 28, 31, 33, 36, 32, 35, 43, 45 and 46. American multinational Chevron owns OML 51 and 49, while China's Addax owns OML 124.
"As long as JV assets are going old, unresolved issues concerning PIB and a new gas regulation against gas glaring which forces IOCs to pay more fine compared to local firms remain, IOCs will keep selling onshore assets because it's more expensive and troublesome to produce from them," Fawehinmi told BusinessDay.
Adeoluwa Eweje, an oil and gas analyst at Afrinvest Securities Limited, expects a trend where more IOCs will divest from onshore assets due to insecurity, low commercial viability and hostility from host communities. "IOCs are more concerned about the commercial viability of an asset, not whether it's producing or not," he said.
There are also concerns about the ability of the local players to effectively and efficiently operate the divested assets. "A majority of the local players are not disciplined and they also lack corporate governance, especially after making money," Eweje told BusinessDay. Eweje noted that apart from Seplat, a majority of the local players don't have the capital or technical expertise to operate onshore assets.
"All they have is connections which was what we saw when marginal fields were handed over to them," he said. Fawehinmi said the sales of the onshore assets by IOCs could be an advantage to the country on the short run with higher production which always happens when there is a change of ownership; for example, when Seplat took over Shell's asset. "However, oil is a long-term business, not short term," he said.
But the IOCs' attempt to sell their assets to local companies has not always been smooth, particularly where bureaucracy, difficult operating or security conditions feature prominently. Buoyed by high oil price and the need to boost local content in the nation's oil industry, many banks doled out loans to indigenous players for the acquisition of assets being divested by IOCs
such as Royal Dutch Shell, Chevron and Total.
Seplat successfully bought assets such as OMLs 4, 38 and 41 from Shell in 2010 which were producing 15,000 barrels per day (bpd) but are today producing 80,000 bpd. Between 2010 and 2018, a number of indigenous companies including Starcrest Energy, Aiteo, Oando, Seplat, Eroton, First E&P, Neconde, Midwestern, Notore Lekoil, PanOcean, Newcross and Shoreline threw in billion-dollar cheques in their scramble for assets divested by major multinational oil firms which have recorded mixed performance.
Oando Energy Resources, a subsidiary of Oando plc, incurred a $2.5 billion debt after the 2014 acquisition of oil and gas assets from US giant ConocoPhillips, while Seven Energy, a Nigerian company founded in 2004, ran into troubled waters after several
defaults on its debt servicing obligations.
Government's recent directive regarding the transfer of operatorship of an onshore asset OML 11 from Shell to Nigerian Petroleum Development Company (NPDC) Ltd generated a lot of ripples in the industry because NPDC was seen as unfit to develop and produce the oil fields. Besides, NPDC already has 32 prolific oil fields in the Niger Delta.
"Some time ago, one of the innovations brought into oil lending was reserve-based lending, which implies using your oil reserves to secure loan, but then again, its success was tied to volatility in international oil price," said Eweje of Afrinvest. As a result of the oil price slump, the indigenous firms that bought the assets could no longer generate revenue at the levels expected when they agreed to loan terms, putting themselves at risk.
In September last year, the Central Bank of Nigeria revoked the operating licence of Skye Bank and created a bridge bank, Polaris, to take over its assets and liabilities. Skye Bank was one of the banks that took advantage of the funding opportunities created by the divestment by IOCs before the oil price slump.
Oil and gas upstream and oil and gas engineering services accounted for 16.1 percent and 11.9 percent, respectively, of its loan portfolio of N675.8 billion for the 2014 financial year, according to a presentation to investors and analysts. Its loans to the oil and gas upstream and oil and gas engineering services stood at N119.05 billion and N62.73 billion, respectively, in 2015, down from N120.62bn and N79.45bn in 2014, its 2015 financial report showed. FSDH Merchant Bank Limited, in a report titled 'Nigerian Banking Industry Report: Changing Strategies', said the challenges in the upstream and midstream sectors of the oil and gas industry continued to portend difficulties for bank lending.
"The low oil price has made a lot of oil and gas loans not to be performing. This has adverse impacts on the protability of the Nigerian banks," FSDH said its report.
Source: Business Day