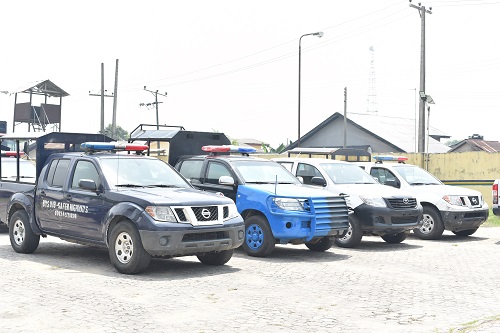 NCDMB Repairs Police Operational Vehicles In Bayelsa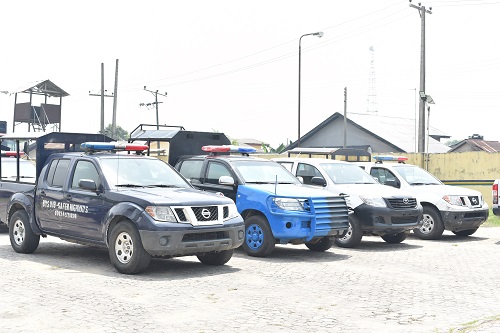 Mordi chukwunonso Esther
The Nigerian Content Development and Monitoring Board (NCDMB) handed over refurbished operational vehicles to the Commissioner of Police, Bayelsa State, Mike Okoli on Wednesday.
The operational vehicles include four Toyota Hilux pick-up trucks, two Nissan pick-up trucks, and one Mercedes Benz utility truck.
The vehicles will strengthen the capacity of the Nigeria Police to curb security challenges within and around the state and make the state an attractive destination for investments.
Speaking during the brief ceremony at the Divisional headquarters, Yenagoa, Bayelsa State, the Executive Secretary NCDMB, Engr. Simbi Wabote, represented by the Director, Finance and Personnel Management, Mr. Isaac Yalah stated that NCDMB launched the 10-Year Strategic Roadmap in 2017, with two key objectives of growing Nigerian Content to 70 percent by the year 2027 as well as creating 300,000 direct and indirect jobs.
He maintained that peace and security is a key enabler for investments and job creation, adding that the Board was supporting the Police to promote peace and security within and around the Board's operational environment as well as the locations of its core projects such as the Nigerian Oil and Gas Park Scheme at Emeyal 1, NCDMB Gas Hub at Polaku, the Oloibiri Museum and Research Centre (OMRC) and the modular refinery at Okpoama, Brass.
Yalah also mentioned that one of the enablers of the 10-Year Strategic Roadmap is Collaboration and Stakeholder engagement and this recognizes the importance of partnering with various stakeholders that play key roles towards the attainment of the Board's goals.
He stated that the Board supported the Police in repairing and refurbishing the patrol vehicles to help the police curb insecurity in the state.
He thanked the Commissioner of Police, Mike Okoli, and his team for their efforts and commitment in fighting crime in the state and for their swift response to the Board's calls.
The Commissioner of Police thanked the Board for their support. He said: "We have been equipped, more fortified, and mobilized to tackle crime. It is very significant and a huge assistance to the Bayelsa State Police Command".
He added that the Inspector-General of Police and the Governor of the state have been informed and they were appreciative of the assistance rendered by the Board.
He advised criminals to desist from their crimes and shun violence in the state.