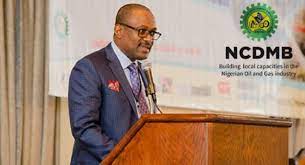 N-STEP to advance indigenous technology, bridge the gap between the Oil and Gas Industry and the Academia – Wabote 
Daniel Terungwa 
The Executive Secretary, Nigerian Content Development and Monitoring Board, NCDMB, Engr. Simbi Wabote has stated that the NCDMB – Schlumberger Science and Technology Enhancement Program (N-STEP) will promote indigneous technology advancement and close the gap between the oil and gas industry and academia. 
He made this known in his keynote speech at the opening ceremony of the recently held NCDMB – Schlumberger Science and Technology Enhancement Program(Development of Plugins/Softwares) in Yenagoa, Bayelsa State. 
Engr. Simbi Kesiye Wabote who was ably represented by the Director, Planning Research and Statistics, NCDMB,  Daziba Patrick Obah, welcomed all the participants to the inaugural ceremony heralding the kick- off  of the NCDMB-Schlumberger Technology Enhancement Program (N-STEP). He noted that the "N-STEP is pursuant to the NCDMB (Adopt a Faculty) Initiative and is aimed at promoting  indigenous Technology Advancement and further close the gap between the Oil and Gas industry and academia." 
According to the Executive Secretary, the scope of the program includes the development of  a plugin software of similar functionality with   the Schlumberger Petrel software for oil and gas exploration.
He stated that, "participation for the pilot phase is drawn from 3 universities -UNILAG, FUPRE  and ATBU, and thruccess of this pilot phase will open the door for more universities to benefit from the scheme. It is therefore incumbent for you to show a good example of how academia can be a technology solution Center if given necessary support by Government and business operators," he urged participants at the event. 
In his presentation entitled "Overview of Adopt a Faculty (AaFac) Initiative "100 STEM Faculties)," General Manager Research, Statistics and Development Division, NCDMB, 
Mr Abdulmalik Halilu, noted that the N-STEP is aimed at replicating the sort of viable partnership Schlumberger has with great Universities like Harvard in Nigeria. 
"If you go to the Universities in many developed economies such as Harvard, you will see that there is a partnership between the university and Schlumberger in the medical fields. So we want that template to be replicated in Nigeria to ensure that our Universities are technology solution centres for operating companies and service companies."
He further stated that the partnership will ensure sustainable funding, and ensure that research is tied to industry needs and the ability to create new products out of the partnership with the institutions.He said the program is also aimed at harnessing a healthy pipeline of graduates that can take over positions in the industry.