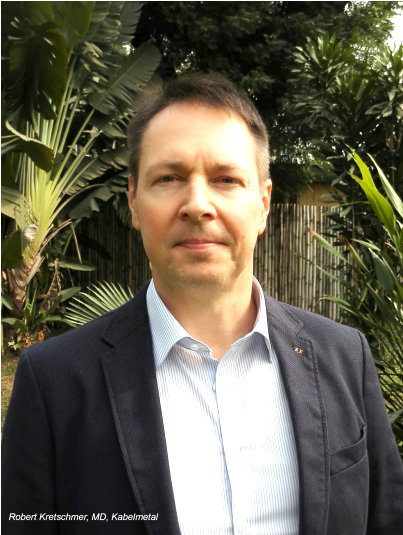 'In All Modesty, Kabelmetal is the Most Successful Cable Company As Far As Oil & Gas Projects and Maintenance Business Is Concerned' – Robert Kretschmer
Mr. Robert Kretschmer is the Managing Director and Chief Executive Officer of Kabelmetal Nigeria Plc., a foremost cable manufacturer in the country since 1966.Kabelmetal Nigeria Plc has been admired for its cable making expertise for more than 50 years. The company has established itself as the leader and pioneer in the Nigerian cable market because of its drive for excellence in quality of products and passion for innovation.
In this exclusive interview with the Majorwaves Energy Report team, Mr Kretschmer speaks about the giant strides of his company most especially as it concerns Nigerian Content development; he says Kabelmetal is well positioned to execute any project. Excerpts:
Are there projects you've identified and have built capacities to take advantage of? Can you give specific examples?
Yes. We continually seek to expand the threshold for our local content participation. We have prepared a roadmap for local production of FPSO topside cables and are awaiting the business opportunity to implement the plan. We are also working on producing cables for integration into Umbilicals. We have developed capacity for Solar (Photovoltaic) Cables. In general, we tend to focus our R & D (Research and Development) on niche products/segments where we can grow competitive advantage by increasing value proposition to our customers in the Oil & Gas industry.
Sequel to NOGOF, what capacities are you targeting for the future and what have you done so far in that regard?
We hope to do a dry run for each of those plans I earlier mentioned, as the pipeline Oil and Gas projects begin to materialize. The plans are in place and I believe we have shared some of these with NCDMB. We were privileged to play host to the Executive Secretary of the NCDMB last year where we shared some of our plans with him. Luckily, he had in his entourage the Nigeria Content Managers of the IOCs and major NOCs, so the industry is aware of our plans. You know there are facets for each of these plans: Technology, standards, materials requisitioning, capacity, documentation, etc. It is a complex eco-system that ensures that we get it right the first time. Suffice to say that we cannot make the details public for obvious reasons. But we are continually sharing these with relevant bodies, including the project owners.
Concerning shipboard cables, what's Kabelmetal presently doing?
Maybe we can start by telling you what we have done in the past. Kabelmetal is the first and only Nigerian company to export cables to South Korea which was used to build six ships for NLNG. Before we were approved for the project, we had to get Type Test certification from Lloyd's Register and Bureau Veritas. We produced samples that were tested in the best laboratories in Europe and certified as world standard. As to your specific question, again I return to our roadmap/plans which I have told you earlier. As you know, we can't embark on the production of these cables in a void. We need live projects to actualize them. What is important is that we are continually prepping ourselves and exploring how we can make these plans more effective and efficient. It is also useful to mention that we benefit from our close partnership with Nexans,  especially its vast Research and Development infrastructure and capability. This obviates the learning experience for us. We have had occasions where Nexans sent their resource staff to supervise the production of special cables in our local factory. So you see we are doing things continually and incrementally.
The cable sub-sector is unique. What are the peculiar challenges you face?
The biggest challenge we have is fake and substandard products. The Standards Organisation of Nigeria is trying its best to fight the scourge, but it is an uphill battle. Beyond this is the tendency of project owners to prefer imported options because of cheaper prices. But we all know the cost drivers in Nigeria which makes local products to be more costly than imported options. And of course there is multiplicity of taxes and government agencies oversight – each with their cost implications. Long term financing opportunity and interest charges are a challenge. Deliveries into Oil & Gas project locations have peculiar security and financial implications. So we look to the government under the auspices of the Manufacturing Association of Nigeria to see how to alleviate these challenges. We know these problems are not peculiar to the cable industry. If government can address these, the economy will be the better for it.
What are your training plans for Nigerian engineers? Are there sophisticated skills for which engineers have been positioned to acquire? What ways will it benefit the larger economy?
We continually have programmes to train our personnel, both locally and internationally. And of course each of our planned local content expansion road maps has in-built knowledge transfer/training components. Most of these trainings are foreign since there is no local capacity for them. We cannot underestimate the benefits these trainings offer to the nation; each of these personnel live with the knowledge/competence even when they are no longer with the company. And of course the competence they gain will be applied in the time being towards producing quality cables that contributes to national GDP. Let me also mention that Kabelmetal has committed to training indigenes from the locations of our project supplies in vocational skills. We have a partnership with the German Dual Vocational Training programme in Nigeria, and we look forward to benefiting the host communities earliest.
What support would you require from government to better function?
We want the government to adequately tackle the scourge of fake cables. We want the government to solve the intractable ports clearance problems and the Apapa gridlock which stifles the ease of clearance of goods. We want the government to replicate the success of the local content policy in Oil & Gas industry by expanding its scope into other sectors of the economy (Power, Infrastructure, ICT, Services, Industries, etc). We want the government to address multiplicity of taxes and the number of agencies that oversight manufacturers. We want access to long term funds at concessionary rates. We want the government to address security issues at communities we make deliveries into and en-route. This is a big shopping list, isn't it? But you asked, so you got it. I am however pleased that we have a listening and responsive government that is doing a lot in terms of infrastructure. But we want them to do more.
How has been your penetration in the oil and gas industry? What has been the narrative of your activities in linkage sectors?
In all modesty, we are the most successful cable company as far as Oil & Gas projects and maintenance business is concerned. There is no significant project in the industry requiring cables that we have not been involved in. We made a strategic decision to niche ourselves in the industry because we have unique competencies and partnerships that our competitors do not have. The requirements, knowledge, standards, documentations, quality and HSE are higher in the Oil & Gas industry, so it is not an all comers' game like the simple cable manufacturing. So it occurs to us that zeroing into the industry gives us a unique advantage and business opportunity. When you talk of linkage sectors, there are many facets to it. We continually seek local sources for our raw material and other inputs; but we must ensure that it meets certified standards. We buy wooden planks locally; we buy limited raw materials also locally. We surely will like to do more but are constrained by the lack of local options. Beyond this, all our activities like CSR, Training, and local partnerships have important linkage benefits for the nation.
In what ways does Nexans Norway impact the activities of Kabelmetal Nigeria?
They are important partners to Kabelmetal. We work together with Nexans Norway to deepen local content in the area of subsea product(s) and systems. Similar to shipboard cables, we also need live contracts for physical execution in order to justify invest decisions in machinery and equipment. Otherwise, there is no return on investment on specialized capabilities.
What's the next big thing from Kabelmetal that we should be expecting?
We shall continue to focus on what we are doing and seek ways to do them better. We are committed to deepening local content in the Oil & Gas industry and are investing in the knowledge, resources and standards in this regard. We hope project opportunities will come soon to enable us harness our investments and preparations.