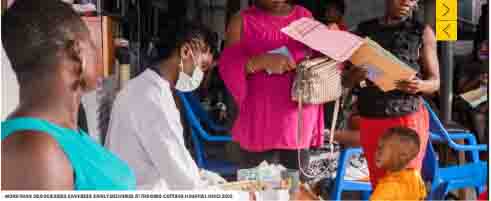 Giving Communities a New Lease On Life Through Social Investment- Shell's Winning Formula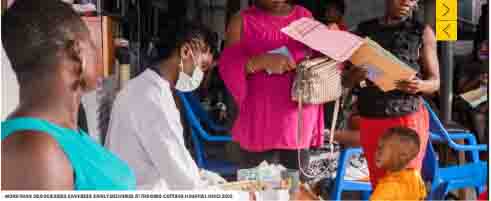 By Oluwatoyin Bayagbon 
As the United Nations' 2030 target for the 17 Sustainable Development Goals (UN SDGs) inches closer, one thing remains certain- private sector participation is needed to galvanize the implementation of the global goals across communities, countries, and geographical divides.
With good intention, companies familiar or involved with the SDGs usually fall into three categories: a small group who have integrated the global goals into their core businesses or strategic objectives, a larger subset that has an initiative, project or partnership tied to the goals and a third group that highlight corporate sustainability as part of their operations but do not back their words with action. Of these three, it is easy to see what category Global oil multinational, Shell, falls under.
Over the years, Shell, in responding to an exciting and aspirational agenda, has invested significantly in tackling big-ticket issues with the aim to end poverty, improve health and education, and make cities sustainable through clean energy and climate change initiatives.
Shell Companies in Nigeria (SCiN)  have championed social investment in the country, as Africa's largest economy continues its struggles with achieving the SDGs especially with regards to access to healthcare and quality education. SCiN consists of Shell Petroleum Development Company of Nigeria Limited (SPDC); a wholly-owned Shell subsidiary, which operates an unincorporated joint venture (SPDC JV) in which SPDC holds a 30% interest; two wholly-owned subsidiaries; Shell Nigeria Exploration and Production Company Limited (SNEPCo) and Shell Nigeria Gas Limited (SNG). The fourth is Nigeria Liquefied Natural Gas (NLNG) Limited; an incorporated joint venture in which Shell B.V. has a 25.6% interest.
In its 2021 briefing notes, SCiN revealed that along with its joint venture partners, direct voluntary social investments of between $40 million to $50 million were made each year over the last five years to help improve the lives of millions of Nigerians. This makes the country the largest concentration of social investment spending in the Shell Group. 
These social investments are focused on healthcare and education initiatives as well as in-cash and in-kind support to young Nigerian entrepreneurs across the country.
According to statistics, in 2020 alone, $49.4 million was spent on direct social investment with another $87.3 million poured into community-driven programmes in the three key areas since 2017. For their special health outreach programme called Health in Motion, SCiN said over 100,000 were beneficiaries, while over 9,500 secondary school grants and 6,000 university grants had been awarded since 2011.

Building Nigeria's future leaders through education
Education, according to a popular saying, is a powerful weapon, one powerful enough to change the world and ensure sustainable development. In Nigeria, disparities still exist with children from poor households more likely to be out of school or at best have limited access to quality education.
Through various initiatives, the Shell Petroleum Development Company of Nigeria joint venture (SPDC JV) and the Shell Nigeria Exploration & Production Company (SNEPCo) have offered thousands of Nigerian children, mostly from poor families in the Niger Delta, the opportunity to achieve quality education for free.
One of such is the Cradle-to-Career (C2C) scholarship programme. The C2C is an all-inclusive scholarship programme that opens up opportunities to brilliant children from less privileged backgrounds and from underserved communities to attend reputable secondary schools in Nigeria. Since 2010, some 653 candidates from Rivers, Bayelsa, and Delta have been handpicked to be part of this scheme. The scholarships have also been extended to applicants across the country, with another 548 beneficiaries, bringing the C2C scholarship recipients to a total of 1200.  
Students completing the C2C programme also receive support through the University Scholarship scheme which funds their tertiary education once they secure admission into a Nigerian university.
With deliberate efforts to secure the future of young Nigerians across the country through inclusive and equitable educational opportunities, SCiN has continued to blaze the trail with a winning formula in achieving Goal 4 of the UN SDGs.

Collaboration and quick response to health challenges
Although the effect of the novel Coronavirus (COVID-19) still ravages parts of the world, and with Africa experiencing the third wave, Nigeria has managed to contain the spread of the virus via public-private collaboration.
In response to an obvious need, SCiN had a clear action plan and generously donated varied resources to lend support to the government at the state and federal levels. Commending the collaborative effort, Dr. Chikwe Ihekweazu, Director-General, Nigeria Centre for Disease Control (NCDC), said the support from SCiN "came at a crucial time," enabling the agency to easily access medical and laboratory supplies which improved testing capacity for COVID-19 and helped with the national preventive campaign.
To amplify its healthcare drive, SCiN also launched the COVID-19 Feeding Support Programme to provide food to frontline workers and patients in select isolation centers across the country. The unrivalled support, "gave a human face to the pandemic and reduced the financial burden on patients and the government," Dr. Ferdinand Oshonwoh, Executive Director, House of Rennaisance for Health Initiative said in an interview.
Prior to COVID-19, SCiN has demonstrated its commitment to providing affordable and quality healthcare to Nigerians across the country.
Recent figures from the World Bank showed that Nigeria's public spending on health care amounts to just 3.89% of its $495 billion GDP (gross domestic product), compared to 8.25% in South Africa and 5.17% in Kenya. Indeed, numerous success stories have seen the light of day with SCiN's fit-for-purpose initiatives focused on reducing infant and maternal mortality, HIV/AIDS, malaria, cancer, and vision care through increased access to health services, expansive health insurance schemes and stronger health system- all in support of government efforts.
For example, the remarkable Community Health Insurance Scheme (CHIS), a partnership between the SPDC JV, Rivers State Government and local communities has improved access to affordable, quality health care. In 2020, an average of 14,000 individuals enrolled in the scheme which has seen over 75,000 participants since inception. The Obio Cottage Hospital, a specialist maternity hospital in Port Harcourt, Rivers State, is funded by the CHIS. The hospital is well equipped for ante-natal, post-natal and neo-natal care and has successfully delivered over 30,000 babies since 2010.
The mobile community health outreach programme, Health-in-Motion (HIM) is another social investment that enriches lives. With HIM, free medical services are made available to people in hard-to-reach areas including the workplace. Created in the 1980s, around 100,000 people have benefited from the programme in the last five years with management and treatment of  HIV/AIDS, Cancer, Malaria and other hereditary or lifestyle diseases.
Summing up the entire vision of SCiN in line with the various outreach efforts, Osagie Okunbor, SCiN's  Country Chair said in the briefing note: "The idea of collaboration lies at the heart of the Shell Companies in Nigeria, with government; with local business partners; with schools, universities and hospitals; and with communities. We know that Nigerians have the power to achieve their own prosperity and we want to help them do that. Our support for health services, education and entrepreneurship show just how much we value those we work alongside."
For SCiN, engagement on the SDGs is a continuous journey on a road that more companies should travel to reach their desired destination.