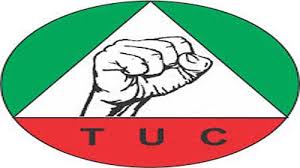 Fuel subsidy: TUC wants Buhari to resign as Petroleum Minister
Port Harcourt — 
The Trade Union Congress of Nigeria, TUC, has urged President Muhammadu Buhari to as a matter of urgency relinquish his position as the Minister of Petroleum Resources, following the rise on petrol subsidy, as announced by the Petroleum Products Pricing Regulatory Agency.
TUC National President, Comrade Quadri Olaleye, in his new new year message advocated that a technocrat should be appointed by the President as Petroleum Minister, for effectiveness and efficiency.
Olaleye who frowned at the rise on petrol subsidy as announced by PPPRA, regretted that Nigeria does not have the technology to determine the quantity of crude oil she produces daily, despite being the sixth highest oil producer in the world
He also said it was unfair for the government to rely on Dangote refinery to commence production, before the pains of fuel subsidy can be doused.
"The dailies had it few days ago that the Petroleum Products Pricing Regulatory Agency declared that the subsidy on petrol has risen to N47.5 per litre as the expected open market price of the commodity hit N180.78.
"Often we are told that once the Dangote's refinery starts operation things will get better. We have our concerns: As the sixth world oil producing country we do not know the number of barrels of crude we produce daily.
"We call on President Muhammadu Buhari to as a matter of urgency relinquish his position as the Oil Minister. A technocrat with consummate know-how should be allowed to man the industry for efficiency and effectiveness. The Nigerian National Petroleum Corporation (NNPC) cannot continue to be the ATM of a privileged few and their cronies.
"It is instructive to know that Dangote is a business man; and like every business person elsewhere he is in business to make profit. He will dictate the price to sell when he starts operation. It is not his fault, the government created room for that. As a mono-economy it is unfair to manage a sector that sustains the nation's economy in such a lackadaisical matter."
The TUC boss also commented on the spate of insecurity in the country, cost of governance, the country's debt profile, job creation, while describing as laughable the plans to renovate the National Assembly building with N37billion, which was originally built with less than N8billion.
He commended state governors who have already begun the implementation of the new minimum wage.
"We commend states that have commenced the payment of the new minimum wage. It will obviously serve as a motivation to the workers. We therefore call on governors that are yet to start payment to do so without delay.
"In as much as we would not want to disrupt economic activities we would still not compromise the welfare of our members. A stitch in time saves nine!"