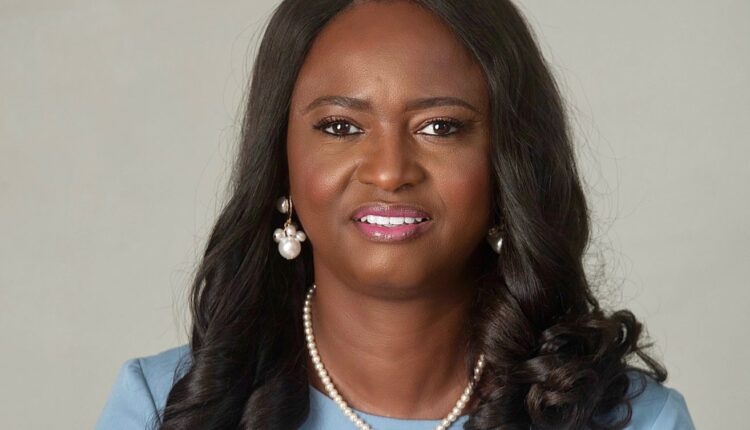 From Trainee to First Female Managing Director: Meet SNEPCo's Elohor Aiboni
By Margaret Nongo-Okojokwu
In what can best be described as a landmark moment that has shattered the glass ceiling with regards to women leadership in Nigeria's oil and gas industry, Anglo-Dutch company, Shell Nigeria Exploration and Production Company (SNEPCo), on Sunday August 1st unveiled Engineer Elohor Aiboni as the first ever female Managing Director of its deep-water business in Nigeria. She succeeds Mr. Bayo Ojulari, who retired on July 31 after five years as SNEPCO MD, having served the Shell Group for more than 30 years.
Mr. Bamidele Odugbesan, Media Relations Manager of Shell Petroleum Development Company of Nigeria made this known in a statement on Sunday August 1st in Yenagoa, Bayelsa state.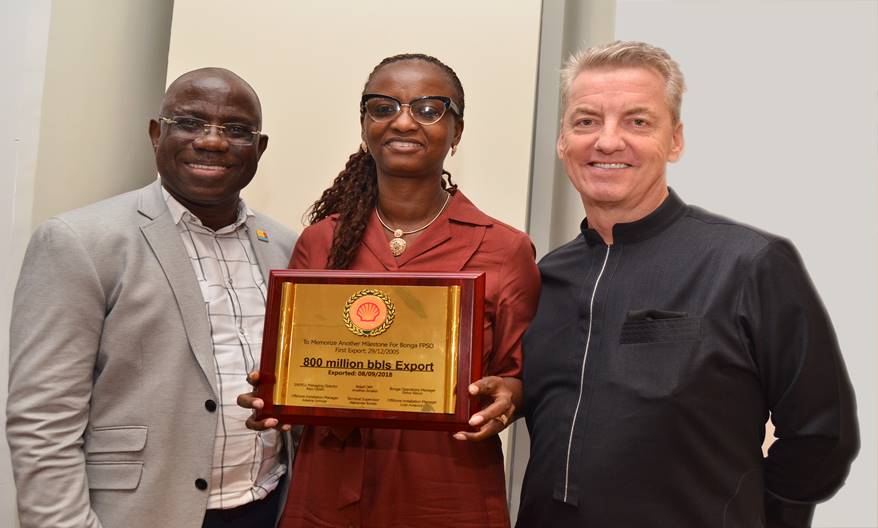 Reports has it that the development is coming on the heels of the oil and gas firm's recent announcement that it was divesting from its onshore and shallow waters operations to concentrate on deep offshore business.
Aiboni's appointment is a first in Shell Nigeria's over 60-year history in Africa's largest oil producing nation. By this move, it becomes the first Multinational Oil Company to achieve such a remarkable feat in Nigeria's evolving oil and gas industry.
The new SNEPCO MD who will lead the company's offshore business, is described as a "self-motivated person with a strong sense of business priorities," being one of the few women to change the "male-dominance" narrative in Nigeria's Oil and Gas industry.
"Elohor's appointment is a product of diligence, competence and commitment to the Shell ideals and core values, amidst our strong focus on diversity and inclusion.
"We take pride in our intention of being one of the most diverse and inclusive organisations in the world and focus on further improving inclusion and representation in critical areas, including gender," the statement quoted Shell's Senior Vice President for Nigeria, Marno de Jong, as saying.
Meanwhile, Aiboni has always been a woman of many firsts- from being the first female asset operations manager in SNEPCo to being the company's first female Managing Director.
As asset operations manager, Aiboni was responsible for overseeing end-to-end production delivery for Nigeria's pioneer deep-water Floating Production, Storage and Offloading (FPSO) vessel, Bonga, which has produced over 900 million barrels of oil since the beginning of its operations in 2005. She also provided leadership in health, safety, and environment (HSE), operational excellence and overall asset management of the FPSO.
The Bonga FPSO vessel has a total production capacity of 225,000 barrels of oil per day and 150 standard cubic feet of gas export per day. 
Approximately the height of a 12-storey building and spanning an area the size of three football fields, the FPSO explores and extracts oil from depths of more than 1,000 meters below sea level.
Aiboni's most immediate task would be to find a way to achieve Final Investment Decision (FID) for the pending Bonga SouthWest Aparo (BSWA) project; a task her predecessor worked on until his retirement.
According to Odugbesan, Elohor is now one of nearly 300 women in senior leadership positions in the Shell Group, accounting for more than 31% of the company's executive positions.
Rising Through the Ranks to Become SNEPCo MD
Engr. Aiboni has a cumulative 19-year work experience in Shell. She joined the oil company as a trainee production engineer and gradually rose through the ranks over the years. Her 19-year career in Shell has seen her move from a field engineer to several roles in production operations; project and asset management; operations readiness and assurance. She most recently served as the company's EA Operations Manager from June 2015 to January 2018.
Elohor was responsible for delivering the Asset annual scorecard as EA Operations Manager, with a particular focus on HSSE. She was also in charge of initiatives aimed at improving the organization's capability and competence. She also worked as the Onshore Assets Operations Completion and Handover Manager, where she oversaw the handover of SPDC's divested assets to new operators and provided post-Operator-ship support to the New JVs.
Afterwards, she became a senior PtA engineer, then a manager at different levels and transitioned to asset operations manager of Bonga.
During this time, "she served as Business Adviser to the Executive Vice President for Shell Sub-Saharan Africa and had also managed third-party interface across several Shell assets in Nigeria and Kazakhstan.
"Prior to her role as Bonga Asset Manager, Elohor led production delivery for shallow offshore as Asset Manager for Sea Eagle FPSO in Nigeria's Niger Delta," the statement read.
From her almost two-decade journey from a production engineer to her current role as SNEPCo boss, Aiboni has shown true character and leadership all the way.
Aiboni's Education Reveals a 'Self-Motivated And Results-Oriented' Professional

Engr. Elohor Aiboni holds a master's degree in Integrated Environmental Management from the University of Bath, UK, and a bachelor's degree in Chemical Engineering from the University of Benin, Nigeria.
She is a certified quality management system (QMS) auditor, trained health, safety, security & environment (HSSE) & control framework auditor.
"She is passionate about developing talent and leads a diverse team that strives to simplify work processes and pursue continuous improvements.
"Her leadership of the Bonga team had seen the asset receive numerous awards, including the CEO HSSE Awards, Upstream Impact Award, and the Asset of the Year Runner up in 2019, in the Shell Group," Odugbesan said.
Aiboni who describes herself on LinkedIn as "self-motivated with great ability to work easily without supervision is a result-oriented professional who "shows a sense of urgency, can challenge positively and one who is a very good communicator with strong sense of business priorities."
Shecan Conference

At the SheCan Do More Conference in 2019, Aiboni spoke on how she climbed the corporate ladder, pointing to three main themes from her childhood till date: Influencing to grow, turning challenges into opportunities, and be curious."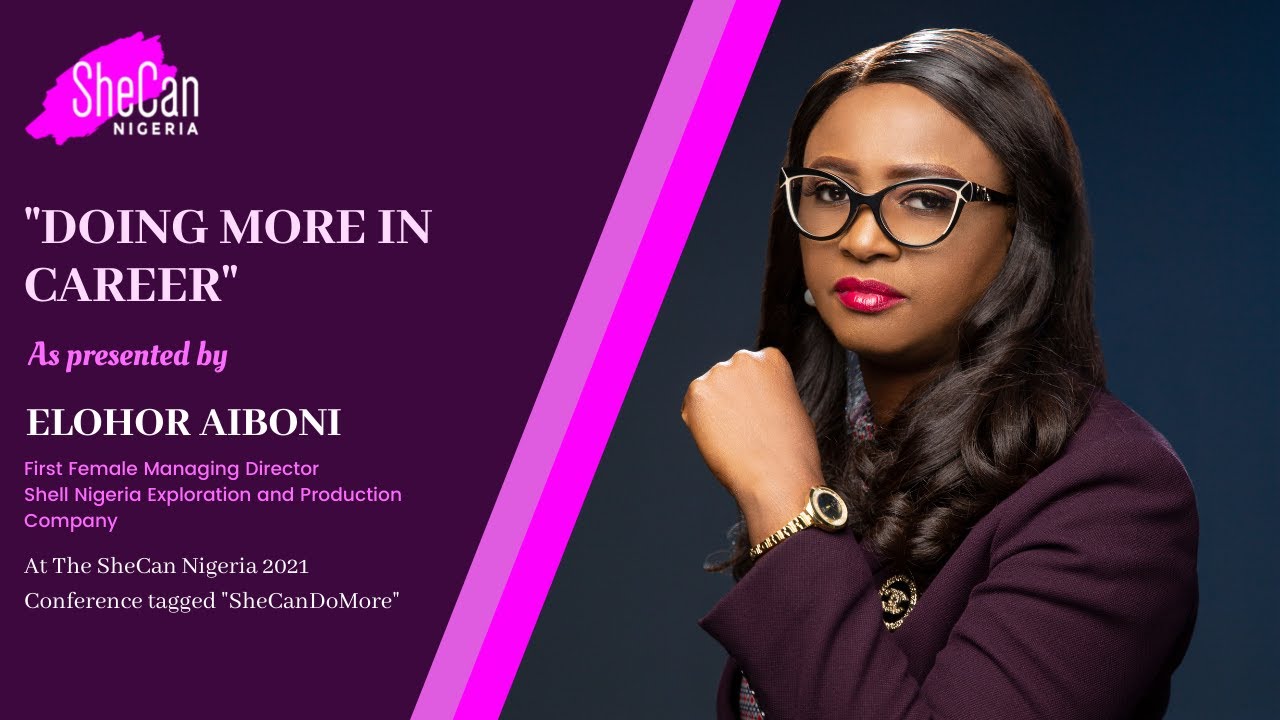 "As I talk about my life journey, you will see all these three things play out. What friends do you have with you and how are they influencing you to grow," she asked her audience while narrating an incident from her source of influence during her secondary school days.
On challenges she faced in the university, she said: "Life will throw lemons at you; you need to decide what you want make out of it. I chose to make lemonade out of life…You have to be clear on what your goals are."
"When I got into Shell, I got into production. The first thing they said to me was, 'o ti baje' and I'm like what does that mean. They said once you go into production, your life is finished. It's only old men that you find there. But I decided for me my story will be different. I had to work hard. I did everything everybody could do.
"I started up with various mentors, various sponsors and today I get a lot of stretch assignments. Some of them, I asked for. Who are you sponsoring today?" she charged her listeners.
SNEPCo, a wholly-owned Shell company, has interests in four deep-water blocks; two of which it operates. The company develops and deploys the latest deep-water drilling techniques to reduce drilling times, cut costs and increase production, according to details on the company's website. It pioneered Nigeria's deep-water oil and gas production at the Bonga field, a project that increased Nigeria's oil capacity by 10 percent when output began in 2005.
Although the oil and gas industry has been traditionally male-dominated, with few women ascending to top management positions, Elohor Aiboni is one of those few women who are stepping up to the challenge, determined to change this narrative in Nigeria.
Congratulations are in order for an Energy Woman par excellence!