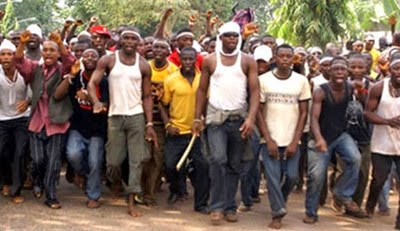 Ex-militants protest in P/Harcourt over N3000 stipends
 Ex-Niger Delta militants, who are beneficiaries of the Presidential Amnesty Programme, on Monday protested in Port Harcourt over the non-payment of their training allowance and funding of the training.
The ex-agitators, who said they were undergoing training in electric power transformer repairs and maintenance, said Amnesty Office has failed to give them their daily allowances of N3000, for the past three months.
Displaying placards and chanting war songs, the former militants warned that they would go back to the creeks if the Amnesty Office failed to resume the funding of their training and also pay their allowances within seven days.
Leader of the protest, Biira Baroda, who read the communique, wondered why the government prefers the language of violence, while calling on President Muhammadu Buhari to intervene on the matter.
"As it stands today, we are at a crossroad as we have not been equipped with skills that can empower us contribute meaningfully to the development of our nation. Having gone through two stages of the Amnesty programme, it is shocking that we are unable to go through the final phase for no fault of ours.
"Is it that the Federal Government has abandoned us or the Amnesty Office has forgotten that there are scholars under the Electric Power Transformer repair and maintenance of the Amnesty programme? Or has the programmes and activities of the scheme been badly prioritized?
"If N4.5billion could be expended on procurement items which were later looted, why can't the Amnesty office make milestone payment for a training contract such as this one covering Transformer repair & maintenance? Why is it that government and its agencies prefer the language of violence than meaningful engagement?"
The ex-militants warned that if nothing is being done within seven days, they will take the protest to Abuja or go back to the creeks
"We call on the Coordinator of the Amnesty office to within the next seven working days commence payment to the contractor/consultant in order for training classes to resume and enable us reintegrate fully into the society and take care of ourselves and families.
"Failure to heed our peaceful advice to release funds to enable us resume classes, we shall take this agitation to another level. On this note, we want the federal government and the general public to be informed that we are being forced to recall our former way of life.
"Our cry today is to the father of the nation, President Buhari to urgently intervene. So we either go back to class or to go back to creek. Although we all live to die someday, we have chosen to live."