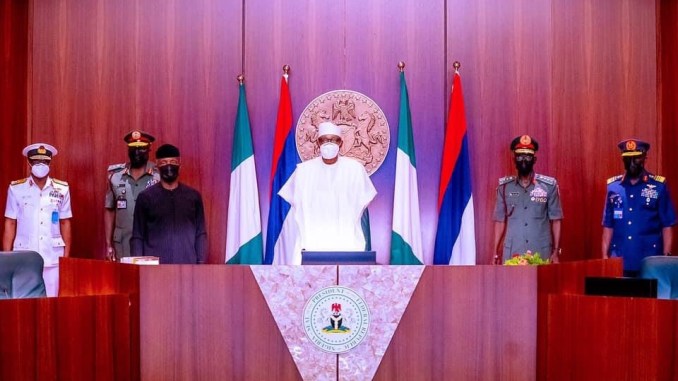 Decade of Gas: Buhari Hopes to Industrialise Nigeria Through Gas by year 2030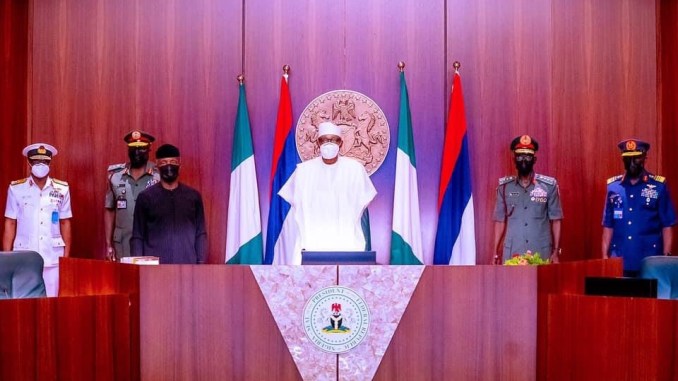 By Esther Chukwunonso Mordi 
Nigeria's President Muhammadu Buhari has launched the country's "Decade of Gas" which is aimed at transforming Africa's biggest oil producer into an industralised nation, entirely powering its economy with gas by the year 2030.
Speaking at the virtual launch of the project on Monday, 29th March 2021, Buhari said that his administration would fully utilise the enormous gas resources in the country to uplift the economy and drive industrialisation.
He stated that before the declaration of the Year 2020 as The Year of Gas, "this Administration had shown commitment to the development of Nigeria's vast gas resources and strengthening of the gas value chain by reviewing and 'gazetting' policies and regulations to enhance operations in the sector as encapsulated in the National Gas Policy of 2017."
''Our major objective for the gas sector is to transform Nigeria into an industrialized nation with gas playing a major role and we demonstrated this through enhanced accelerated gas revolution,'' he said.
According to the Nigerian president and Minister of Petroleum resources, given the country's potential of about 600 trillion cubic feet of gas, the commodity has the enormous potential to diversify the Nigerian economy. The rising global demand for cleaner energy sources has offered Nigeria an opportunity to exploit gas resources for the good of the country. We intend to seize this opportunity"

"It is well known that Nigeria is a gas nation, but the country has focused on oil over the years and that is the paradox this administration has decided to confront when we declared the year of gas in Nigeria. It was a bold statement to demonstrate that gas development and utilisation should be a national priority to stimulate economic growth, further improve Nigeria's energy mix, drive investment and provide the much-needed jobs for our citizens."
"The rising global demand for cleaner energy sources has offered Nigeria an opportunity to exploit gas resources for the good of the country. We intend to seize this opportunity," he said.
Highlighting some of the achievements recorded in the gas sector under his administration, especially that of Nigeria Liquefied Natural Gas, the president acknowledged that more work had to be done in the gas space which has led the Federal Government to begin a more productive push towards gas development. 
 "NLNG contributes about 1 percent to GDP and it has contributed $114 billion in revenue over the years, $9billion dollars in Texas, $18 billion dollars in dividend to the federal government, $15 billion dollars in fixed gas purchases and all these were achieved with 100% Nigerian management and 95% Nigerian workforce. 
"Remarkable progress has been made to achieve this objective. These include development of gas infrastructure, promoting domestic utilization of LPG and CNG, commencing the process of commercializing gas flares, development of industrial and transport gas markets and increasing gas to power. 

"We also kick-started other policies and projects like the National Gas Expansion Programme, Auto-gas policy and the construction of the 614km Ajaokuta-Kaduna-Kano gas pipeline.
"After a thorough review of these laudable achievements and successes in the gas space, we acknowledge that Nigeria still has more work to do in the gas space.
"This has led the federal government to begin a more proactive push towards gas development. This initiative will ensure further optimal exploitation and utilisation of the country's vast gas resources", he said. 
In his welcoming remarks, Secretary General of OPEC, HE Mohammed Sanusi Barkindo, expresses gratitude to the president for his visionary leadership and commitment to the organization's sustainable market stability. 

Speaking on the PIB and the OPEC's "World Oil Outlook", he said: "The 'Petroleum Industry Bill' that seeks to comprehensively reform Nigeria's oil and gas industry is currently moving through the hallowed chambers of the National Assembly, and thus the 'Decade of Gas' is both timely and relevant.
"The importance is also evident from OPEC's World Oil Outlook (WOO). The WOO sees natural gas as the fastest-growing fossil fuel over the forecast period, driven by higher urbanization rates, industrial demand, and its competitiveness over coal in power generation.
"Moreover, at the end of the WOO forecast period in 2045, oil and gas are still expected to make up over 50% of the global energy mix. In fact, global primary energy demand is set to increase by 25% in the period to 2045", he said.
Barkindo stated that the world needs more energy and Nigeria as a reliable and dependable supplier of hydrocarbons to global markets, has a key role to play in this regard, stressing the need for utilization of all resources efficiently. 
"Tackling emissions has many pathways and we need to explore them all. The oil and gas industries are part of the solution; we possess critical resources and expertise that can help unlock our carbon-free future. 
"I would like to commend the President for keeping faith with the requirements of continued heavy investments, including critical gas projects, such as the Ajaokuta–Kaduna–Kano Natural Gas Pipeline, the Nigeria LNG Train 7 project and actively promoting several fertilizer blending plants across the country, supporting the ongoing agrarian revolution.

"Nigeria's 'Decade of Gas' initiative also shines a beacon of light on the importance of the Gas Exporting Countries Forum (GECF), and the value of multilateralism. OPEC and the GECF have much in common. We have some of the same Member Countries, including Nigeria, share similar founding principles, and collaborate.
"Gas is vital to Nigeria's future, as is oil. And both will be fuels of choice globally for the foreseeable future and instrumental in facilitating the energy transition," he added. 
The Minister of Petroleum Resources, Chief Timipre Sylva, Speaking at the event said that the objective of the pre-conference hybrid summit was to create a road map for the Federal Government of Nigeria's aspiration using its vast natural resources to put Nigeria in the league of top industrialized nations over the next decade. 
Nigeria's gas reserve, with proven 303 tcf and potential 600 tcf are most extensive in Africa and the top 10 globally, however, in domestic utilisation of gas to power the economy, there is chronic shortage. This is a narrative we intend to change," he said.
The Minister said the President's plan for industrialization with the country's vast natural gas resources was well thought out and deliberate, adding that "the economic recovery and growth plan of this administration revolves around the utilization of natural gas". 

Speaking on the four priority areas, he said "The four priority areas enunciated in the ERJP are energy sufficiency, transportation, agriculture, manufacturing, and industrialization. The common denominator is natural gas as it is the major fuel for power generation, transportation and key ingredient for manufacturing fertilizer which is required for agriculture. 
"It is no longer acceptable that despite the country's vast natural gas resources, the gap between electricity supply and demand is huge, access unreliable and cost expensive. We must deal with the energy poverty in this country, we must find a way to unlock the natural gas potential of this great nation and drag over 120 million people out of energy poverty".
Tony Attah, Managing Director of Nigerian Liquefied Natural Gas, NLNG, said that gas is set to be the fastest-growing transition fuel of the future as global natural gas consumption is projected to increase by more than 40% by 2050.

Attah said: "Our world is changing; we are set to add 2 billion more people by 2040 to become 9 billion people on earth. On the back of this and anticipated growth in human prosperity, energy
demand is expected to grow by 30%.
"Essentially the world needs more energy; but needs it cleaner and cheaper to manage climate change and the 20C challenge through Decarbonisation. Energy transition has begun, resulting in massive change in the Global Energy mix."
According to him, while renewable sources are gaining prominence to replace coal and other forms of fossil fuels, gas is set to be the fastest growing transition fuel of the future, adding that "Global Natural gas consumption is projected to increase by more than 40% by 2050."
"This is a great opportunity for Nigeria, Nigeria is blessed with plenty of gas reserves – 200tcf of proven reserve and an additional 600tcf scope to be proven by SEC rules.
"Proving the 600tcf will move us to No 4 in the world from the current 9th position which I believe should be a key objective for this decade of gas agenda. Essentially, Nigeria is a Gas Nation as we have more gas than oil on a BoE basis.

"Nigeria currently plays a significant role in the global energy sector, holding the position of the largest oil and gas producer in Africa and the sixth supplier of global LNG through the operations of Nigeria LNG Limited. Our Train 7 project alone will attract about $10billion into the country with significant revenue generation for the government and our shareholders but also over 12000 jobs opportunities for Nigerians."
He reiterated that "Gas is Power and Energy, Gas is Transport – as in Auto Gas, Gas is Petrochemicals – feedstock, Gas is Manufacturing and Industries, Gas is Food from fertilisers," adding that gas is everything for Nigeria.
"We must use what we have to get what we want. Saudi Arabia and Dubai used Oil to move their economies to becoming one of the best in the world. Qatar has used GAS to transform from a fishing economy to becoming a global gas giant… Nigeria has both oil and gas…However, Nigeria has thus far ridden on the back of Oil for over 50 years, but the time has come for Nigeria to fly on the wings of gas, at Nigeria LNG, we believe it is time for gas," he stressed.
He also added that the PIB is one of the big opportunities for gas future as a nation and stressed that solid collaborative effort and active participation was required among stakeholders working on the PIB 
"This is a decade of gas, another decade of sustained operations in Nigeria LNG, a decade of Train 7, and perhaps Trains 8, 9 and 10; a decade of elimination of gas flaring, a decade of more domestic LPG in households in Nigeria and overall, a decade of fully Gas-Powered Economy!
"As I stated at the beginning, this will require solid collaborative effort, and the active participation of all stakeholders including the National Assembly currently working on the   Industry Bill (PIB). The PIB holds the ace to be one of the biggest opportunities for our gas future as a nation and we should not miss this window.

The Group Managing Director of NNPC, Mallam Mele Kyari, in his welcome address affirmed Nigeria's preparedness to play a strategic role in the new global energy order as the world transits to cleaner energy.  
Kyari stated that technology and innovation were facilitating a new global energy order aimed at decarbonizing the world and safeguarding the climate, stressing that renewable energy sources such as solar and wind which would be key components of the new energy mix were largely influenced by seasons and were non-transportable to demand centres where they are in short supply.
He added that under the circumstances, natural gas, and by extension blue hydrogen, would be heavily depended upon as transition fuels to play a key role in the clean energy drive and would provide a significant proportion of the global energy mix as well as guarantee feedstock to gas-based industries.

"Nigeria, under the visionary leadership of President Muhammadu Buhari, has committed huge resources to ensure that domestic gas infrastructure reach every corner of our country to deepen natural gas utilization, spur investment in power and gas-based industries, grow the economy and generate employment for millions of our young people," he said. 
Mallam Kyari stated that NNPC and its partners have embarked on a number of strategic projects to deepen delivery of gas to the domestic market and elevate the build-up of greater potentials for export.
"The completion of the Escravos-Lagos Pipeline System Phase 2 (ELPS II), commissioning of the Obiafu-Obrikom-Oben (OB3) Lot 2, the NPDC Oredo Gas Handling Facility, and the SEEPCO Gas Processing Plant can be easily cited, even without mentioning ongoing strategic backbone gas infrastructure projects such as the Ajaokuta-Kaduna-Kano (AKK) pipeline, the OB3 final hook-up, the Nigeria-Morocco pipeline and several other gas-based industries initiatives. All these will herald the sunrise of the gas revolution in our country within the decade," the GMD stated.
The Department of Petroleum Resources (DPR) also outlined five critical levers for gas development as Nigeria moves to leverage its abundant gas resources for national growth, diversification of the economy and to use gas as the fuel for economic transformation.

DPR Director, Mr Sarki Auwalu said the levers: availability, accessibility, affordability, and acceptability as well as deliverability were critical to utilizing Nigeria's proven gas reserves of 203 TCF for national development.
He said: "Whereas references have been made to the other elements in this discussion, right pricing of gas is requiring particular attention to ensure security of gas supply and security of credible gas demand.
"This is because upstream gas producers must be assured that they will receive fair and equitable returns for their investments whereas, the price must be such that the end-users are able to pay for gas offtake in a reliable and consistent manner.
"Accordingly, the most robust and sustainable pricing mechanism is that which 'let the market speak' in a way that all costs are reflective of prevailing market conditions and for which the economic dynamics of demand and supply can interplay
in an open, transparent, and free market environment.
"Thus, our drive as a nation should be early attainment to the Willing Buyer; Willing Seller market status. Any transitional pricing arrangements, today, must be structured to quickly give way for market-led pricing regime and conditions"

The DPR boss commended President Muhammadu Buhari and the Minister of State for Petroleum Resources, Chief H.E Timipre Sylva, for their outstanding leadership in deepening gas utilization in Nigeria.
He said these efforts had culminated in the establishment of the National Gas Expansion Programme, National Gas Transportation Network Code and the National Gas Flare Commercialisation Programme.
Auwalu said it also includes the ongoing construction of the ELPS-II, OB3 and AKK pipelines as critical backbone gas infrastructure required to improve gas deliverability and availability.
He said the government was also working towards the expeditious passage of the Petroleum Industry Bill (PIB) which would enhance clarity in legislative, regulatory, fiscal, and administrative frameworks in the industry.

"This bill, when passed into law, will eliminate the uncertainties and bottlenecks associated with gas development in Nigeria and accelerate the growth of the Nigerian gas market to a fully developed and matured status.
"Specifically, on gas matters, the PIB provides for the following: promotion of dedicated gas exploration and development, gas terms, fiscal separation of gas as a commodity. It will also enhance the domestic gas delivery obligation, tariffing structure & methodology, open access regimes and revised gas pricing framework, to mention but a few," he added.
The virtual Pre-Conference Summit had limited in person attendance at the Transcorp Hilton, Abuja of gas players at the highest level and thousands of delegates joining virtually across various platforms, the event which discussed the road map towards a gas-powered economy by 2030 was organized by the Ministry of Petroleum Resources and sponsored by the Nigeria LNG Limited (NLNG).

As with previous editions, the Nigerian International Petroleum Summit (N.I.P.S) 2021 will also facilitate close interaction with high level political decision makers, government officials, industry specialists, other relevant agencies and the private sector. 
Scheduled to hold on the 6th – 10th of June 2021, the co-located international exhibition will allow companies to showcase their expertise and market their goods and services directly to decision makers across the Oil and Gas value chain.