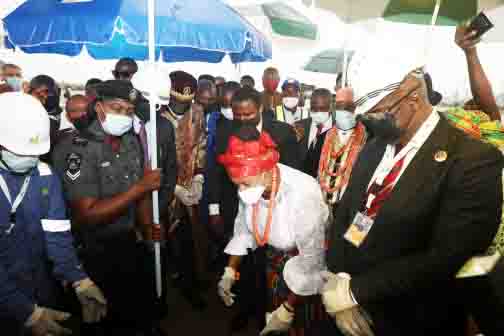 Critical Review of Potential Benefits From NLNG Train 7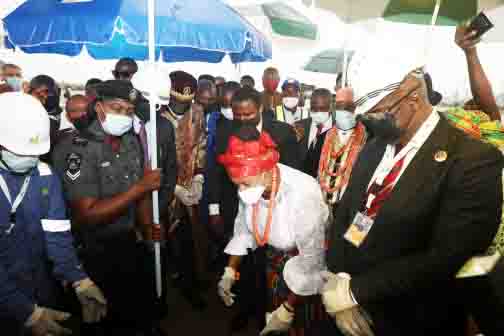 By Ikenna Omeje and Jerome Onoja
The Federal Government in December 2019,  achieved a major milestone in its effort to increase  gas production and usage in Nigeria with the signing of Final Investment Decision (FID) for the multi-billion dollar Nigeria Liquefied Natural Gas (NLNG) Train 7 Project  between the Nigerian National Petroleum Corporation (NNPC) and its partners.
The Train 7 project consists of the construction of one complete LNG train and one additional liquefaction unit with total capacity of approximately eight million tones per annum (mtpa) taking the total volume to around 30 mtpa in addition to other related infrastructure and utilities.
Following endorsement of the Final Investment Decision (FID), the Engineering, Procurement and Construction (EPC) Contracts were also signed in May 2020, by the SCD JV Consortium, comprising affiliates of Saipem, Chiyoda and Daewoo.
Train 7 project will be financed partly from NLNG's balance sheet.  Another $3 billion will be derived from multiple-sourced deals which NLNG recently signed with 30 reputable institutions.  Sumitomo Mitsui Banking Corp. (SMBC) and Guaranty Trust Bank of Nigeria were the financial advisers on the transaction which involved export credit agencies, development financial institutions, international commercial banks and Nigerian banks. 
President Muhammadu Buhari, on June 15, 2021,  flagged off construction work on the project. Speaking at the launch, he charged all stakeholders including the Board of Directors, management, and staff of Nigeria LNG; the host communities, the Rivers State government, and federal government's agencies, to collaborate fully to enable completion and eventual commissioning of the project in a safe and timely manner. This, he said, would hasten the commencement of Train 8.
The president noted that his administration was focused on boosting the development of the country's vast gas resources, strengthening the gas value chain, developing infrastructure, and enhancing safety in the sector in line with the 2017 National Gas Policy. The Decade of Gas initiative, according to him, will set the nation on a sure path of industrialisation.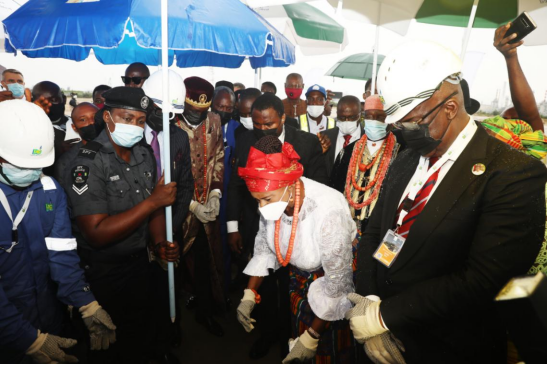 NLNG's Evolution
NLNG was incorporated as a Limited Liability company on May 17, 1989, to harness Nigeria's vast natural gas resources and produce Liquefied Natural Gas (LNG) and Natural Gas Liquids (NGLs) for export.  Its establishment as a company is backed by the Nigeria LNG (Fiscal Incentives, Guarantees and Assurances) Act. Cap N87, Laws of Federation of Nigeria 2004 which amongst other provisions, guarantees and makes true, assurances by the Federal Government of Nigeria to the company and its shareholders. 
NLNG, which has two subsidiaries, Bonny Gas Transport Limited (BGT) and NLNG Ship Management Limited (NSML), is today a major player in the global LNG business. The company has 23 vessels in its fleet, 13 of which are owned by its subsidiary, BGT. NSML, initially set up as a manning outfit in 2010, grew into an 'international maritime services company, providing world-class services including vessel management, crew management and administration, terminal management and maritime training, project management, and consultancy.
Presently, NSML has achieved over 85 percent of its Nigerianisation target.  As at December 2021, the company had in its employment 681 competent and professional employees, primarily of Nigerian descent (286 Officers, 332 Ratings and 63 shore-based personnel).
Significantly, over 70 percent of NLNG's profit goes to the Federal Government through dividends accruing to the NNPC and through Company Income Tax paid to the Federal Inland Revenue Service (FIRS). Other applicable taxes include Value Added Tax (VAT) and Education Tax. NNPC also gets 55-60 percent of the feed gas revenues through its participating interest in the upstream JVs.

A Nigerian Project for Sustainable National Development 
The Train 7 project, which by all projections will be completed within five years from start of construction, has so many benefits for the country. It will extend to site, civil works on roads, piling, and jetties, 100 percent local procurement of all low voltage (LV) and high voltage (HV cables), non-cryogenic valves, protective paints and coatings, sacrificial anodes and many other direct procurements from  local manufacturing plants, and more. Apart from these immediate benefits, here are some mid to long term gains the Train 7 project will bring to the economy as the government continues Nigeria's industrialization drive. 

Increase In Revenue for The Federal Government
Train 7 will increase NLNG production by 35 percent, and it is expected to attract about $10 billion in Foreign Direct Investment (FDI).
The project upon completion, will support the Federal Government's drive to diversify its revenue portfolio and generate more revenue from Nigeria's proven gas reserves of about 206 Trillion Cubic Feet (Tcf).
Noting NLNG's contribution to the country's Gross Domestic Product (GDP) at the groundbreaking ceremony of Train 7, Buhari said: "I am proud that NLNG as the pioneer LNG company in Nigeria, has conscientiously proven the viability of the gas sector over the years, currently contributing about one percent to our country's GDP; NLNG has generated $114 billion in revenues over the years, paid $9 billion in taxes; $18 billion in dividends to the Federal Government and $15 billion in feed gas purchase. These are commendable accomplishments by the company's 100 percent Nigerian management team.
"With this level of performance, I can only hope that the company continues to grow starting with this Train 7 project but also positioning Nigeria to thrive through the energy transition."

Increase in Value for Shareholders
Over the years, the NLNG has proven that a Nigerian company can operate a world-class business; safely, profitably, and responsibly.
With Train 7 in the works,  NLNG, being an Incorporated Joint Venture owned by the NNPC (49%), Shell Gas B.V.  (25.6%), Total Gaz Electricite Holdings France (15%), and Eni International N.A. N.V. S.àr.l (10.4%), will increase value for shareholders.
"Train 7 is the crux of a growth agenda which will ensure the Company's position as the 5th major supplier of global LNG is maintained, increasing value to its Shareholders and other stakeholders, as well as further reducing the gas that would otherwise have been flared, in fulfilment of its vision of 'being a global company, helping to build a better Nigeria," the Managing Director, NLNG, Mr. Tony Attah said while speaking at the signing ceremony of FID on Train 7.

Local Content and Job Creation
Train 7 will increase local content by 55 percent from engineering activities, and create 12,000 direct jobs and about 40,000 indirect jobs.
It will also lead to retention of in-country expertise through training and technology transfer, while also patronizing and developing local capacity of Small and Medium Scale Enterprises (SMES). The project will create investment opportunities in manufacturing and capacity development in addition to creating employment opportunities for Nigerian service providers and manufacturers.
More so, 55 percent of all procurement for execution of the project will be done by Nigerian vendors, with 100 percent of the installations and construction happening in Nigeria.
According to Attah,  "Over 12, 000 jobs will be created during the peak of construction, trade, and commercial activities with the Niger Delta region equally receiving a boost as a result.  The Project will support the development of local engineering and fabrication capacity in the country.
Other opportunities for local content include procurement, logistics, equipment leasing, insurance, hotels, office supplies, aviation, haulage, and many more."
The high level of unemployment in the country will become history when Train 7 comes onboard fully. In the construction phase, the project will provide equal opportunity to Nigerians, especially the increasing youth population, many of whom are without jobs. With over 50,000 jobs the project will create in the country, the economy will be characterized by higher levels of productivity backed by sound human capital development.
Speaking in December 2020 at  a reception ceremony organised by the Junior Chambers International to mark the reappointment of Simbi Wabote, the Executive Secretary of the Nigeria Content Development and Monitoring Board (NCDMB), Attah said: "I dare say that without the support of the Executive Secretary, personally committing, we may not have Train 7 today. Train 7 means 12,000 jobs directly and based on the board's calculation 40,000 additional jobs indirectly.
"Let me dimension it for you, the relative peace that the entire Niger Delta enjoys today called the Amnesty Programme was 35,000 people who were positively put to some good and employment.
"So think about one project that is bringing the opportunity of 50,000 people directly or indirectly being gainfully employed, then you understand what this man has done for Nigeria and did for Niger Delta.
"On top of that we are saying 55 per cent of that scope will be domiciled and domesticated and Nigerians will be directly involved in more than half of the scope of this particular project and we are talking of over $10bn in terms of the overall Train 7 investment."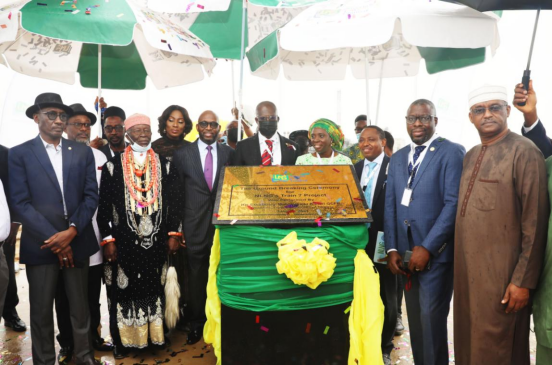 Business Opportunities for Nigerian Companies    
 The NLNG, recently signed 10-year LNG Sales and Purchase Agreements (SPAs) with three Nigerian offtakers for the domestic supply of Liquified Natural Gas (LNG) in-country. The company will supply 1.1 mtpa of LNG on Delivered Ex-Ship (DES) basis to Asiko Power Limited, Bridport Energy Limited and Gas-Plus Synergy Limited. The SPAs will facilitate the project's execution and infrastructural development by offtakers to aid LNG delivery into the domestic market.   
Train 7 will expand this noble initiative and empower Small and Medium Scale Enterprises (SMES) to take advantage of the various opportunities that the Decade of Gas will attract. "With Nigeria's enormous gas reserves, I am not in doubt that with the right drive from the government and the support of corporate organizations, we as a nation can stand with our head held high to be counted among major players. The government has demonstrated its readiness to take the gas sector to the next level by declaring this decade our nation's Decade of Gas. 
"We believe this will be the decade for us to leverage on our gas reserves to accelerate our power generation solutions through Gas-to-Power projects. It will be the decade when as a nation we stop reporting deaths from pollution through the use of wood and solid fuels as domestic energy sources. And it will be the decade for empowering local SMEs to take advantage of the various investment opportunities that the Decade of Gas will attract, " the NLNG boss, Attah said on the initiative.

Reduction In Gas Flaring                                                                                            For decades, gas flaring has been a major problem in the Niger Delta region. Among other things, it has led to environmental degradation, bringing about huge economic loss to the country.
Train 7 is poised to reduce, if not eliminate gas flaring. So far, the NLNG has converted about 193.6bcm (billion standard cubic metres) or 6.8Tcf (trillion cubic feet) of Associated Gas (AG) to LNG and NGLs, thus reducing gas flaring by upstream companies from over 60 per cent when it commenced operations to less than 12 per cent currently.
With Train 7, Nigeria's zero flare status is not far off.

Social Investment
The NLNG has time and again expressed dismay at the health-related issues and death that stem from "hazardous" cooking practices which is prevalent in rural communities and even in some urban regions across the country. 
Quoting a World Health Organisation (WHO) report in a statement, it said: 
"A recent World Health Organisation (WHO) report revealed that about 4 million people die annually from hazardous cooking practices, using polluting stoves, paired with solid fuels and kerosene. Thousands of people are believed to die annually from firewood smoke making it the third highest killer in Nigeria after malaria and HIV. Painfully, this population is mainly women (our mothers, our wives, our sisters) and children who are only doing their best just to put food on the table. This is not acceptable to NLNG."
In mitigating and providing solution to this challenge, the NLNG recently launched a community insurance scheme, which provides a one-year health coverage for a single individual, estimated at N10,000. This is unprecedented, and commendable as hundreds of thousands without access to healthcare can now take care of their health-related challenges. With the ongoing construction work on Train 7, cleaner and affordable cooking options would become available nationwide. Other social investment programs will be launched as part of the company's sustainability agenda. 

Creation of New Town, Improved Environmental Safety 
To reduce influx of workers on Bonny Island, the NLNG plans to construct a purpose-built workers village on a sprawling 31-hectare expanse of land.
According to the company, "The ESHIA demonstrates that Train 7 Project fully complies with standards subscribed to by our shareholders as well as the applicable statutory requirements in Nigeria and international standards. NLNG is fully committed to the ESHIA which outlines plans to mitigate any impact of Train 7 on its host community. As part of the projects considered for the mitigation of the impact of workers influx into Bonny Island, NLNG plans to construct a new Workers Village on about 31 hectares of land and is considering an upgraded Joint Venture Village to accommodate construction workers." 
However, there's expected to be some positives with the number of workers at the built Joint Venture Village when complete. This will spur an increase in social engagements, opening opportunities for various types of Bonny SME business owners to offer services.
Before the commencement of construction work on Train 7, the NLNG submitted an Environmental, Social and Health Impact Assessment (ESHIA) to the Federal Government, which was approved by the Federal Ministry of Environment. The firm's activities, including the plan to build the proposed Workers Village is consistent with its ESHIA goals.

Power Generation
Nigeria generates about 8,000 megawatts (MW) of electricity, though just about 5,000 MW is distributed. With a population estimated at over 200 million, the country needs at least 200 gigawatts of electricity to power its economy and drive industrialization.  Train 7 is expected to boost Nigeria's ability to improve the power sector and build the domestic gas market. The country has 206 trillion cubit feet (tcf) of proven gas reserves, and an estimated additional 600 tcf of potential reserves. There is therefore an abundance of natural gas reserves for both domestic power generation and for export. 
Nigeria can now compete effectively and from a strong position, in the global energy market. 

Industrial Clusters and Eventual Industrialization
With increased inflow of foreign direct investments (FDIs) spurred by the train 7 feat, we expect to see more companies take position to latch onto the abundance of LNG, CNG and LPG provision for the domestic market through Train 7. Along with that will come industrial clusters of companies and manufacturing hubs scattered around the nation space based on infrastructural growth pattern. There's no better time to see that Ajaokuta-Kano-Kaduna (AKK) pipeline is being built.
With sufficient provision of gas for factories via subsequent Trains, power generation is guaranteed, several industries will naturally spring up, leading to industrialization which is one of the pillars of SDG 9.

Conclusion
Seeing the zeal with which the chief executive, the management at NLNG, government agencies and other industry stakeholders pursued the Train 7 into reality, one can say the right attitude, including the political will for advancement of the Nigerian people has been birthed. Tony Attah has continued to narrate the comparison between Nigeria and Qatar, despite both countries being miles apart when considered against the backdrop of several social indices.
While Nigeria celebrates the additional 8 mtpa, bringing the total to 30 mtpa upon completion by NLNG, its counterpart Qatar Petroleum (QP) has finished plans to move up to 126 mtpa by 2027!
Whenever he has the opportunity, Attah often notes that, Nigeria was barely two years behind Qatar in the 90s but Qatar has gone ahead to become an industrialized nation from being a poor fishing one.
He once said, "We just touched on a quick case study of Qatar. Someone mentioned Qatar moved from being a poor fishing country to a gas giant and it took just 10 years, which is why we, as Nigeria LNG, firmly believe in the conversation and the narrative about the declaration of the decade of gas.
"We believe it is possible. If you look at Qatar from 1995, when they really went into gas development, we were just two years behind Qatar. So, Qatar's first LNG was in 1997.
"Nigeria's first LNG was in 1999, just two years behind. But then, within 10 years, because of the deliberateness of the government and focus on gas, they have gone to 77 million tonnes and we are at best, 22 million tonnes."
In his words: "…it's time for gas. It's time for Nigeria to diversify". And on the benefits of gas, he notes, "Gas is life!"