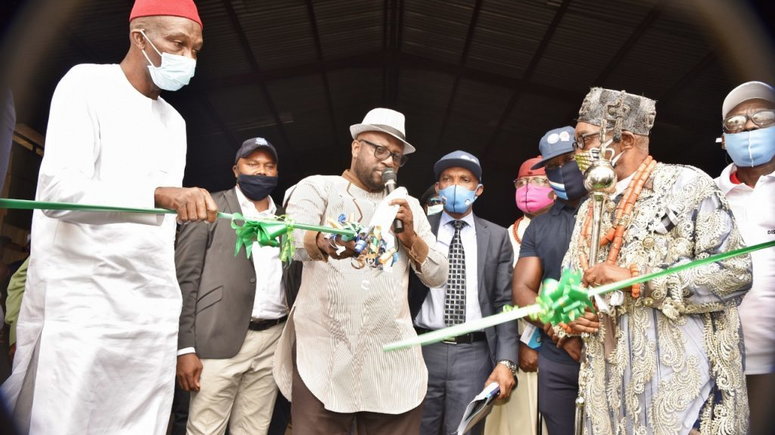 COVID- 19: NDDC distributes medical equipment in nine states of Niger Delta region
By Ikenna Omeje
The Niger Delta Development Commission (NDDC), said it distributed sophisticated medical equipment in the nine states of the Niger Delta region, as part of its contributions to the fight against COVID-19 pandemic.
A release by the Director, Corporate Affairs NDDC, Charles Obi Odili, said that the Acting Managing Director of the Commission, Prof. Kemebradikumo Pondei, disclosed this while speaking during an audience with the leadership of the Niger Delta Youth Council in Port Harcourt, Rivers State. He said: "Before the COVID-19 lockdown, we had applied for approval through the Minister of Niger Delta Affairs to the President of the Federal Republic of Nigeria for COVID-19 intervention. The major part of it was medical equipment, then the second part was palliatives (food items) the third part involved publicity.
"Approval was given by the Federal Executive Council, and the approval letter asked us to inform the Federal Bureau of Public Procurement, since it was an emergency. It clearly stated in the letter to expeditiously do that at the end of all this. We have distributed the medical equipment to all the nine states in the Niger Delta region.
"The medical equipment included ventilators, mobile x-ray machines and PCR machines which are the only things that have not been distributed due to the fact that we are trying to work with the Nigeria Centre for Disease Control, NCDC to increase the testing capacity in the Niger Delta region."
The NDDC Chief Executive Officer said that the NCDC was supposed to calibrate and deploy the 54 PCR machines and mobile x-rays, which, he said were not available in many hospitals in the region.
On allegation and counter allegation between the Commission and the National Assembly, Pondei stated that the lawmakers had the constitutional right to investigate the operations of the NDDC. He, however, appealed to them to also extend their oversight function to helping the NDDC to get the oil companies to meet their statutory obligations to the Commission.
Speaking earlier, the leader of the Niger Delta Youth Council, Samuel Ebiesuwa, said that they needed clarifications on the allegations being made against the NDDC in the mass media. He said: "We have met members of the National Assembly and stakeholders in the Niger Delta, so we deem it fit to hear from the NDDC. We see the resources of the Niger Delta as our commonwealth and we will not allow the NDDC to be used as conduit pipe to syphon money that belongs to the entire region.
"There is an allegation that a contract was awarded during the COVID-19 lockdown to Osmoserve Global Ltd on April 20, 2020, for the emergency supply and deliver of medical equipment to the tune of N729, 203,137.50. We want to get NDDC's response to this and other allegations."