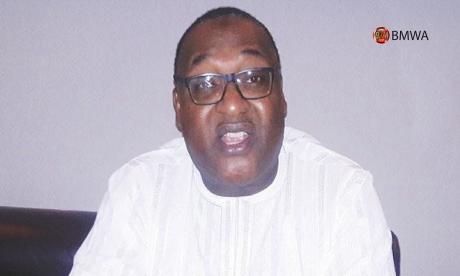 Bridging Transport Infrastructure Deficit Key To Economic Revival – Bello
Until inter-modal transport system is developed in Nigeria, the path to sustainable development will remain a mirage, Hassan Bello, executive secretary of Nigerian Shippers Council, has said.
"Unless we address transport sector infrastructure deficit, we won't move. Once we get the rail right, it'll be a game changer. So also is the road, sea, and air. We are talking about intermodal transport system. It'll bring about national integration and economic growth. We must also push for other infrastructure like the TTPs, Inland Container Depots and all that. TTPs will change the face of haulage transport," Bello stated.
He spoke in Abuja when the Infrastructure Concession Regulatory Commission (ICRC) issued the Outline Business Case (OBC) compliance certificate to Nigerian Shippers' Council for the establishment of a Truck Transit Park (TTP) in Obollo-Afor, Enugu State.
Bello said the time has come for the country to see infrastructure deficit not as a challenge but an opportunity to grow exponentially.
He said the Council was championing the development of TTPs across the country because trucks currently litter major highways in the country, wreaking havoc and hampering free movement of goods and persons.
He said Obollo- Affor TTP is an $8.5 million investment rated four star and sitting on 16.1 hectares of land allocated by the Enugu State government. He said: "We've had stakeholder's engagement with National Association of Trucker Owners, NATO, Association of Maritime Truck Owners, AMATO, Road Transport Employers Association of Nigeria, RTREAN, among others. We want them to be fully part of it. We've signed an MoU with FRSC to ensure drivers use these facilities.
"We need to all come together as agencies to synergize to straighten out all legal issues and other requirements." Bello added that the NSC will work hard to sustain and cement the partnership it has with ICRC towards aggressively tackling infrastructural challenges in Nigeria.
According to him, the NSC remains determined to improve transport infrastructure because the sector remains the main driver of the economy.
"When investors see how we park our trucks indiscriminately, they won't be encouraged to come in here. It defaces the country and lead to several issues including squabbles. Again, we won't have a TTP that is not speaking with an ICD. There must be that connection and again, we need regulation to blend them.
"For investors to come, there must be incentives for them. Some seek tax holidays, pioneer status, access to forex etc. There are 164 projects captured by the government to help boost the Nigerian economy, TTPs account for seven and rated four star. They're becoming constituency projects but must not focused on politics but on economic considerations".
The acting Director General of ICRC, Mr. Chidi Izuwah, in his remarks on the way forward for TTPs in Nigeria, said the agency was determined to provide TTPS along with ICDs.
"Trucks scattered all around the country constitute serious danger. More than 90% freight transportation is by trucks. There are no well-built truck facilities anywhere in Nigeria. They park on major roads and thus block the economic arteries of the country.
"NSC and Road Safety should run campaigns that will encourage the use of TTPS to boost safety and revenue. You can link TTPS to ICDs. You can mix it with the railway or integrate it with warehousing.
"We are ready to work with NSC to change the clogging of our highways into economic opportunities" Izuwah said. The Transaction Adviser, Mr. Lai Are, whose firm, Catamaran Nigeria Limited, was handling the project urged the government to ensure all players operate within the rules of engagement.