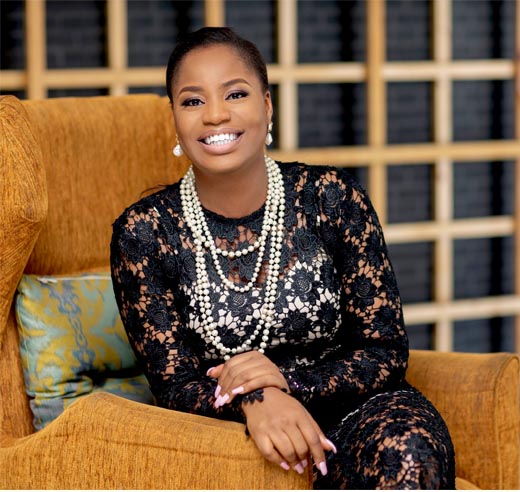 Iroghama Ogbeifun-Obuoforibo is the Chief Operating Officer of Starzs Investments Company Limited, she is also the Chairman Finance and Membership for Ship Owners Association of Nigeria (SOAN). The young and vibrant COO spoke passionately on the need for women to build competency and not use gender as a right; she also touched on the need to develop local capacity for in-country ship building as well as urging the government to release the needed fund to support this venture. Iro spoke to the Majorwaves Energy Report team on the sidelines of the Nigerian Oil and Gas Conference (NOG). Excerpts:
I was at the Day of the Seafarers event for women seafarers when you spoke passionately about women, what has been your personal experience as a woman in the maritime sector?Just this morning somebody said me," Iro, I don't think you should play the feminist card." And I'm not a feminist. I'm a woman who is operating in male dominated industry and for that I don't see it as a male dominated industry; I see it as an industry. For me, first of all stepping into it, I realized that I must always prove my mettle in whatever I'm doing. Whatever I'm doing, I must first of all show my expertise, show my competence first, before displaying that I'm a woman so that I would be taken seriously. Definitely, already being a woman is a challenge, but I do not walk into a room feeling that I'm a woman. I walk into a room feeling that I have the right to be here, I have what it takes to sit at the table, and I have value to bring to the table.
And how has that been?
I have known a lot of people here. People walk up to me now and they recognize me in my own right. Not in my right that oh! I'm Greg Ogbeifun's daughter, but the fact that I'm Chief Operating Officer of Starzs and I'm one who contributes significantly to the industry. I think I have  managed over the last 5 years being in the maritime industry to establish some level of feeling that I deserve to be here; not because I'm a woman, but  because I know what I'm doing.
Part of what was discussed during the Day of the Seafarers summit has to do with recognition of women based on their capabilities and competence. Do you see that card playing out as you operate in the maritime sector?
Most definitely. When I gave an interview at the day of the Seafarer that NIMASA hosted, I said something as I closed my interview; I said that as women, as a people, we shouldn't push for gender parity on one hand while still looking for female consideration on the other hand. You can't have it both ways. So if you say you are stepping into a room and you want to be considered for your competence, for what you bring to the table, for your capabilities and abilities; you cannot on this same table give me concession  on the other hand because I'm a woman, which means 'do you want to be treated as a woman? Or do you just want to be treated as a worker for what you bring to the table? This also means that there are certain sacrifices that you have to make as a woman that obviously your male counterparts might not have to deal with. There are certain other things you don't have to ask for because your male counterparts don't ask for them; you just find a way around it. Unfortunately, that's the world we live in.
You spoke passionately about the Government's policy to place a ban on the importation of vessels; could you just give us a recap of your main points on that discussion?
As you know, NIMASA has been speaking quite aggressively for the last few months on their decision to cease wavers – the issuance of wavers completely; obviously standing on the four pillars of Cabotage – build, own, man and flag. Significant to us as maritime operators is the aspect of building which they are trying to push. They issued a directive few weeks ago, which I  mentioned on stage, notifying the country, notifying all the key agencies that they will no longer accept the importation  of vessels – certain categories of vessels –  over  a period of time, starting from December 2020. Obviously, that has major implications for those of us that work in the industry, that operate in the industry because our worry is 'do we have the capacity to actually meet up with the standards? Are people going to rush and circumvent standards? Where does class society come in to play here? Where do we get the skills and expertise that is required to do something as significant as ship building? That's why I said earlier that yes, initially there was panic, but as time went on we saw something that has moved from a challenge to actually an opportunity.
That's what I tried to point out today, we spent a lot of time talking about laws in the industry like the fabrication yards that were established last year or during the time of the Egina, and suddenly they've not had work for almost 2 years now. Makes me want to ask, so after the commissioning of Egina, what next? And I'm saying well, instead of sitting on our arms or sitting on our hands waiting for another Zabazaba or Bonga South-West or NLNG Train 7, here is a unique opportunity that has been dropped on our laps by the Federal Government who has now taken a very bold step. So we can either stand or whine about the impossibility of the task or we can say 'what do we have? What is available? How can we modify? How can we turn around and use it and utilize it to achieve this objective that the Federal Government has set before us.  Also speaking on that, we have existing ship yards and Starzs for one has a ship yard, NigerDock, there is WAV, there is WAS. So there are facilities already; just that we are not building, we are just repairing and maintaining, but now is the opportunity for those ship yards to be expanded to accommodate Ship building to meet the objective of the government.
So  NCDMB is strategically  positioned, given  their historical achievements  to actually take  the lead with NIMASA to ensure that Nigerians don't  get dropped in this new drive by the Federal Government . We don't get pushed out of the way, because you see, foreigners are going to step in as quickly as they see the opportunity, they see what can happen. If we as Nigerians don't have the backing of organizations like the NCDMB who will ensure that this capability they have built, they can expand and sustain it as they hope to do, then we will be back to square zero on the issue of maritime from the Nigerian content aspect if the NCDMB doesn't step in today and rise with this waves that the Federal Government and NIMASA have set in motion.
With a view to this kind of opportunity, how would you recommend that the aspect of finance be taken care of, I mean this is a lone voice, but then taking into consideration the fact that you have not been able to access the CVFF (Cabotage Vessels Financing Fund), do your colleagues share the same enthusiasm with you?
Well let's be honest. Whether we build the ship in Nigeria or not, people are buying ships. How are they buying the ships? That's a rhetorical question that we need to ponder on. My point is that no matter what, people are going to find the funds and they are going to need to buy ships. But what we can do is to try from day one to make it easier, if we are going to build ships in Nigeria, it should be cheaper or at least competitive. So if I'm going to spend $10 million dollars building a ship in China, I should not come and spend  $20 million dollars to build the same  ship in Nigeria, because I'm trying to adhere to the Federal Government's  regulation of saying you must  now build in-country. So the Federal Government, CBN, they have a lot to do, they have to deal with a lot of fiscal issues associated with this new instruction from the Federal Government in terms of no more importation of certain vessels. You have to make it worthwhile; you have to make it reasonable, so that people can actually afford it.
So on the issue of CVFF, the DG NIMASA, Dr Dakuku has said repeatedly that he would disburse. The former Minister of Transportation, Amaechi, had said on different platforms that they plan to disburse. I have been part of discussions around establishing the guidelines, I have said at the last NIMASA stakeholders' seminar that was held in April, where they discussed the issue of cessation of waivers, I actually said it on the platform that there is no point reinventing the wheel, NCDMB has accrued half of what NIMASA should have accrued and NCDMB is disbursing; how is NCDMB disbursing? What legal framework and fiscal framework are they using? So why don't you just sit down with your counterpart, NCDMB and figure it out. It's not a big deal, because it's the same people that will benefit from the CVFF that are benefiting from the NCDMB, so how is the NCDMB getting their comfort? How are they getting their security? How are they getting their collateral? Don't reinvent the wheel, if you are willing and committed and have that political will to really disburse those funds, even if its $100 million dollars, that is there, I mean NCDMB started with $200 million dollars. Nobody is asking you to bring $1.6 billion dollars. If you have $150 million dollars in your fund, bring it out and disburse it. There is no point keeping it and accruing it, accruing it based on what, without earning any interest?  We are not enjoying from the interest if it is earning any interest. So sit down with your counterpart, and figure it out. I hope that the incoming Minister of Transportation, whoever that would be, will ride on the commitment that has been made by the previous Minister of Transportation as well as the commitment that the DG of NIMASA has towards ensuring that these funds are disbursed, because he recognizes that this is a legacy issue for him and if he is able to achieve that, he will go down in history as the only DG that managed to unlock and break the bondage of the CVFF.