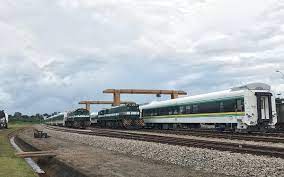 AKK Pipeline Project: NRC Begins Haulage of Line Pipes from Warri to Itakpe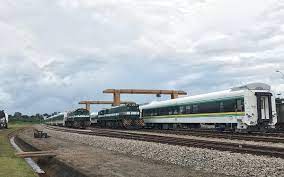 By Ikenna Omeje
The Nigerian Railway Corporation (NRC) has commenced haulage of line pipes from Warri in Delta State to Itakpe in Kogi State, for the construction of the Nigerian National Petroleum Corporation (NNPC) – sponsored Ajaokuta-Kaduna-Kano gas pipeline project.
NRC on Thursday, began the delivery of the project materials along the Warri-Itakpe corridor, where the pipeline will pass through. A video posted by the NNPC on its verified Twitter handle on Friday, showed a train moving slowly along the corridor to deliver pipes at strategic locations, in a journey expected to last for 8 hours, at 50 kilometres per hour.
"A major boost in the delivery of #AKKGasProject as NRC Train finally commenced epoch-making haulage of line pipes from Warri to Itakpe. This locomotive, which began journey @11.05am on 8th Apr 2021, carried 96 pipes at once, an equivalent of 32 trailers on the road!" NNPC tweeted.
The Management of NRC had in October last year disclosed that the Corporation was having talks with the NNPC, with respect to moving materials for the construction of the 614Km gas pipeline project.
The construction of the pipeline project was flagged off virtually in June last year by President Muhammadu Buhari.
The AKK Project is being built through a Build-Operate-Transfer, public-private partnership model, whereby the contractor provides 100 percent of the capital, and aims to establish a guaranteed gas supply network between the South and the North of the country at a budgeted cost of $2.8 billion.
Noting the economic importance of the pipeline to the country some months back, the Group Managing Director of NNPC, Mele Kyari said, "the AKK pipeline project is key to resolving the power deficit challenge of the country. Its multiplier effect on the economy and provisions of jobs will be unprecedented."
Upon completion, the project would enable the injection of 2.2bscf/d of gas into the domestic market and facilitate additional power generation capacity of 3,600MW.
It will also support the development of petrochemicals, fertilizer, methanol and other gas-based industries that will generate employment and engender shared economic prosperity.
The Bank of China and SINOSURE are the financiers; while Brentex/China Petroleum Pipeline Bureau-CPP Consortia and Oilserve/China First Highway Engineering Company-CFHEC Consortia are the two EPC Contractors handling the project.
The EPC contract for the 614km AKK gas pipeline project was awarded at a total contract sum of US$2.592 billion to Messrs. Oilserv Plc/China First Highway Engineering Company (Oilserv/CFHEC Consortium) for the first segment covering 303km.
While Brentex Petroleum Services/China Petroleum Pipeline Bureau (Brentex/CPP Consortium) will handle the second segment covering 311km under a debt-equity financing model with loan from Bank of China and SINOSURE, to be repaid through the pipeline transmission tariff and supported by a sovereign guarantee.