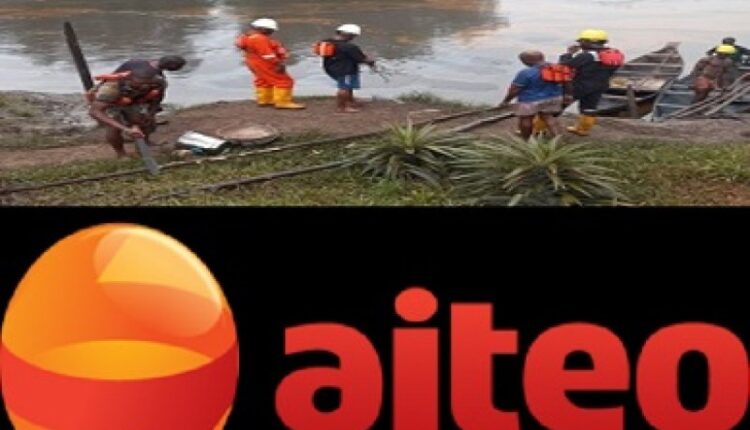 Aiteo Ends Spill from its Wellhead in Nembe
By Ikenna Omeje
 Aiteo Eastern Exploration and Production Company says it has finally  ended  the oil spillage from its wellhead in Opu-Nembe in Nembe Local Government Area of Bayelsa State.
The wellhead explosion  in the Santa Barbara South field in the Oil Mining Lease, OML, 29, led to oil spillage across 45 communities in the state.
The Director General/Chief Executive Officer, National Oil Spill Detection and Response Agency (NOSDRA), Idris Musa, who spoke  on the "Morning Show," a programme  on ARISE NEWS Channel, had on November 24 dismissed speculation that  the country lost over 200,000 barrels of oil to the spillage, which blew out  on November 1.
President Muhammadu Buhari also sent a delegation headed by the Minister of State for Petroleum Resources, Timipre Sylva, to assess the oil spill at the Santa Barbara, South-west oilfield  to ensure speedy redress of the situation.
The Senate had on Tuesday urged relevant agencies of the government to penalise  Aiteo  Eastern Exploration and Production Company, describing the spill as unacceptable.
"I feel very sad that an indigenous oil company for that matter, would be involved in this kind of incident and yet not be able to show any capacity," President of the Senate, Ahmad Lawan had said while speaking on a motion sponsored by Senator Biobarakuma Degi-Eremienyo (Bayelsa East).
"As a country, we want to promote our local content to participate in this industry.
"But we are going to insist, whether it is an indigenous-owned company or an international one, that the companies must be responsible to the communities and to us as a nation.
"This is a devastation of lives and ecosystem in that part of the country."
He added, "I believe that this particular case should be made to be an example of what government and its agencies can do, not only to force the alleged culprit to remedy the environment but also to penalise the oil company for devastating the lives of the people of that area (Nembe)," Lawan added.
However, a  statement by Aiteo on Wednesday  announced that the company had successfully ended  the spillage.
"We have successfully installed control packages on both arms, rig up pump on the long string and pump open the ball .
"We have closed both control packages and shut-in well flow and currently, we are preparing to pump kill fluid into the long string. The short string is already killed and dead with zero pressure.
"Other steps that would be taken include the complete pumping of kill fluid into the long string and to achieve zero psi on the surface. Rig down the pump and rig up wireline. Drift both tubings and run in holes to install isolation plugs and non-return valves.
"Nipple down Christmas tree and carry out comprehensive service on wellhead and Christmas tree. Install Christmas tree and secure well and also to clean up wellhead platform and its surroundings," Aiteo said.