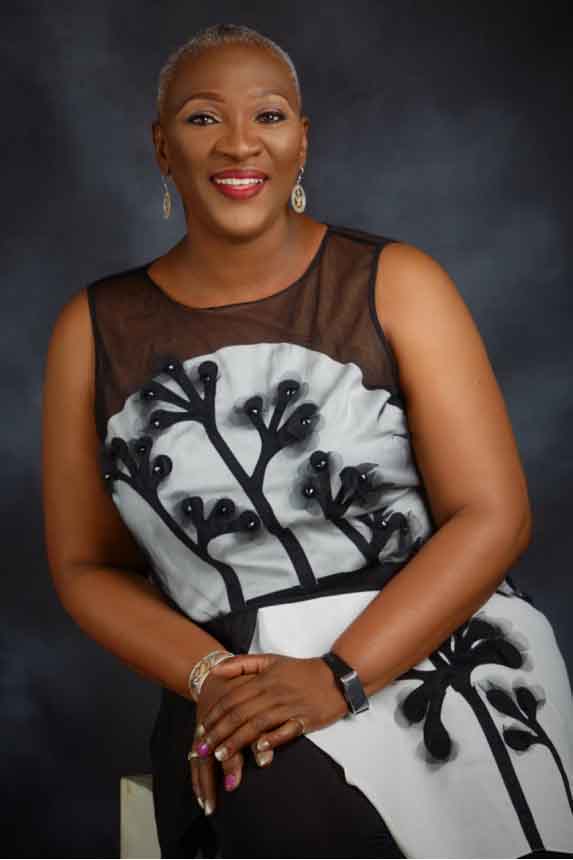 "Advocacy for gender equality, proper legislations will promote growth of oil and gas industry" Onosode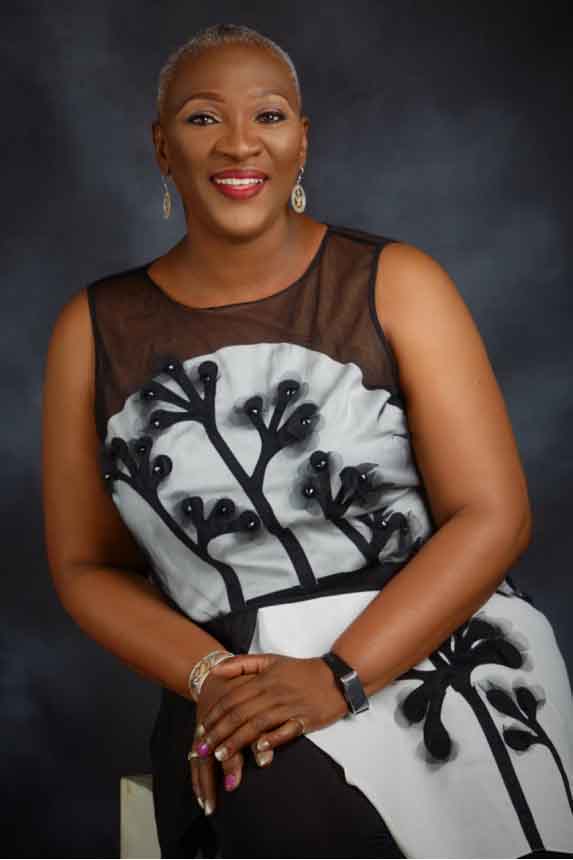 Alero Onosode has had a long illustrious career in Nigeria's oil and gas industry as an accomplished Human Resources (HR) expert in both generalist and specialists roles covering industrial relations, HR services, policy development and organization effectiveness.
As a woman wearing many hats, she is the founder and Chief Executive Officer of AAO-Tsalach Ltd, a consultancy firm providing services to the oil & gas and other industries and currently the chairperson of the Nigerian Content Consultative Forum (NCCF) Diversity Sectorial Working Group (SWG).
In this interview with Majorwaves Energy Report, Alero shares her career journey with insights on how to succeed in the workplace. Using a gender-focused narrative, she highlights challenges, bordering on the bias that has stifled women's growth in the sector over the years. Her recommendations on how to recalibrate the existing systems and institutionalize sustainable policies that promote diversity and inclusion for local and national economic development lends credence to the change agenda of the Diversity SWG.
Excerpts by Margaret and Toyin:
What informed your choice, or decision to join the Oil Industry?

I must say that the caliber of people working in the oil and gas industry was what informed my career choice. Fresh out of the university, at the beginning of my career, when you interact with the average employee of an oil multinational, they exuded this aura of being distinguished, smart, purposeful, and yet humble. My parents also had friends who worked in oil and gas, some of whom were scholars in those days, and they were just very composed, accomplished people. So, when I got the opportunity to spend my youth service (National Youth Service Corps- NYSC) in the oil and gas sector, I embraced it wholeheartedly.
My service year was a defining moment in my career. My plan, post-NYSC was to embark on a postgraduate degree in Law but my foray into the oil and gas industry at the time took me to the world of what we call "Personnel Management" in those days and that was how my experience with HR (Human Resources) started. I just went into that space and fell in love with it, but I think I fell more in love with the "character" of the company, Shell, where I served. Shell came across as a very caring company, with employee friendly policies and clarity around the rules of engagement. All employees were primed for both personal and professional growth. While job hunting after my service year, I always benchmarked every company I applied to, with Shell and they just always fell short. Not in terms of remuneration, but in terms of the values, organizational culture, spirit of care and community I had come to identify with. I became sold as it were, on advancing my career in the oil and gas industry.

Considering the International Women's Day theme for this year: "Choose to challenge'', what did you choose to challenge?

My personal commitment is two-fold: What I choose to challenge and what I choose to advocate for. The first thing I choose to challenge is the mindset that limits women's abilities and boxes them into a corner. I choose to challenge every mindset that propagates any form of discrimination or any form of bias towards women. On the flip side,
I choose to advocate for policies and initiatives that allow for gender equality and advancement of women in all spheres of the oil and gas sector. I am committed to creating an enabling environment that removes those blockages and limitations and enjoin others to be part of this advocacy.
Over the years, this has become increasingly important owing to numerous experiences and narratives being propagated not only in the oil and gas sector but in other economic sectors as well.
These negative, self-limiting mind-sets have been at play for many years so whether we like it or not, there is already a dichotomy in the industry. It therefore means that we need to focus on sustainable policies and initiatives that create a level playing field and that is where I would like to put my energy going forward.

Tell us your personal experience. What lessons have you learned that has framed your disposition towards your career?

I would say that my formative years laid a solid foundation and has made me who I am today. Growing up, I did not feel any form of limitation being a woman. I grew up in an environment where my mother was a career woman and I saw my parents treat each other as equals. I saw my mother serve my father and my father serve my mother. Although my parents were both civil servants, my mum was the one who was always on the road. She worked with WAEC (West African Examination Council) and she was always travelling. My father was really the one that stayed more at home, so I never grew up with a mind-set that there were traditional roles that I was required to play as a woman. Coming into the workplace from that background, I never really came with any limitations. I just came in believing that all I needed to do was prove myself and I would get treated the same way others would and I was fortunate to have a supervisor who gave me the room just to be me. That was why my first full work experience was as a Youth Corps member. It was also during my NYSC that I commenced fieldwork, independently conducting HR visits. So, it took me quite some-time before I began to hear "noises" about gender inequality and the attendant issues.
In my marriage, I have also been blessed with a husband who has never limited me, in terms of what I can achieve. So again, I have never been constrained to accomplish my career goals and develop myself professionally. The reality check comes when you look around you and see only a few women who can demonstrate that same level of freedom mixed with a depth of experience. Sadly, a lot my female counterparts have been hindered one way or the other in the context of the environment in which they grew in and have operated from. So, I must say I was privileged.
On the work front, I have had supportive bosses who have come through for me at times when I needed help most. I was raised to request for support when needed, so, over the course of my career, when the kids came, I did not hesitate to ask for help. If I needed to travel on official assignment and I needed a nanny to come with me, I would go to my supervisor and ask for the practical support I need for me to carry out that assignment successfully.
Another fine lesson I would like to share, is the need to speak up albeit respectfully, when there is perceived injustice that could affect your work output. I think this is very important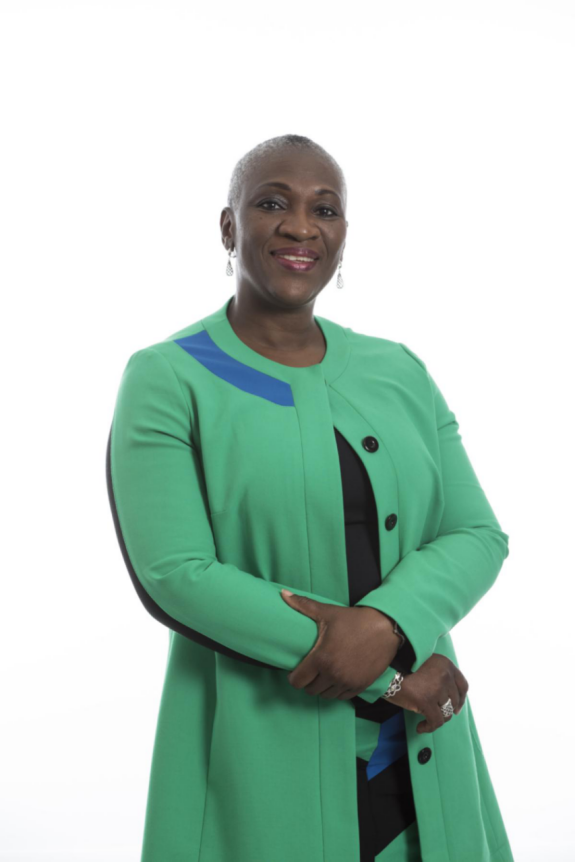 for us as women, because many times we keep quiet and allow the system to deal with us. Most times, people do not deliberately look out to hurt you but if someone is stepping on your toes or treating you unfairly and you are not speaking, they just might not recognize it. So, I think it is important to have a voice and request for needed help and support at various points of your personal and professional journey.

Looking at your experience, what advice would you give young girls aspiring to go into the industry?

One of the things I would say is that it is very typical that we head in the direction of where our role models are. So, you see even in my generation, there were a lot more women interested in going into banking, fast-moving consumer goods, and the likes because that is where you saw high profile women. Now in oil and gas, you see few women, especially higher up the ladder. My first advice is that for you to come into the industry even in today's modern world,
you must be ready to forge a path for yourself. You may not necessarily depend on the statistics to make your call. Do not limit yourself but push and seek out opportunities. Find out the few women in the industry and learn from them. Be mentored by them. But more importantly, be ready to forge a clear path for yourself.
The second thing is you must fundamentally believe in yourself. Self-confidence when developed and applied to the proper degree, is very key. As I said earlier, there is a lot of noise that would come in terms of what you can or cannot do, but the one thing I know is that what determines your success is the voice that you choose to respond to. So that means that the 'I can' mindset is one that is very critical for every woman that comes into the oil and gas sector. I had colleagues at the time that I have seen move on to greater laurels in terms of success and one of the things I recognize in all of them was that they did not allow the noise to limit them. So, you really must believe in yourself.
The third one is what I mentioned earlier. You must learn to speak up. Each person has needs, and each person is vulnerable- male or female- so you should not attempt to be an action figure like "Voltron." You are not superhuman. Whatever the need or support is, you must speak up and you must go to the right people for such support and sponsorship.
The other thing I would say is that you must learn to tell a story and back it up with facts. I recall when we were to set up the Shell Women's Network in those days, I had a few strong female colleagues at the time and one of the first things we decided was that for our story to be heard, we needed to work with facts and figures, we needed to be data-driven and not just run with emotions. We advocated our case, influenced action, and got the needed support. It is a skill that I believe is very important for anyone coming into the industry- the skill of storytelling to influence.
The last thing I would say which cannot be overemphasized is:
You must be willing to put in your best. Our standards, our ethics, and our ethos of trade are not determined by those around us, rather, we define how we want to distinguish ourselves. Always remember that the story starts from you and the story ends with you. You must define your course of action, you must solicit for the right sponsorship, you must tell your story, you must do the work and not be shy to take the reward when the accolades start rolling in. If you have put in the work, you are worthy of the reward.
What does work-life balance mean to you as a person and how do you ensure that it works for you?

It is true we always talk about work-life balance. But whether it is balanced or not, I honestly do not know. What I do know is that you must have a life and work forms part of that life. My attitude to it is that there are seasons of life and at different seasons in life, different things take priority, the important thing is that you maximize the space that you are in. Before marriage, I had ten years to make my life, my work, my everything revolve around work. I started my career in Warri, I had no friends save for my colleagues at Shell. At the time, there was not much of a social life in Warri, so it meant even during weekends, I focused on work. What I am trying to say is that during that phase of my life, I maximized my full potential and I believe that the foundations I laid in that period meant that even later, people had confidence in my abilities because I proved myself fully. So, wherever life meets you, live it to the full, give it your best shot and make the most of it.
However, in this conversation I must also say that there are some choices that influence whether you can achieve your full potential. These choices are in terms of the home front. For example, what kind of support arrangement do you have with your spouse or partner? If you are looking to succeed, it is important that you secure every support you can get. During my career, I have had to travel significantly, and sometimes on very short notice. However, one of the things I have come to value over the years was that in that period I could count on my husband not to harass me for travelling. I did not need to secure prior permission before I could go to Warri or Port Harcourt as the case may be. So, I think the choices we make in terms of the home setting is important and, in many cases, it involves just being upfront with our partner about what those needs are and being able to secure their support. Leveraging on support from my extended family and social network helped me a lot.
On another note, at work, advocate for policies that would support and enable you for success. Being in HR, I leveraged on the women's network we set up, which was a strong platform for us to articulate what our peculiar needs were as women. With this, we engendered changes in policy that were advantageous to us. Relatedly, you must deliberately create an environment that gives meaning to your life- the totality of who you are- including family, social life, recreation/sport, or faith. Whatever matters to you must be integrated into the essence of what you bring to work. So, I would not call it "work-life balance," I would call it an integrated life. Work is part of it, family is part of it, my faith is part of it, my health is part of it, my overall wellbeing is part of that story which all need to be congruent. This is what makes me a whole human being.
 
What is your take on limited number of senior positions occupied by women in the oil and gas Industry?

There is clearly an imbalance, and that imbalance did not just begin. When you discuss advocacy for more female representation, the first thing my male colleagues would ask is: "How many women studied engineering in the first instance?" You would here statements like: "This is an oil and gas company; we are technically centric." While that was somewhat true in the past, in recent times, we are now beginning to see women go into STEM (Science, Technology Engineering, and Mathematics) and distinguish themselves in these fields. One of the fundamental things that I believe inhibited and still inhibits women from getting senior level positions are the experiences early on in their career. What we see as the C-suite today reflects the last two to three decades. The journey to the top on average takes 20-25 years so if something fundamental is not addressed at the point of entry, it begins to show up when you are trying to make decisions purely based on capabilities. In a video I did during the International Women's day week, I commented on what the norm was when I joined the oil and gas industry. At that time, the women were not even given opportunities to go to the field. If you do not have field work experience and if you do not do well site experience, how would you successfully supervise operations in the field at a future date? Those are the dividends and benefits our male counterparts enjoyed, giving them an "edge" over the women. Hence, when conversations based on experience now come to the fore, there are gaps and those are the things that must be fixed
from now. There is a lot of work that has been done over the years in this regard. I have a few female colleagues in my time who basically have pushed that boundary and have managed to pull through, but we need to consistently pay attention to all these unintended consequences from gaps created
in those experience profiles.
Towards the end of the late 90s, going on overseas assignments were privileges reserved for men. The common thinking was that a married woman could not leave her husband or children to take on key assignments that involved travel. Those thoughts also created gaps in our experiences, and this has become more evident today.
Now more than ever, we must have a very targeted approach towards ensuring that from the beginning of one's career, opportunities are balanced, policies are balanced, and enablers are put in place that allow people to be the best version of themselves regardless of gender.
What we see today for me is just a journey of 20 years, the fruit of 20 years of inequity in how the playing field has been. Going forward, we need to address these inequalities every step of the way. The guys always say "it is not intentional, we only pick the best person for the job",  but if overtime your decision as to what qualifies as best is around skills and experiences that are peculiar to you, then there is a problem; because every time you make that decision about who is the "best", you keep going back to conversations about technical knowhow forgetting that in the world of leadership today, there are other capabilities that are also important and should be considered. Here, considerations are around issues of authenticity, nurturing, and being able to deal with multiple tasks at the same time. These qualities in some cases, do not always show up in the profiles that are used in terms of determining who is the best fit for the job.

Do you think that we presently have policies that are in place that will enable fair and equitable appointments on the C-Suite level? Also, since we must start preparing STEM-inclined young girls to become poised for senior-level positions in the next two decades, do you think we are doing enough now?

I would say there is a lot more work that needs to be done. The operating landscape and many organizations favor a lopsided approach to handling the issues of gender supportive policies or gender supportive developments. We still have schools of thought that are "pro-men" because many still do not see the value that they derive as a business from having a gender-balanced world view. I call it a gender-balanced world view because the reality is that by the nature of how we are made, there are certain abilities and skill set that we all bring together and the world is only better by having a wholistic view of everything.
The first conversation to be had especially among leaders, is the struggle to understand why women are needed in the workplace. It is even more difficult for us in the oil and gas sector because the consumers of our products are not known. You are bound to hear conversations around marketing the products alone and not about understanding the customer or other stakeholders.
This comes from a narrow view of who your stakeholders are in the oil and gas sector in Nigeria. The conversations over the last 30 years with regards to stakeholders including the host communities and the issue around environmental preservation would have been a lot different if you had the balanced world view. That for me, is one of the areas where I think that women could have and can still bring a clear value to the table.
We therefore need to articulate and communicate what we stand to gain as an industry by having a gender-balanced world view. Secondly, we need to go back to each of these policies that exist. The structures in place are lopsided because as a country and as an industry at large, the decisions relating to equitable gender representation is basically left to each organization to determine. Until we begin to have conversations at national and industry-wide levels, it will be difficult for us to get the level playing field across board. With the IOCs (International Oil Companies), the pressures they put on gender issues in many cases were not driven locally, these are coming from the global corporate front- both at governance and legislative levels- which forces them to do things in a particular way. The dividends we experience here are the trickles of the efforts put in placed in other parts of the world. We need to advocate for a balanced world view at the local levels, backed by proper legislations while highlighting its importance to the overall growth and development of the industry.
Now more than ever, we need to actively encourage younger girls to pursue careers in STEM. The few cases or few success stories that we have within the industry needs to be celebrated a lot more. We need to profile them in a manner that makes it attractive for younger girls to make choices that allow them sit on the C-Suite soon.
We need to make the business case for this clear so that leaders take us seriously.
We must recognize that there is a clear value one derives as a business by having a gender-balanced world view with the requisite skills and abilities being brought to bear in terms of how organizations are run.
During and post COVID-19 pandemic, women have time and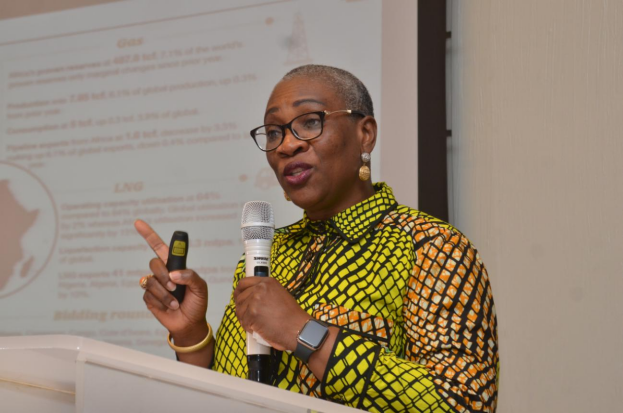 again demonstrated unrivalled value in terms of dealing with crises and nurture issues. Women have proven to be the best responders to host community issues while wielding authority in proper measure. We must leverage a lot more on influence. This influence is fueled by having a 'win-win mindset', developing the ability to co-create and collaborate, the ability to nurture, and the ability to redirect energies and emotions. These are the skills that women basically bring to the table. 

Talking about the workforce and speaking generally to the industry, the peculiar problem as observed, is an aging workforce and who their potential replacements are. As a HR pundit in the industry, what do you think can be done to ensure Nigeria's oil industry does not record huge deficit of the required skill set?

I like the way you have categorized it. To be honest, the issue of the aging workforce is with the aging professional workforce. In terms of the skill set, the past generations in the oil and gas sector benefited from the depth of planning that was put in place, but these ones are all now entering retirement or moving on. Also, the cyclic nature of the oil and gas sector meant that there were periods of "dips" which were occasioned by reduced oil prices and decline in activities. At such periods, after slashing training budgets, the skills that you require are not necessarily in place when activities pickup. So that creates a gap in capacity development. The decline in activities further affected technical know-how in areas such as drilling.
To bridge these gaps and make up for the deficit,
we need to emphasize more on coaching and mentoring, while putting less emphasis on classroom training. There must be incentives in place to encourage skill transfer from the older generation to their potential replacements.
Furthermore, there must be collaboration between established companies and smaller companies that do not necessarily have the structures to grow their talent base. Where this cannot be done directly, vendor capability should be enabled for training to occur and services deployed across board. We must create platforms for shared continuous learning.
Expounding on skills transfer, we must institutionalize a system where experienced consultants and expatriates transfer knowledge in an organized fashion. This knowledge should be recorded, archived, and documented in various ways for capacity building.

So, in other words, you are saying use the veterans, do not just use them as vendors and consultants but also use them as mentors and coaches as well? 

Exactly!
Currently, there is hype on technology and on simulation. Even if you are not actually experiencing something you can run learning modules that simulates the environment, simulates the challenge, and teaches the younger generation even in organized settings where the practical experiences are not available. Learning on the job is also very important. From experience, there is always a tendency to give tasks to experienced hires just to get the job done quickly and smoothly. Despite the pressure within the industry, we must be willing to create the opportunity to teach and we must be ready to take the risk. The older generation- including me- learnt this way. I think our environment now is different from when I was in the industry.
There is too much attention on the bottom line to the extent that we lose the benefits that come from intentionally supporting and developing talent. If we embark on sustainable development of budding talent in the industry, we would be sowing seeds that grow mighty trees which provide a refuge in the future.
Brain drain in the industry is something that is on the rise right now. How best do you see the oil industry coping with this trend? 

I think this is a reality that is beyond the industry particularly in the context of Nigeria and our socio-economic challenges. These challenges make it almost imperative for experienced resources to relocate along with their families in the search for better standards of living. With the growing acceptance of remote work in a COVID-19 world, there are now more with opportunities which allow us as an industry, become more flexible in terms of our definitions of work and the nature of the contracts. These contracts should foster capacity, skills development, and vendor development, allowing companies request for workers on need basis and freeing up the worker for other jobs as the demand arises.
Customized work cycle is another issue that warrants closer scrutiny. In essence, even if somebody works in the field, there is nothing that says that if he is off field, his location must be in Nigeria. Regardless of where he works from, he should be able to go back home- wherever home is. So, we really need to revisit those schedules in line with what our requirements are while we maintain flexibility about the kind of pay and other enablers that consistently gives us access to the best resources across the world. With the foregoing, despite COVID-19, productivity can remain at optimal levels and outcomes trump efforts. We can now proactively deploy a lot more solutions around contracting and the nature of work.

Increase in technology is inversely proportional to the workforce site. How would you advice industries viz-a-viz the nation's unemployment levels?

The key issue is that with increased technology, you require less manpower to run operations in some cases. However, with the socio-economic challenges prevalent in Nigeria, industries should create an enabling ground for skills and capabilities to be developed which can be deployed in any sector of the economy.
In unleashing the nation's economic potential, focus should be on ensuring the workforce is gainfully employed in a manner that creates wealth for individuals and their household.
Here again, the conversations and actions around enabling development in our communities should be on the front burner. Indigenes should be empowered at grass root levels to provide for themselves and their families. Over the years, I have been involved in some projects that propagated "energy pacts", where small businesses can thrive. These kinds of enablers will create wealth across the entire value chain such that we can operate lean and efficient businesses and as a byproduct, engage the entire community in gainful employment. With advancement in technology, we can ramp up local production, for example with fish drying. By engaging the communities in this way, the nation enjoys a balance of trade via increased exports relative to imports. Look at most of the equipment we still bring into the country. Everything is assembled, imported, and developed abroad. Those are the auxiliary services that we need to encourage and that for me is where the opportunities exist.

With the COVID-induced new normal, it appears we benefit more from technology, because right from the comfort of your home, you can now take E-courses from Coursera, Google, Microsoft, and the likes. How does that fit into reducing the unemployment rate in the country and putting people on the pipelines to get skills and be gainfully employed? What ways can that be supported to ensure there is reduced number of unemployment?

I would not say the new normal totally bridges the skills gap or solves the unemployment issue. I think while our infrastructure has improved, it is still not where it needs to be. For instance, when you look at the capacity or the speed of network, it is still sub-optimal, and it limits your learning experience while trying to do training on a particular course. I believe that internet connectivity, particularly in our areas of operation, can be a lot more enhanced for better experiences and uninterrupted communication between colleagues working from the office and those working from the field. With improved penetration of technology infrastructure, communities can be empowered to learn new information and become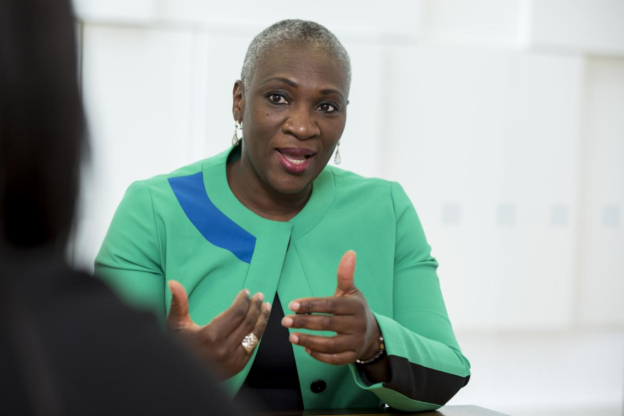 innovative while connecting with the cities and world at large.
As an industry, we must find ways to provide support to the communities from the background without them being dependent on our businesses.
Sadly, we built communities that are dependent on us for hand-outs so it is always about what you can give them. We must constantly initiate conversations with communities. The GMoUs (Global Memorandum of Understanding) that we put in place cannot be end products. It should be an enabler, a gateway to the end product. It means that instead of giving you money or cash, I will be ready to invest in your business and support you to the point of building your capacity for growth. I will be ready to support you by delivering technology so that you can build the business, with some level of ownership, and ensure there is some development in the process. Now, even if you employ the youths in the community when building a facility or asset, when those projects come to an end, if they are not gainfully employed doing something else, these same youths will excavate those same facilities (like pipelines) that you have built.
We need to pay more attention to make the indigenous youths our sustainable development partners and they in turn will help build sustainable communities.
As the chairperson of the Diversity Sectoral Working Group (SWG) of the Nigerian Content Consultative Forum (NCCF), what is the mandate of the SWG and what specific goals are you pursuing?

The SWG is keen on issues aimed at gender parity and moving away from the barriers or limitations therein. I believe this is a key enabler for growth and development in the sector. This is one of the areas where we would all acknowledge and appreciate the Executive Secretary of the NCDMB (Nigerian Content Development and Management Board) because it takes a lot of guts to step aside and choose to do something different as we have seen him do over the years The essence of the SWG is basically to look at ways which we can increase the participation of women in oil and gas. Now, to increase participation of women in oil and gas, there are several factors at play.
First, you must understand the present situation. What are the statistics of women within the oil and gas sector and in what areas are they playing?
Second, you must understand what has hitherto limited them and what enablers they require for them to play effectively within the industry. Thirdly, it is imperative to find out what will attract more women to want to work in this industry. These, I believe will begin to define our mandate and priorities as a sectoral working group.
Over time, we have alluded to the fact that there are limited numbers of women within the oil and gas sector, hence, our priority is to even understand the operating landscape. We need real-time data on the women-owned businesses. This is not defined anywhere. We need to ask questions about how many women are in leadership. How should leadership be defined? Should focus only be on women in the C-suite? Or only the executive directors and leadership teams? So, there is clearly a lot of diagnosis that needs to be carried out in terms of what our current situation is. As you go through the value chain and you even begin to look at businesses within our communities, the roles women play come to the fore, hence, the sectorial working group is committed to building databases and carrying out market research. We are also partnering with private sector companies and educational institutions to attract more women to the industry from school.
Access to funding is another big-ticket item for us. It remains a fact that our industry is very cash intensive, hence there is a need for us to go back and find ways in which we can provide access to the necessary funding. From my vantage point, I can say for a fact that we are not limited in terms of ideas on what women can do and accomplish. We are not limited in terms of the gusto, the desire, and fire to execute our ideas. In the words of Fela Anikulapo Kuti: "African woman na fire", meaning that the average woman is fire. She is equipped and she is hungry to go after her dreams.
Our primary goal as a sectoral working group is to understand and find ways around removing limitations that pull women down and instead create policies that would set them up for success.
As chairperson of the SWG, I am focused on the development of women in terms of closing existing gaps and sponsoring policies with clear initiatives aimed at giving women a voice in Nigeria's oil and gas industry.
We will succeed with commitment and support from the NCDMB and private sector players. We have seen the trend in the banking sector with more female representation on their board. The stakes were clear, and it was enforced. Using data-driven insights, we will create a compelling case for the necessary changes to take effect in the industry.

In actual numbers, what are the percentages of women-owned businesses in the oil and gas industry? 

To be honest, I do not know the actual numbers. Recall that first, we need to know what qualifies a company to be adjudged as woman owned. Has anybody ever asked for that information? So those are the changes we need to make. If for instance, it is agreed or established that for a company to be a woman owned business, the stakeholder or ownership must be a certain percentage minimum, then we can say how many women qualify in line with global standards or measures around same.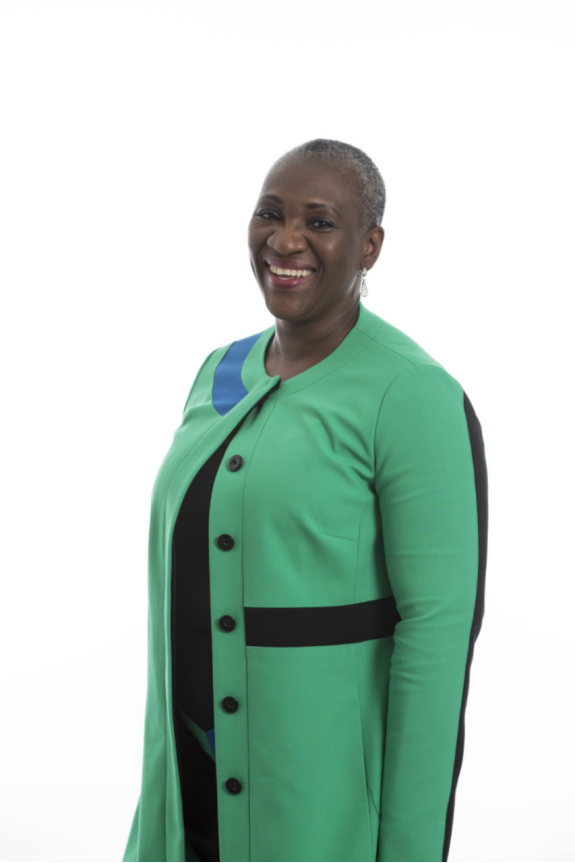 Are there deliberate plans or policies to increase the influx of women in this male dominated sector? 

I think the first plan is having this sectoral working group. It is a step in the right direction. It means that there is somebody paying attention to this longstanding issue and there is somebody recognizing that there is a need for us to do some real work overtime. I am confident that by the end of the year we can begin to have the first push in terms of policies that will be sponsored to drive and moving our work and vision forward.

Does the diversity Sectorial Working Group have plans to influence an increase of girls participation in STEM?

Sure! That would be one of our advocacy touchpoints. As I mentioned earlier, what we see today is an outcome of the last two decades. To make a change, our advocating would start from the secondary schools right now, almost from the foundation of education because already it is at that point young ones decide on whether they like mathematics or science. We therefore need to be vested in education that makes science appealing.
The essence of STEM is built around curiosity, so early on we must shape the mind of our children to be curious, to get them interested in problem solving, to get them interested in solutions. These interventions need to start much earlier in terms of raising the awareness around STEM and telling stories that make the girl child interested. When we were growing up, we found many women in the medical profession because it was built around care and nurture. Same with lawyers, you find many women there. But that engineering space for some reason was always sold as hard and that is the narrative that we need to change. I would personally see how the work progresses; I would be advocating for much earlier intervention even pre-secondary school.
What role do associations play in this context. As a SWG, what role does your association play in mainstreaming women in oil and gas industry? 
To me, the key thing we have set out to do as SWG is to network widely with all the women associations and organizations because as a body we do not have all the answers.
I have already shared a perspective of the story that is limited to my own experience and the case for change is a lot more compelling when you have the experiences running across a myriad of professional lines, organizational lines, backgrounds, and education.
So, one of the things we need to do is to ensure that we all come together and collectively articulate the case for change. Working with the network is essential to how we can advance change. Change does not happen with one man. In our change management circle, we say you make a case for change. But
for change to happen, then you must build a coalition behind the change and clearly articulate the changes you want to see. This coalition, this force, is required for the change. We need all hands onboard and to be honest with you, we need the hands of women, but we also need the hands of the men and this is so extremely important.
I do not want the conversation to be around women pushing a case for themselves. This is about creating an industry and a sector that is viable, stronger than it was, able to take new frontiers. That means that the conversation around gender is about creating value, it is about sustaining value and if there are gains for males and females, then the case should be made by men and women.
When we talk about networks, I am clearly relying on the women's network for us to make the case, for us to articulate the challenges that we face that is peculiar to us. However, the solution lies in collaboration across gender lines. We need to jointly forging ahead to sponsor and support the initiatives that pull back these barriers. We were talking earlier about brain drain and limited professional skill set. The industry can only benefit from the best of both genders so we must create the space to make this happen. So far, I have thrived on the sponsorship of men that have gone ahead of me, of women that have gone ahead of me and we need to continue to ensure that this happens with the present and coming generations.

Do you see energy transition as a great threat to the oil industry?

I honestly do not. I see it as a continuum and again I see it as an entrenching of the solutions leading us into the future. First and foremost, if you look at our local setting, clearly oil and gas is still going to be at play for a long time to come. Again, when we look at our current domestic economy, there is still a large unserved population with varying needs that have not yet been met. So, there is clearly a lot more room for oil and gas domestication and there is room also for new energy solutions. So, I do not see it (energy transition) as a threat at all. While there is still a long way ahead, I am also hoping that the energy transition should be seen for what it is. It is a partnership that would involve building sustainability into the very fiber of our businesses. This transition will bring to light the need for oil companies to churn out creative solutions to continue their operations profitably and sustainably.
What is the Nigeria of your dreams? 

The Nigeria of my dreams is a Nigeria that cares for its people. When I say "care", it comes across as so simple, but in effect caring cuts across all spectrums of humanity. The Nigeria of my dreams is a Nigeria where leaders care for their followership, where each person cares for their neighbor, where our primary aim is to help others be the best they can be. This is a Nigeria where we care about the environment in which we live.
Distilling further, it is a Nigeria where you and I care enough to vote for the right person, you care enough to ensure that fairness and equity are entrenched in our value systems, you care enough to hold people to account, you just care. In those days, we would usually make fun that the white people gossip a lot, but really, most of us moved to the point where their world, your world, my world, is just defined by self. We need to care.
Again, looking at the industry, I would say over the years, the challenges we are experiencing today arose just because we did not care. We were concerned about the returns of the present and at the expense of that, our community suffered. We have an industry today that still flares gas in the backyards of people's homes, we never cared and now the cost of caring becomes too exorbitant. My plea is that we must care and now is the time to start, one step at a time.